WORLDWIDE STUDIO SCORECARD.  Here is an updated look at the 2017 film slates by studio.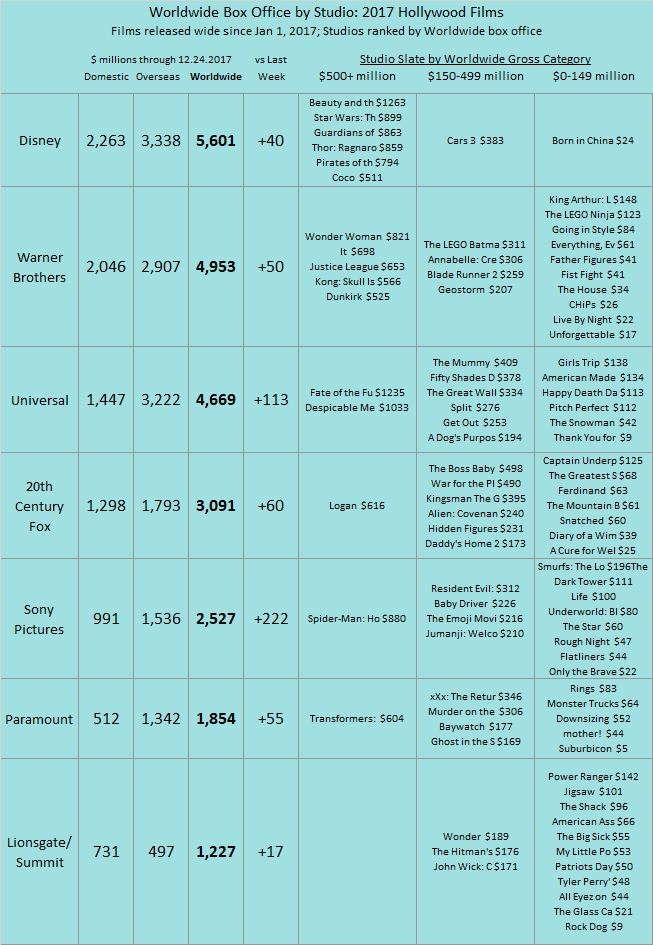 YEAR TO DATE BOX OFFICE. Looking at North American box office, 2017 to date is still down -1% from last year and now +1% above the average for this point the past four years ($9.898 billion).  Over the same period, Hollywood films have grossed $27.0 billion worldwide when we add overseas box office (that's now +7% above the comparable worldwide box office last year at this stage and +4% above 2015).
A reminder: we define the start of each year as the first Monday after New Year's Day, and our year ends on the Sunday after New Year's Day the following calendar year.  (The most recent week's numbers are based on weekend estimates, which are usually at worst a couple of percentage points off from the final weekend tallies.)  The numbers in this chart contain box office grosses from each year's films as well as grosses from prior year films that carried over into that year.
Box Office YEAR TO DATE
(billions)
Weeks 1-51
North America
Worldwide
2017
$10.002
$27.045
Jan 2-Dec 24
2016
$10.070
$25.377
Jan 4-Dec 25
2015
$10.061
$25.953
Jan 5-Dec 27
2014
$9.401
$24.158
Jan 6-Dec 28
2013
$10.058
n/a
Jan 7-Dec 29
The past six weeks in North America are now up +11% from the same period last year and now up +2% from the four-year average for the similar six-week period ($1.362 billion).
North American Box Office PAST SIX WEEKS
(billions)
2017
$1.383
since Nov 13
2016
$1.243
since Nov 14
2015
$1.519
since Nov 16
2014
$1.216
since Nov 17
2013
$1.470
since Nov 18
WORLDWIDE GROSSES BY FILM TITLE.  Here is an updated look at the 2017 film rankings. The numbers in this section are only from films released wide this year (and not box office for films released late last year that carried into this year).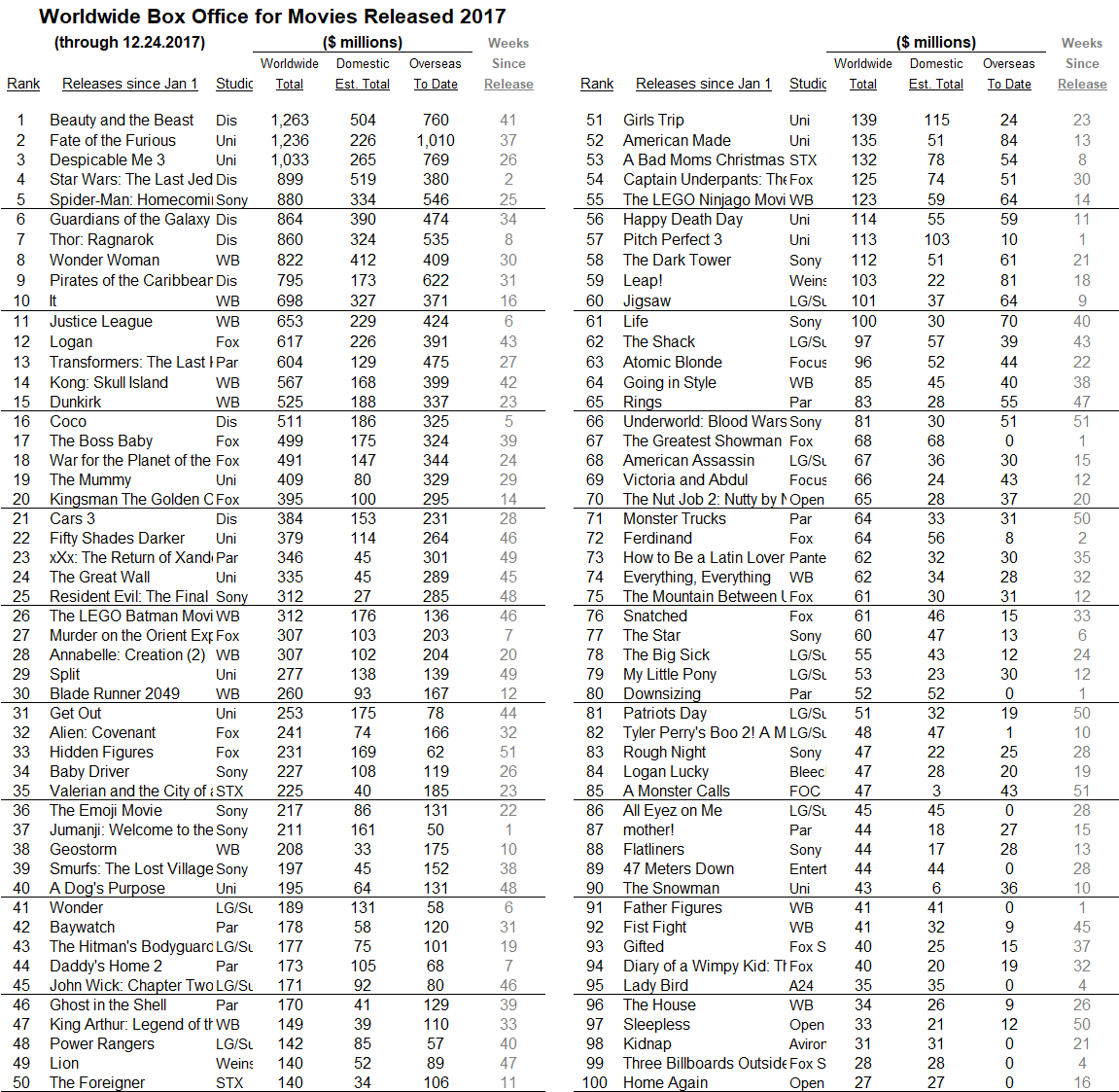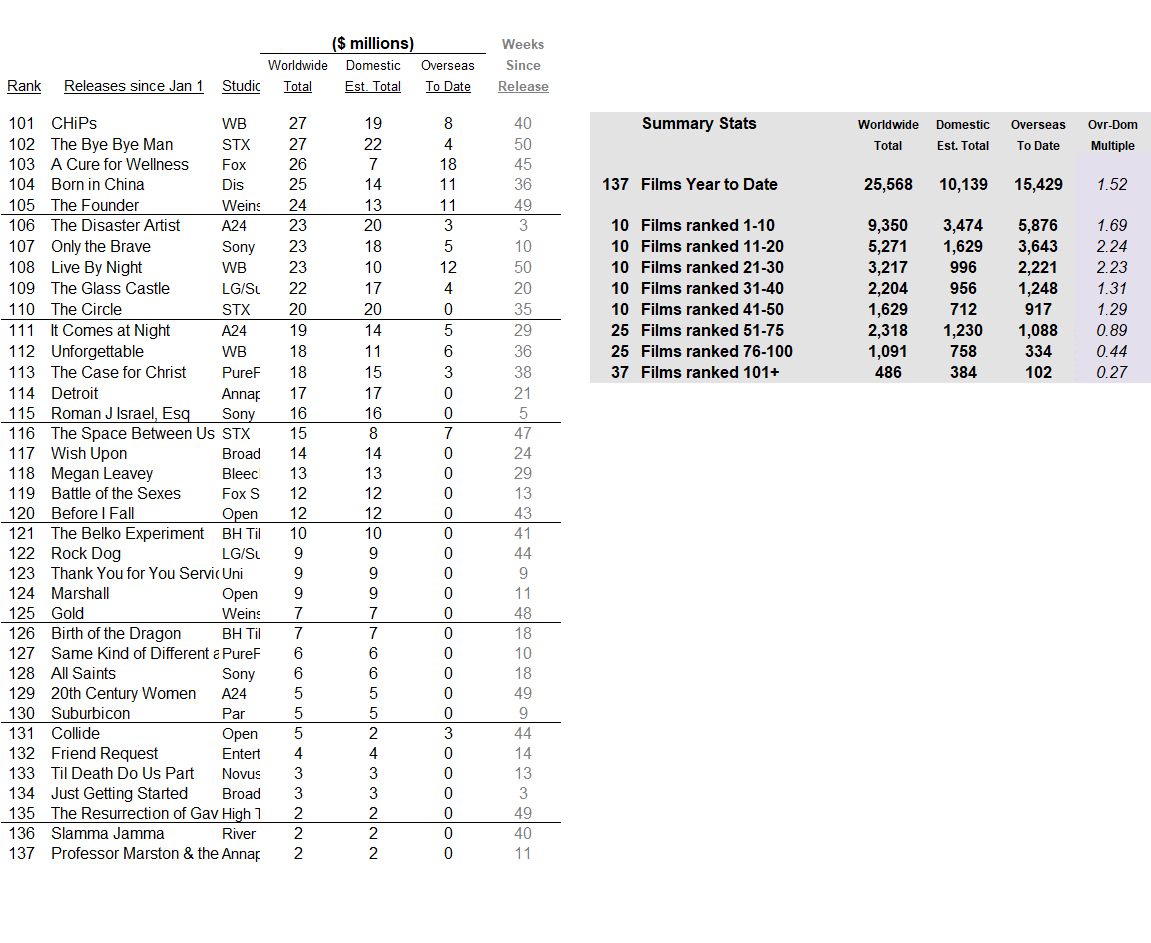 PREVIOUS WORLDWIDE STUDIO SCORECARDS
###