The nasty parade of season and series lows continued last night.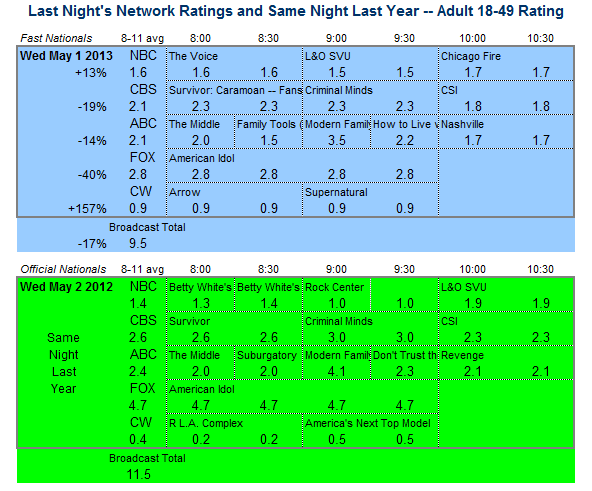 FOX:  AMERICAN IDOL crossed 2 ugly milestones last night.   Its 2.8 rating (down half a point from last week), apart from being an all-time Wednesday low for the series (including its first season, when it ran during the summer), marked the first time Idol has scored below the 3.0 average for The X Factor, its fal–and usually lesser–counterpart.
ABC:  THE MIDDLE aired its first new episode in 3 weeks and delivered a very steady 2.0.  The debut of FAMILY TOOLS was unexceptional at best with 1.5, below both the average rating for The Neighbors and recent 8:30PM numbers for Suburgatory.  MODERN FAMILY, also new for the first time in 3 weeks, was down 0.3 to 3.5.  Its return perked things up considerably for HOW TO LIVE WITH YOUR PARENTS, which was up 0.7 from last week for a 2.2 (although that was down 0.3 from the last time it had a new Modern Family lead-in).  NASHVILLE, after 2 weeks off, returned with a 1.7, down 0.1 (although that was enough to keep it within 0.1 of the competition in a closely-packed hour).
CBS:  A dreadful night of series lows for veteran, usually reliable series.  SURVIVOR plummeted 0.6 to 2.3, then CRIMINAL MINDS fell 0.7 to 2.3 and CSI dropped 0.6 to 1.8.  (Both Criminal and CSI aired their first new episodes in 3 weeks.)
NBC:  The network wasn't fooling anyone with a clip show for THE VOICE, which was a shadow of its usual self at 1.6 (although that was up from last week's Dateline).  SVU, with a larger lead-in but stronger competition, was down 0.4 to 1.5, and CHICAGO FIRE, with its first new episode in a month, was up 0.1 to 1.8.
CW:  Both ARROW and SUPERNATURAL were down 0.1 to twin 0.9s.
Tonight's season finale is PARKS & RECREATION on NBC.  The numbers in general, however, will bear some examination, since last week's overall bad results were supposedly due to the NFL Draft on ESPN and NFL Network.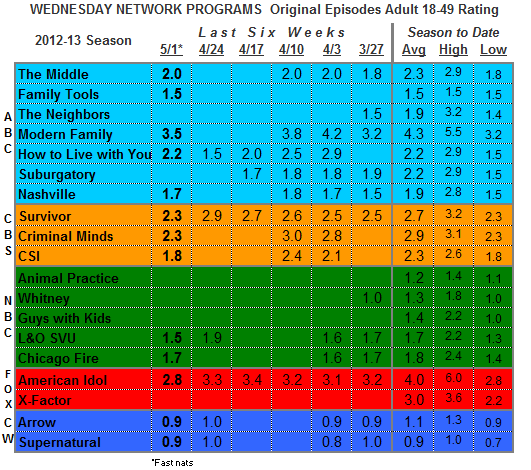 Related Posts
WEDNESDAY Ratings

Preliminary ratings are delayed by Nielsen until at  least 9:30 am PT (90 minutes past due).  The ratings service is performing extra "quality checks," so be prepared for unusually high quality ratings later this morning!
About the Author
Mitch Salem
MITCH SALEM has worked on the business side of the entertainment industry for 20 years, as a senior business affairs executive and attorney for such companies as NBC, ABC, USA, Syfy, Bravo, and BermanBraun Productions, and before that, at the NY law firm of Weil, Gotshal & Manges. During all that, he has more or less constantly been going to the movies and watching TV, and writing about both since the 1980s. His film reviews also currently appear on screened.com and the-burg.com. In addition, he is co-writer of an episode of the television series "Felicity."