THE CARMICHAEL SHOW made an argument for a regular-season berth.
DEMOGRAPHIC DETAIL: For each broadcast program (or hour segment), the chart below displays preliminary key advertiser demographics (adult 18-34, 18-49 and 25-54 ratings), audience skews (women 18-49, men 18-49 and adults 50+ shares) and total viewership (thousands of people over the age of 2).

Ratings analysis and comparisons follow the chart.
NBC:  After a 1.7 AMERICA'S GOT TALENT lead-in (up 0.1 from last week), THE CARMICHAEL SHOW was impressively up 0.2 in both of its half hours, to 1.3/1.1.  These days, those would count as reasonable sitcom numbers even outside the summer season, and the show beat the original programming against it on 3 other networks, plus the MODERN FAMILY rerun on ABC.  LAST COMIC STANDING was steady at 1.1.
ABC:  The season finale of CELEBRITY WIFE SWAP was up 0.1 to 0.8, still making it the network's lowest-rated show of the night.
CBS:  BIG BROTHER and EXTANT were each down 0.1, respectively to 2.1 and 0.7.  The night wound up with a 0.8 CRIMINAL MINDS rerun.
FOX:  MASTERCHEF gained 0.1 to 1.5, and HOME FREE rose 0.2 to 1.0.
CW:  AMERICA'S NEXT TOP MODEL and WICKED OFFER each fell 0.1, respectively to 0.4 and 0.2.
The summer ends tonight for ABC's MISTRESSES and ROOKIE BLUE, as well as NBC's FOOD FIGHTERS.
COMPARISONS TO SIMILAR NIGHTS: Preliminary adult 18-49 ratings versus the same night last year and same night last week.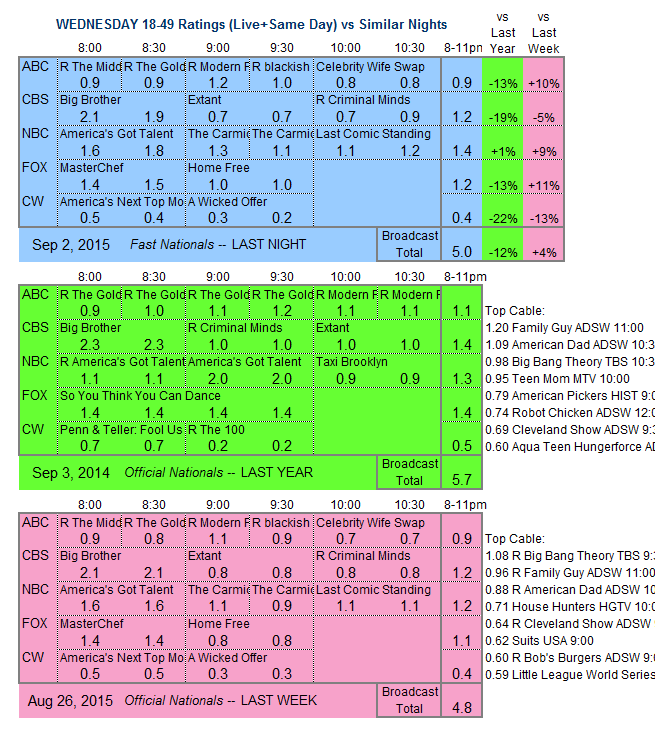 CABLE RATINGS: Come back this afternoon for detailed demographic ratings for top cable programs from this day.
###
Related Posts
WEDNESDAY Ratings

Preliminary ratings are delayed by Nielsen until at  least 9:30 am PT (90 minutes past due).  The ratings service is performing extra "quality checks," so be prepared for unusually high quality ratings later this morning!
About the Author
Mitch Metcalf
MITCH METCALF has been tracking every US film release of over 500 screens (over 2300 movies and counting) since the storied weekend of May 20, 1994, when Maverick and Beverly Hills Cop 3 inspired countless aficionados to devote their lives to the art of cinema. Prior to that, he studied Politics and Economics at Princeton in order to prepare for his dream of working in television. He has been Head of West Coast Research at ABC, then moved to NBC in 2000 and became Head of Scheduling for 11 years.