The AMERICA'S GOT TALENT finale won the night, but is showing its age.
DEMOGRAPHIC DETAIL: For each broadcast program (or hour segment), the chart below displays preliminary key advertiser demographics (adult 18-34, 18-49 and 25-54 ratings), audience skews (women 18-49, men 18-49 and adults 50+ shares) and total viewership (thousands of people over the age of 2).

Ratings analysis and comparisons follow the chart.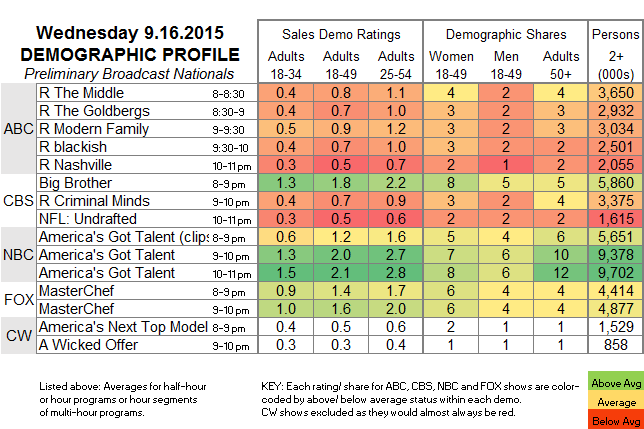 NBC:  After a 1.2 clip hour, AMERICA'S GOT TALENT ended the season at 2.1, down 0.3 from the 2014 finale and the lowest finale yet for AGT.
CBS:  BIG BROTHER fell 0.3 from last week to 1.8, then after a 0.7 CRIMINAL MINDS rerun, the NFL UNDRAFTED special (part of the network's deal to carry THURSDAY NIGHT FOOTBALL) proved Americans won't watch absolutely anything football related with a mere 0.5.
FOX:  The season finale of MASTERCHEF held at 1.5.
CW:  AMERICA'S NEXT TOP MODEL lost 0.1 to 0.5, while A WICKED OFFER gained the same amount to 0.3. (We'll see if those shifts hold up in final numbers.)
ABC:  Reruns of the regular season Wednesday line-up were topped, naturally, by MODERN FAMILY at 0.9.
CBS begins its brief but high-rated half-season of THURSDAY NIGHT FOOTBALL tonight.  It faces reruns on all the other networks but NBC, which airs 2 specials:  JEFF DUNHAM: UNHINGED IN HOLLYWOOD and MAT FRANCO'S GOT MAGIC.
COMPARISONS TO SIMILAR NIGHTS: Preliminary adult 18-49 ratings versus the same night last year and same night last week.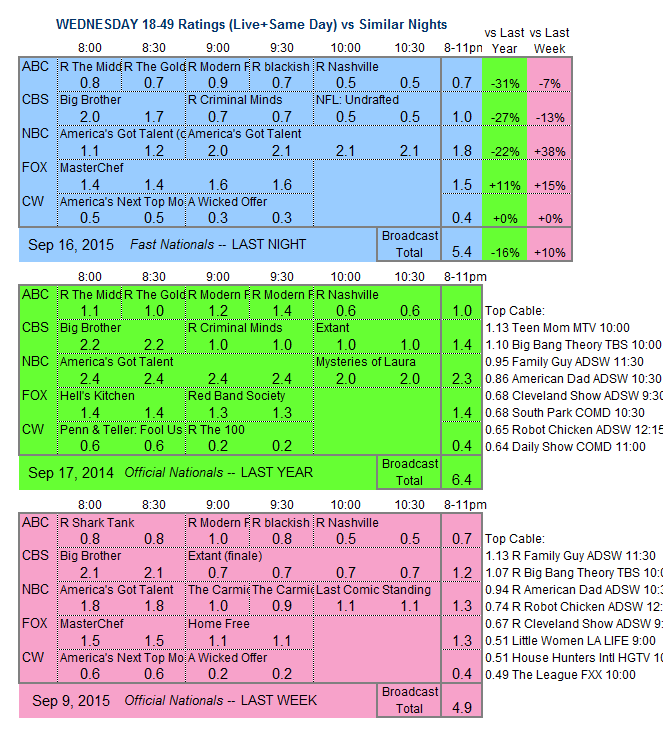 CABLE RATINGS: Come back this afternoon for detailed demographic ratings for top cable programs from this day.
###
Related Posts
WEDNESDAY Ratings

Preliminary ratings are delayed by Nielsen until at  least 9:30 am PT (90 minutes past due).  The ratings service is performing extra "quality checks," so be prepared for unusually high quality ratings later this morning!
About the Author
Mitch Metcalf
MITCH METCALF has been tracking every US film release of over 500 screens (over 2300 movies and counting) since the storied weekend of May 20, 1994, when Maverick and Beverly Hills Cop 3 inspired countless aficionados to devote their lives to the art of cinema. Prior to that, he studied Politics and Economics at Princeton in order to prepare for his dream of working in television. He has been Head of West Coast Research at ABC, then moved to NBC in 2000 and became Head of Scheduling for 11 years.