BLINDSPOT may already be in trouble.
DEMOGRAPHIC DETAIL: For each broadcast program (or hour segment), the chart below displays preliminary key advertiser demographics (adult 18-34, 18-49 and 25-54 ratings), audience skews (women 18-49, men 18-49 and adults 50+ shares) and total viewership (thousands of people over the age of 2).

Ratings analysis and comparisons follow the chart.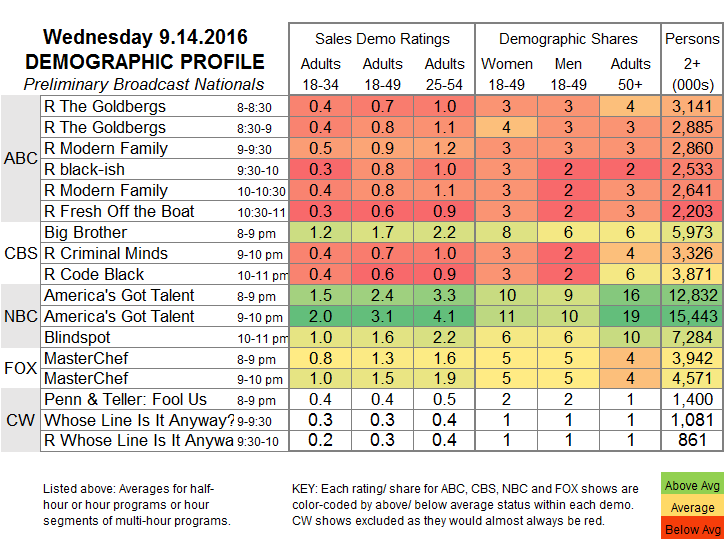 NBC:  The AMERICA'S GOT TALENT season finale scored 2.7, up 0.7 from last Wednesday and an impressive 0.6 from the 2015 finale.  That set things up for the season premiere of BLINDSPOT, and its 1.6 rating wasn't bad, but considering that it's going to have to be a self-starter next week at 8PM, it's not a great beginning.  Compare the evening to last year's BLINDSPOT series premiere night, where THE VOICE was at 3.5, and BLINDSPOT held almost 90% of its lead-in at 3.1.  This year's retention was more like 60%.
CBS:  BIG BROTHER dropped 0.2 from last Wednesday to 1.7, and was followed by 0.7/0.6 reruns.
FOX:  The MASTERCHEF season finale was at 1.3/1.5, slightly up in the 2d hour from last week's 1.3/1.4.
CW:  PENN & TELLER: FOOL US held at 0.4.  The new episode of WHOSE LINE IS IT ANYWAY dropped 0.1 to 0.3, the same rating as the rerun that followed.
ABC:  Sitcom reruns, topped by MODERN FAMILY at 1.0.
CBS takes over THURSDAY NIGHT FOOTBALL tonight, while CW says farewell to its ever-marginal BEAUTY & THE BEAST.
COMPARISONS TO SIMILAR NIGHTS: Preliminary adult 18-49 ratings versus the same night last year and same night last week.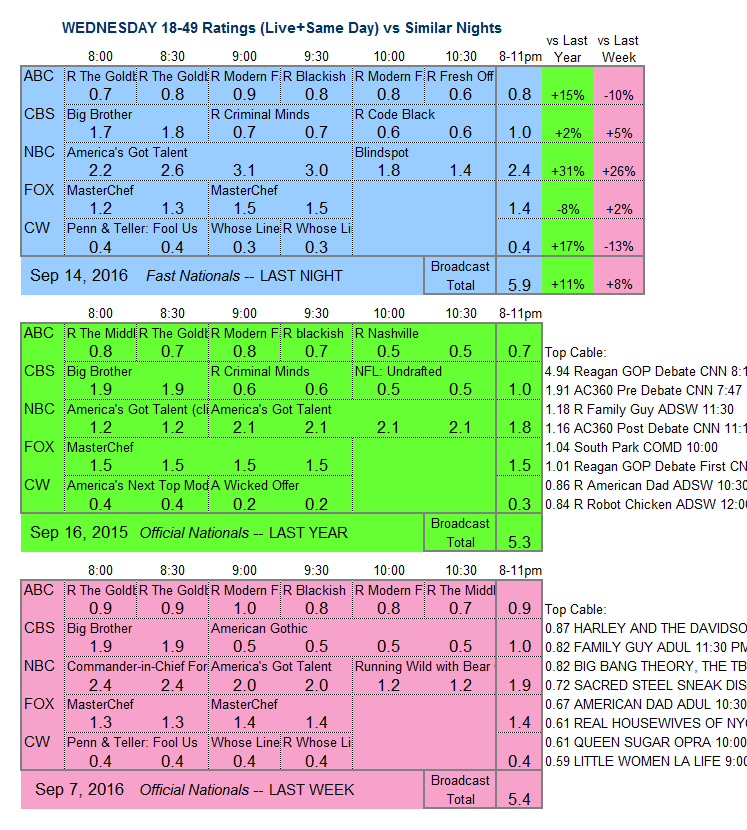 CABLE RATINGS: Come back this afternoon for detailed demographic ratings for top cable programs from this day.
###
About the Author
Mitch Salem
MITCH SALEM has worked on the business side of the entertainment industry for 20 years, as a senior business affairs executive and attorney for such companies as NBC, ABC, USA, Syfy, Bravo, and BermanBraun Productions, and before that, at the NY law firm of Weil, Gotshal & Manges. During all that, he has more or less constantly been going to the movies and watching TV, and writing about both since the 1980s. His film reviews also currently appear on screened.com and the-burg.com. In addition, he is co-writer of an episode of the television series "Felicity."