It was SURVIVOR's turn for a cycle finale win.
DEMOGRAPHIC DETAIL: For each broadcast program (or hour segment), the chart below displays preliminary key advertiser demographics (adult 18-34, 18-49 and 25-54 ratings), audience skews (women 18-49, men 18-49 and adults 50+ shares) and total viewership (thousands of people over the age of 2).

Ratings analysis and comparisons follow the chart.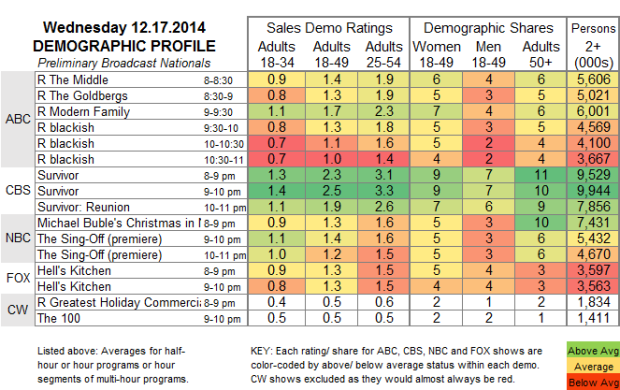 CBS:  The SURVIVOR cycle finale is currently at 2.4, which would tie last fall's finale, but that number will change this afternoon because the finale itself ran past 10PM.  It was followed by SURVIVOR REUNION, currently at 1.9.
NBC:  Twin 1.3s for MICHAEL BUBLE'S CHRISTMAS IN NEW YORK and for the return of THE SING-OFF.
FOX:  Another pair of 1.3s for 2 episodes of HELL'S KITCHEN.
CW:  Without its usual ARROW lead-in (a rerun of GREATEST HOLIDAY COMMERCIALS was at 0.5), and scheduled after all the network's other shows had already aired their midseason finales, THE 100 fell 0.1 to 0.5 for its own, tying its season low.
ABC:  A night of sitcom reruns, highlighted by MODERN FAMILY at 1.7.
Only CBS airs fresh episodes of its regular schedule tonight.  ABC continues its winter run of THE TASTE, CW has an IHEARTRADIO JINGLE BELL special, and NBC airs the PEOPLE MAGAZINE AWARDS, while FOX is in reruns.  On cable, USA bids adieu to WHITE COLLAR, and also has the season finale of COVERT AFFAIRS.
COMPARISONS TO SIMILAR NIGHTS: Preliminary adult 18-49 ratings versus the same night last year and same night last week.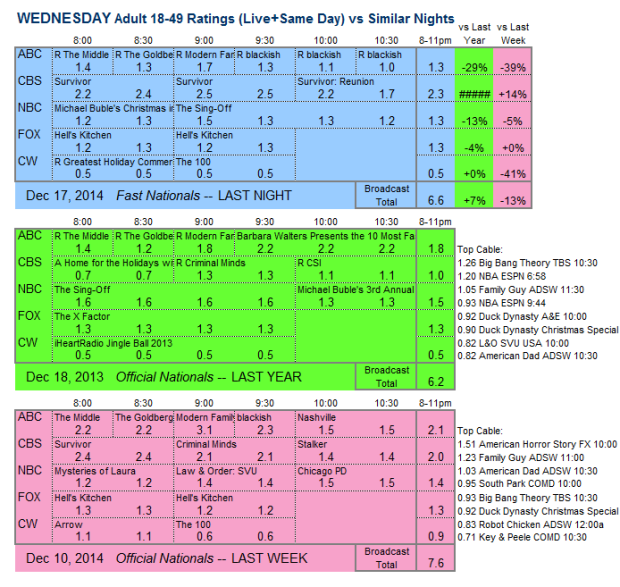 CABLE RATINGS: Come back this afternoon for detailed demographic ratings for top cable programs from this night.
Related Posts
WEDNESDAY Ratings

Preliminary ratings are delayed by Nielsen until at  least 9:30 am PT (90 minutes past due).  The ratings service is performing extra "quality checks," so be prepared for unusually high quality ratings later this morning!
About the Author
Mitch Metcalf
MITCH METCALF has been tracking every US film release of over 500 screens (over 2300 movies and counting) since the storied weekend of May 20, 1994, when Maverick and Beverly Hills Cop 3 inspired countless aficionados to devote their lives to the art of cinema. Prior to that, he studied Politics and Economics at Princeton in order to prepare for his dream of working in television. He has been Head of West Coast Research at ABC, then moved to NBC in 2000 and became Head of Scheduling for 11 years.