Things tightened up on the 2d Tuesday of the fall season.
DEMOGRAPHIC DETAIL: For each broadcast program (or hour segment), the chart below displays preliminary key advertiser demographics (adult 18-34, 18-49 and 25-54 ratings), audience skews (women 18-49, men 18-49 and adults 50+ shares) and total viewership (thousands of people over the age of 2).

Ratings analysis and comparisons follow the chart.
FOX:  GRANDFATHERED and THE GRINDER proved themselves well-matched, premiering at twin 1.5s.  That's an undistinguished start–they only beat CW in the hour–but not a terrible number in 2015.  SCREAM QUEENS fell 0.3 from last week's premiere to 1.4, and it was at 1.3 by its 2d half-hour, hardly the buzz magnet FOX was hoping it would be.
ABC:  THE MUPPETS fell 0.9 from last week's big premiere to 2.0.  That still leaves it in a fairly good place (for now), but not as a breakout hit.  FRESH OFF THE BOAT slipped a comparatively small 0.2 to 1.7.  The season premiere of AGENTS OF SHIELD was at 1.7, down 0.3 from last season's premiere, but up from where the series was last spring.  The night wound up with 1.0 for a rerun of the QUANTICO pilot.
CBS:  NCIS dropped 0.4 from last week's premiere to 2.1 (that's 0.6 below where it was in last season's 2d week), no longer intimidating.  NCIS: NEW ORLEANS, though, was steady at 1.7.  And the best news for any network last night was the performance of LIMITLESS, which held its full 1.9 premiere rating.  That timeslot has changes coming on both ABC and NBC, so LIMITLESS may not settle at that level, but it's still a sign of viewer satisfaction.
NBC:  THE VOICE gained 0.1 to win the night at 3.6, while BEST TIME EVER edged down 0.1 to 2.0, with its scheduled move to 8PM dead ahead.
CW:  An IHEARTRADIO MUSIC FESTIVAL special was at 0.3.
CBS premieres CODE BLACK tonight, and both CRIMINAL MINDS and CHICAGO PD have their season premieres.
COMPARISONS TO SIMILAR NIGHTS: Preliminary adult 18-49 ratings versus the same night last year and same night last week.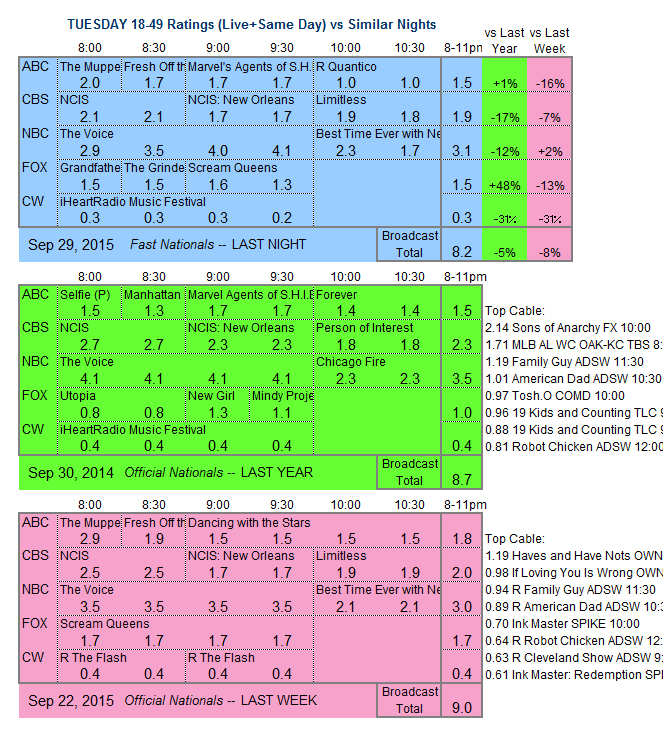 CABLE RATINGS: Come back this afternoon for detailed demographic ratings for top cable programs from this day.
###
About the Author
Mitch Metcalf
MITCH METCALF has been tracking every US film release of over 500 screens (over 2300 movies and counting) since the storied weekend of May 20, 1994, when Maverick and Beverly Hills Cop 3 inspired countless aficionados to devote their lives to the art of cinema. Prior to that, he studied Politics and Economics at Princeton in order to prepare for his dream of working in television. He has been Head of West Coast Research at ABC, then moved to NBC in 2000 and became Head of Scheduling for 11 years.