Given the choice between Muppets and murder, America made an emphatic choice.
DEMOGRAPHIC DETAIL: For each broadcast program (or hour segment), the chart below displays preliminary key advertiser demographics (adult 18-34, 18-49 and 25-54 ratings), audience skews (women 18-49, men 18-49 and adults 50+ shares) and total viewership (thousands of people over the age of 2).

Ratings analysis and comparisons follow the chart.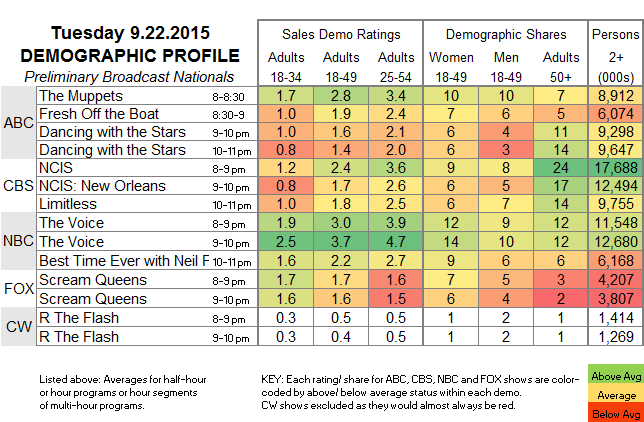 ABC:  THE MUPPETS got off to a great start at 2.8, outrating anything else on the networks last night except THE VOICE.  The bad news was that a tremendous number of viewers turned off at 8:30, with FRESH OFF THE BOAT managing just a 1.9.  That's below the 2.5 it had for its original debut on a Wednesday in February, and although it's steady with the show's Tuesday night premiere the following week, it had to be a self-starter that night.  DANCING WITH THE STARS was at 1.5 2.0, although it had an odd trajectory, starting at 2.8 and slumping to 1.5 by 10:30PM.
FOX:  SCREAM QUEENS premiered at a very underwhelming 1.6, considering the amount of hype FOX has been pouring into it since May.  The glass-half-full view is that the rating remained steady throughout the entire two hours, so those who did tune in were pleased with what they saw.
CBS:  NCIS returned at 2.4, down half a point from its September 2014 premiere.  NCIS: NEW ORLEANS was mediocre at 1.7, down 0.8 from its series premiere last year.  The premiere of LIMITLESS was barely OK at 1.8, in 3rd place for its hour and steady with last year's season premiere of the currently benched PERSON OF INTEREST.
NBC:  THE VOICE was down 0.7 from last year's Tuesday premiere to 3.4.  BEST TIME EVER benefited from its much bigger lead-in, and rose 0.4 to 2.2.  However, it took a steep drop during the hour, with 2.5 at 10PM and 1.8 at 10:30PM. 
CW:  Still in rerun mode with 0.5/0.4 for THE FLASH.
There's a bit of old business tonight with the season finale of BIG BROTHER.  The rest of primetime is filled with season premieres, plus the series premiere of ROSEWOOD on FOX.
COMPARISONS TO SIMILAR NIGHTS: Preliminary adult 18-49 ratings versus the same night last year and same night last week.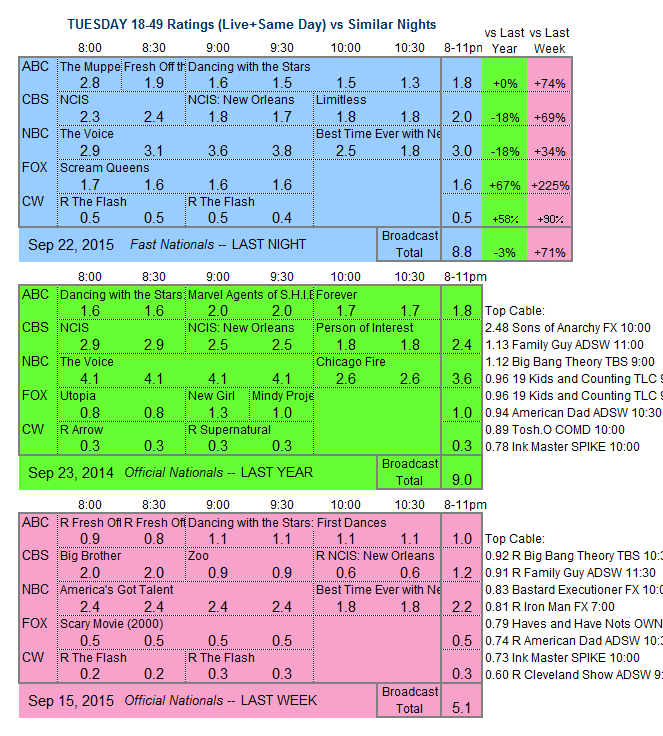 CABLE RATINGS: Come back this afternoon for detailed demographic ratings for top cable programs from this day.
###
About the Author
Mitch Salem
MITCH SALEM has worked on the business side of the entertainment industry for 20 years, as a senior business affairs executive and attorney for such companies as NBC, ABC, USA, Syfy, Bravo, and BermanBraun Productions, and before that, at the NY law firm of Weil, Gotshal & Manges. During all that, he has more or less constantly been going to the movies and watching TV, and writing about both since the 1980s. His film reviews also currently appear on screened.com and the-burg.com. In addition, he is co-writer of an episode of the television series "Felicity."