This wasn't the way THE MINDY PROJECT wanted to end its season.
DEMOGRAPHIC DETAIL: For each broadcast program (or hour segment), the chart below displays preliminary key advertiser demographics (adult 18-34, 18-49 and 25-54 ratings), audience skews (women 18-49, men 18-49 and adults 50+ shares) and total viewership (thousands of people over the age of 2).

Ratings analysis and comparisons follow the chart.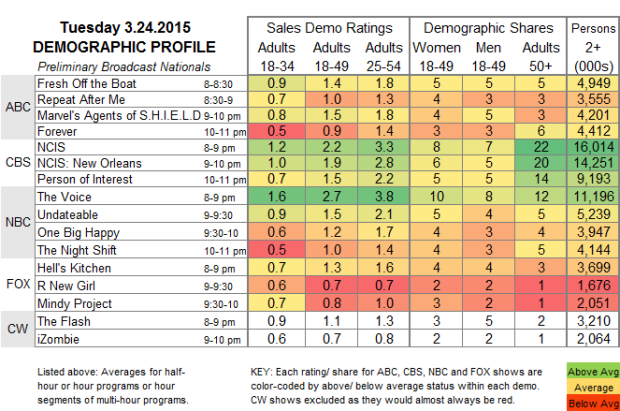 FOX:  THE MINDY PROJECT is firmly on the bubble, which made it particularly bad news that its season finale hit a series low 0.8.  The number was even worse than it looked, because although both last week and this week it had a puny lead-in from a NEW GIRL rerun, this week's was 0.1 higher than last week's at 0.7 (and the competition at NBC was weaker), yet the MINDY rating went down 0.1.  The night started with HELL'S KITCHEN steady at 1.3.
NBC:  In their second weeks, UNDATEABLE and ONE BIG HAPPY each fell an ugly 0.4 from last week, to a respective 1.5 and 1.2.  They certainly weren't helped by the fact that lead-in THE VOICE was itself down half a point to 2.7, but those ratings suggested little viewer interest in the sitcoms themselves.  The off-key night ended with a lousy result for the experiment of running THE NIGHT SHIFT in CHICAGO FIRE's usual slot, down 0.6 from FIRE's score last week and 0.5 from its own rating on Monday to 1.0.
CW:  IZOMBIE isn't looking like a breakout hit, but it was relatively steady, down 0.1 to 0.7 after THE FLASH was down 0.2 to 1.1.
ABC:  FRESH OFF THE BOAT dropped 0.2 to 1.4, and REPEAT AFTER ME slipped 0.1 to 1.0.  AGENTS OF SHIELD tied its series low, down 0.1 to 1.5.  FOREVER likewise fell 0.1 to tie its series low at 0.9.
CBS:  NCIS was steady at 2.2, and NCIS: NEW ORLEANS provided one of the night's few rating bright spots, rising 0.3 to 1.9.  PERSON OF INTEREST held at 1.5.
All the networks are new tonight, although NASHVILLE is an "On the Record" concert special rather than a regular episode.  On cable, Comedy Central launches a rare non-sketch comedy with BIG TIME IN HOLLYWOOD, FL.
COMPARISONS TO SIMILAR NIGHTS: Preliminary adult 18-49 ratings versus the same night last year and same night last week.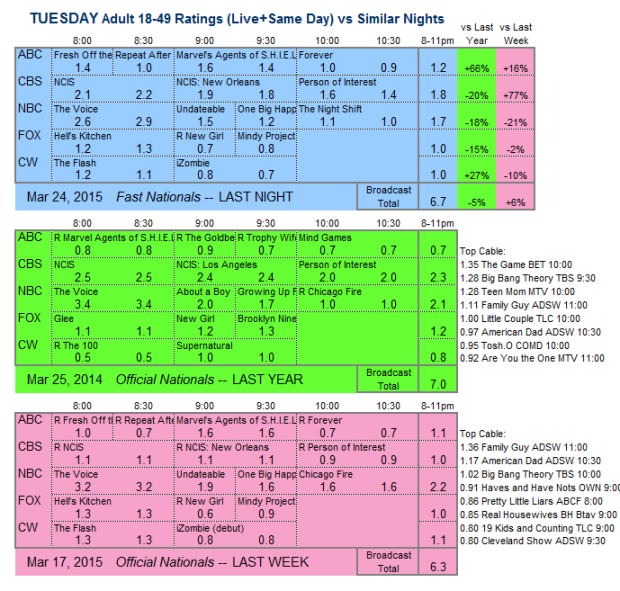 CABLE RATINGS: Come back this afternoon for detailed demographic ratings for top cable programs from this day.
About the Author
Mitch Metcalf
MITCH METCALF has been tracking every US film release of over 500 screens (over 2300 movies and counting) since the storied weekend of May 20, 1994, when Maverick and Beverly Hills Cop 3 inspired countless aficionados to devote their lives to the art of cinema. Prior to that, he studied Politics and Economics at Princeton in order to prepare for his dream of working in television. He has been Head of West Coast Research at ABC, then moved to NBC in 2000 and became Head of Scheduling for 11 years.