There wasn't much good news for anyone last night.
DEMOGRAPHIC DETAIL: For each broadcast program (or hour segment), the chart below displays preliminary key advertiser demographics (adult 18-34, 18-49 and 25-54 ratings), audience skews (women 18-49, men 18-49 and adults 50+ shares) and total viewership (thousands of people over the age of 2).

Ratings analysis and comparisons follow the chart.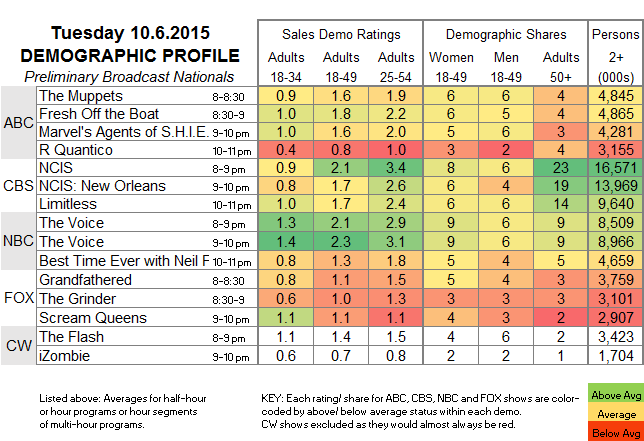 FOX:  The entire line-up looked dismal, as GRANDFATHERED fell 0.4 from last week's premiere to 1.1, THE GRINDER dropped an even worse 0.5 to 1.0, and SCREAM QUEENS lost 0.3 to 1.1.  FOX is overall way up from last fall because of EMPIRE, but the rest of its week is mostly a mess.
ABC:  THE MUPPETS lost 0.4 to 1.6, which means that in 2 weeks it's plunged a horrible 1.3, nearly half its 2.9 start.  One sliver of good news:  FRESH OFF THE BOAT gained 0.1 to 1.7.  AGENTS OF SHIELD edged down 0.1 from last week's season premiere to 1.6, and the night ended with a 0.8 rerun of Sunday's QUANTICO.
NBC:  THE VOICE ran a clip show, and consequently scored just 2.2 compared to last week's 3.7.  That pushed BEST TIME EVER down 0.6 to 1.3 in what's supposed to have been its last 10PM airing before moving to 8PM.  (A move that's already been pushed for 2 weeks.)
CW:  THE FLASH is still very fast by CW standards at 1.4, but that's down 0.5 from last year's series premiere.  IZOMBIE's season premiere was 0.7, down 0.1 from last spring's premiere.
CBS:  NCIS was down 0.1 from last week to 2.1, and NCIS NEW ORLEANS was steady at 1.7.  But LIMITLESS, facing its weakest competition so far, fell 0.2 to 1.7, just 0.1 better than PERSON OF INTEREST on the parallel night last year–and it only gets tougher from here.
The basic cable networks have been fairly quiet for the past few weeks, allowing the broadcasters to introduce their fall shows, but that changes tonight when FX's AMERICAN HORROR STORY: HOTEL opens its doors.  In addition, CW continues its premiere week with ARROW and SUPERNATURAL.
COMPARISONS TO SIMILAR NIGHTS: Preliminary adult 18-49 ratings versus the same night last year and same night last week.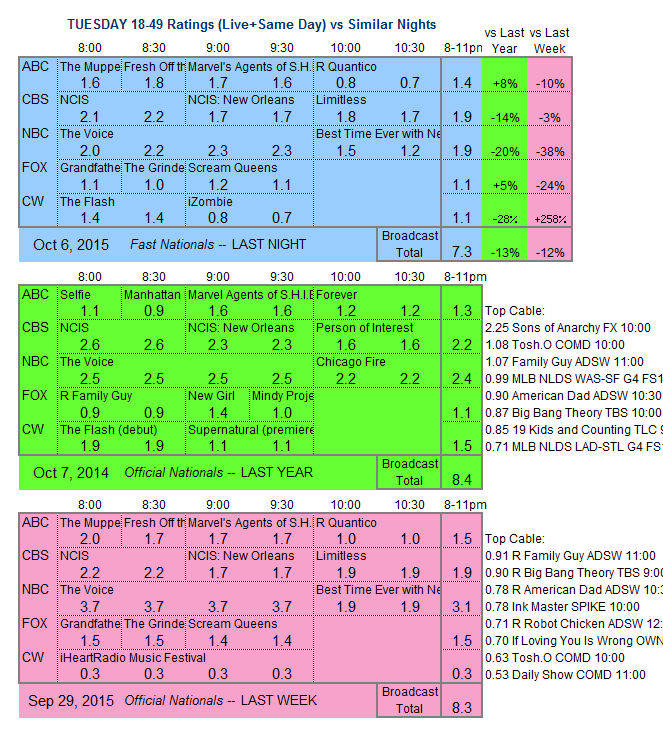 CABLE RATINGS: Come back this afternoon for detailed demographic ratings for top cable programs from this day.
###
About the Author
Mitch Salem
MITCH SALEM has worked on the business side of the entertainment industry for 20 years, as a senior business affairs executive and attorney for such companies as NBC, ABC, USA, Syfy, Bravo, and BermanBraun Productions, and before that, at the NY law firm of Weil, Gotshal & Manges. During all that, he has more or less constantly been going to the movies and watching TV, and writing about both since the 1980s. His film reviews also currently appear on screened.com and the-burg.com. In addition, he is co-writer of an episode of the television series "Felicity."