A NOTE ABOUT NFL EXHIBITION SEASON:  Over the next several weeks, NFL pre-season games will largely be aired on local stations, rather than nationally.  (For example, last night's CBS and NBC fast nationals–at least–are inflated, because WCBS New York carried the Jets-Lions game instead of the CBS schedule in prime time, while WRC Washington DC carried the Redskins-Browns game instead of the NBC schedule.)  That will lead to lots of preeemptions, morning numbers that look perkier than they really are, and an unusual number of afternoon adjustments.  As a result, we won't be spending much time in the mornings on week-to-week comparisons, but will provide additional detail in our afternoon network updates.  
DEMOGRAPHIC DETAIL: For each broadcast program (or hour segment), the chart below displays preliminary key advertiser demographics (adult 18-34, 18-49 and 25-54 ratings), audience skews (women 18-49, men 18-49 and adults 50+ shares) and total viewership (thousands of people over the age of 2).

Ratings analysis and comparisons follow the chart.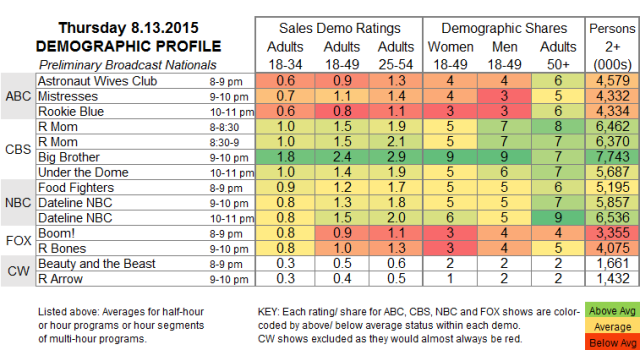 CBS:  Currently, last night's MOM rerun has the same 1.5 rating as last week's for THE BIG BANG THEORY, and UNDER THE DOME is nearly double last week's rating at 1.4, so you get the idea.
ABC:  Again, the morning numbers are up at least 30% from last week's preliminaries.
NBC:  0.3 increases from last week for now.
FOX:  A BONES rerun is currently 150% higher than last week's.
CW:  BEAUTY & THE BEAST only wishes it could score a 0.5 in real life.
More football preemptions are on the way tonight, although with little in the way of original programming scheduled, there will be less disruption.
COMPARISONS TO SIMILAR NIGHTS: Preliminary adult 18-49 ratings versus the same night last year and same night last week.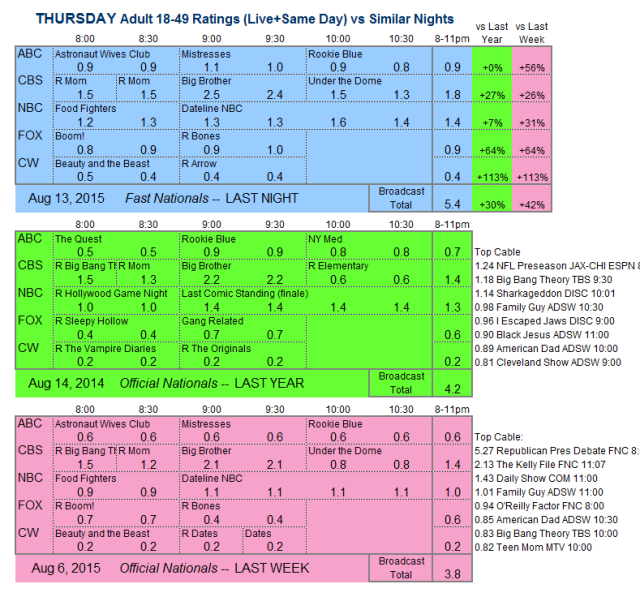 CABLE RATINGS: Come back this afternoon for detailed demographic ratings for top cable programs from this day.
###
About the Author
Mitch Metcalf
MITCH METCALF has been tracking every US film release of over 500 screens (over 2300 movies and counting) since the storied weekend of May 20, 1994, when Maverick and Beverly Hills Cop 3 inspired countless aficionados to devote their lives to the art of cinema. Prior to that, he studied Politics and Economics at Princeton in order to prepare for his dream of working in television. He has been Head of West Coast Research at ABC, then moved to NBC in 2000 and became Head of Scheduling for 11 years.