A busy night, but not a particularly well-watched one.
DEMOGRAPHIC DETAIL: For each broadcast program (or hour segment), the chart below displays preliminary key advertiser demographics (adult 18-34, 18-49 and 25-54 ratings), audience skews (women 18-49, men 18-49 and adults 50+ shares) and total viewership (thousands of people over the age of 2).

Ratings analysis and comparisons follow the chart.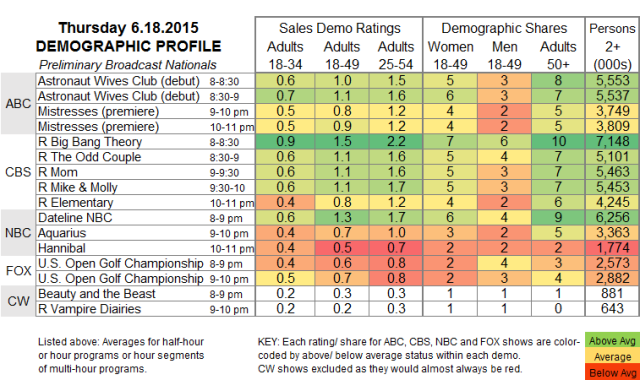 ABC:  The long-postponed ASTRONAUTS WIVES CLUB finally arrived, and its 1.1 rating was OK for summer, although far from the "event" that the show had first promised to be.  Not surprisingly, given its historical setting, it was more popular with older adults than anyone else.  One bright spot:  the show built in its second half hour, suggesting satisfied viewers.  MISTRESSES, on the other hand, returned Alyssa Milano-less to 0.9 over its 2 hours, down 0.3 from its summer 2014 premiere (on a Monday). 
NBC:  The absence of NBA competition did nothing to help AQUARIUS or HANNIBAL.  The former was down 0.1 to 0.7, and the latter held at its series low 0.5.  The best number of NBC's night was the 1.3 for DATELINE, up 0.1 from last week.
CW:  BEAUTY & THE BEAST stayed at 0.3, slightly ahead of the VAMPIRE DIARIES rerun that followed it.
FOX:  US OPEN coverage was at 0.6.
CBS:  The highest rated show on any network last night was the rerun of THE BIG BANG THEORY at 1.5.
Apart from continuing US OPEN coverage on FOX, Friday primetime is nothing but reruns and newsmagazines.  On cable, Syfy adds the interstellar bounty hunter thriller KILLJOYS to its line-up.  In short, a good night to go to the movies and see the wonderful INSIDE OUT.
COMPARISONS TO SIMILAR NIGHTS: Preliminary adult 18-49 ratings versus the same night last year and same night last week.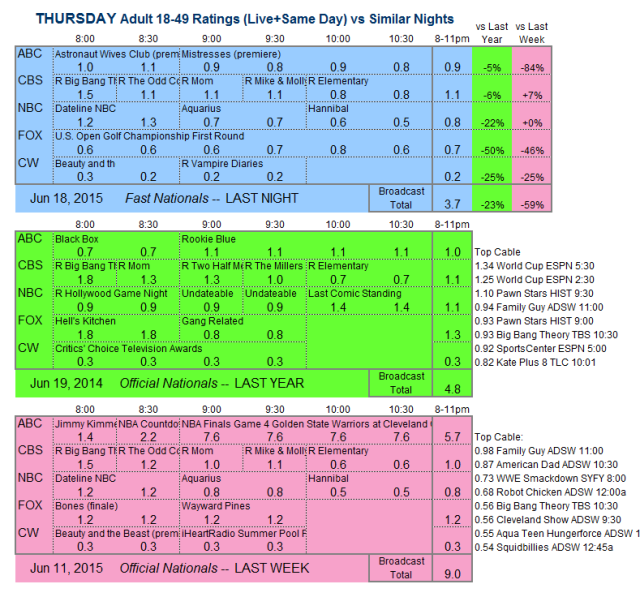 CABLE RATINGS: Come back this afternoon for detailed demographic ratings for top cable programs from this day.
###
About the Author
Mitch Metcalf
MITCH METCALF has been tracking every US film release of over 500 screens (over 2300 movies and counting) since the storied weekend of May 20, 1994, when Maverick and Beverly Hills Cop 3 inspired countless aficionados to devote their lives to the art of cinema. Prior to that, he studied Politics and Economics at Princeton in order to prepare for his dream of working in television. He has been Head of West Coast Research at ABC, then moved to NBC in 2000 and became Head of Scheduling for 11 years.