Not enough viewers believed in fairies.
DEMOGRAPHIC DETAIL: For each broadcast program (or hour segment), the chart below displays preliminary key advertiser demographics (adult 18-34, 18-49 and 25-54 ratings), audience skews (women 18-49, men 18-49 and adults 50+ shares) and total viewership (thousands of people over the age of 2).
Ratings analysis and comparisons follow the chart.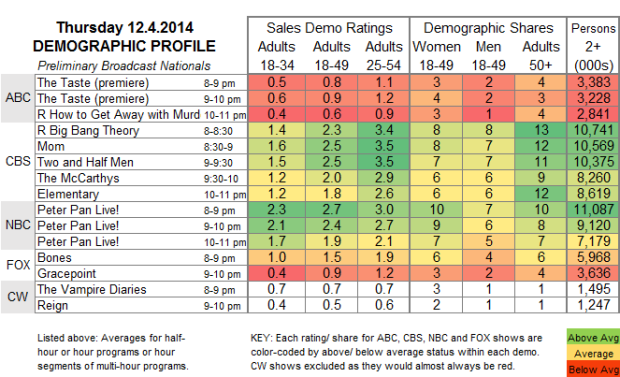 NBC:  At 2.4, the ratings for PETER PAN LIVE weren't a flat-out disaster… but they were close.  The hugely hyped, super-expensive production managed barely over half of last year's 4.6 for SOUND OF MUSIC LIVE–and that show faced far stronger competition on ABC.  Even worse, the PAN rating declined throughout most of the broadcast, culminating in a genuinely lousy 1.8 in the last half-hour that couldn't do better than tie ELEMENTARY.  To say that PAN outperformed the usual NBC Thursday (as NBC has hurriedly argued in a press statement) is to say nothing, since the network's Thursday line-up is a shambles and, as noted, PAN was far more pricey than those shows are.  Considering how important these productions are to NBC Entertainment President Bob Greenblatt (and how advertiser-friendly they are–hello, Walmart!), we probably haven't seen the last of them, but look for next year's edition to feature bigger-name stars and a scaled-down budget.
ABC:  THE TASTE returned at a lackluster 0.9, followed by 0.6 for a HOW TO GET AWAY WITH MURDER rerun.
CBS:  The network's stations in Dallas and Chicago aired simulcasts of THURSDAY NIGHT FOOTBALL, so CBS's numbers are likely to be adjusted this afternoon.  At the moment, after 2.3 for a BIG BANG THEORY rerun, MOM is up a point from last week's Thanksgiving episode (but steady with 2 weeks ago) at 2.5.  Similarly, 2 1/2 MEN is up a point from last week to 2.5 (but up 0.3 from 2 weeks ago).  More impressively–for now, anyway–THE MCCARTHYS is up 0.9 from last week to 2.0 (and up 0.6 from 2 weeks ago), and ELEMENTARY is up 0.8 from last week to 1.8 (and up 0.6 from 2 weeks ago).
FOX:  BONES and GRACEPOINT were both up 0.2 from 2 weeks ago to 1.5 and 0.9 respectively.
CW:  THE VAMPIRE DIARIES was down 0.1 from 2 weeks ago to 0.7, and REIGN was up 0.2 to 0.5.
FOX airs the PAC-12 CHAMPIONSHIP GAME tonight, and CBS follows a new AMAZING RACE with a VERY GRAMMY CHRISTMAS special (which will include the announcement of the Best Album nominees) and then a rerun.  NBC precedes its GRIMM/CONSTANTINE pair with holiday special HOW MURRAY SAVED CHRISTMAS.  CW airs back-to-back AMERICA'S NEXT TOP MODEL episodes.  ABC has fresh episodes of its regular Friday schedule.
COMPARISONS TO SIMILAR NIGHTS: Preliminary adult 18-49 ratings versus the same night last year and same night last week.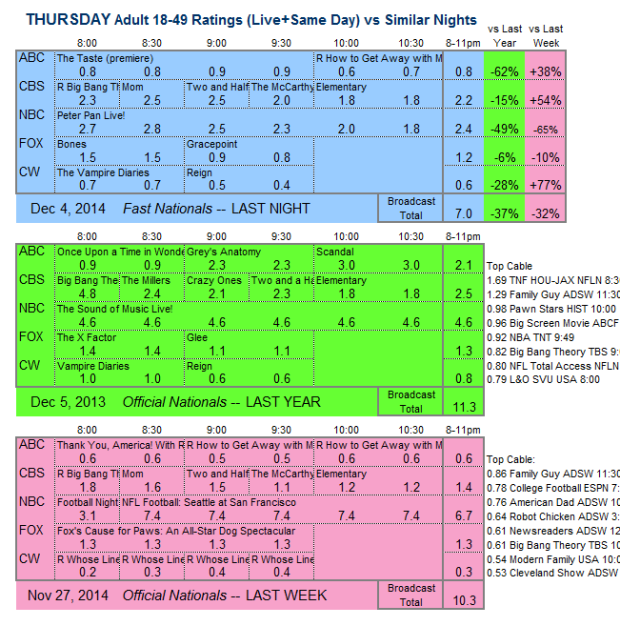 CABLE RATINGS: Come back this afternoon for detailed demographic ratings for top cable programs from this night.
About the Author
Mitch Metcalf
MITCH METCALF has been tracking every US film release of over 500 screens (over 2300 movies and counting) since the storied weekend of May 20, 1994, when Maverick and Beverly Hills Cop 3 inspired countless aficionados to devote their lives to the art of cinema. Prior to that, he studied Politics and Economics at Princeton in order to prepare for his dream of working in television. He has been Head of West Coast Research at ABC, then moved to NBC in 2000 and became Head of Scheduling for 11 years.