What's going on with THE BIG BANG THEORY?
DEMOGRAPHIC DETAIL: For each broadcast program (or hour segment), the chart below displays preliminary key advertiser demographics (adult 18-34, 18-49 and 25-54 ratings), audience skews (women 18-49, men 18-49 and adults 50+ shares) and total viewership (thousands of people over the age of 2).
Ratings analysis and comparisons follow the chart.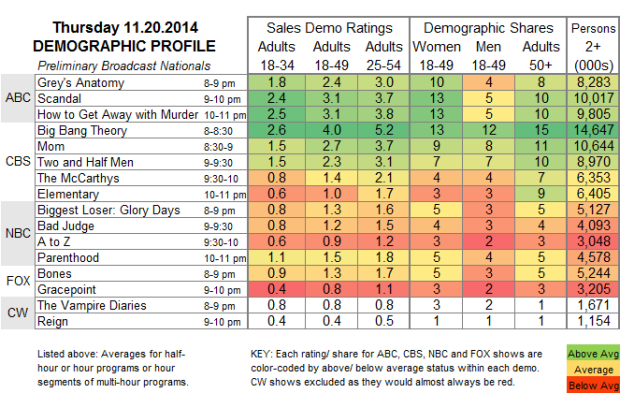 CBS:  THE BIG BANG THEORY is still the highest rated scripted show on broadcast TV, and its 4.0 last night made it the highest-rated show on a busy evening.  But that number is down half a point from last week, and down 25% from the 5.3 it scored in the parallel week last season.  While the show will no doubt continue to be a strong performer for years to come, it's starting to show signs of ratings arthritis.  Meanwhile, MOM was up 0.1 to 2.7, and 2 1/2 MEN rose 0.2 to 2.3.  THE MCCARTHYS and ELEMENTARY were only able to hold at their respective 1.4 and 1.0.  (NOTE:  THURSDAY NIGHT FOOTBALLwas carried locally over-the-air in the Bay Area on CBS station KPIX, but most of the CBS line-up aired in prime time because of the 5:30 pm local start of the game.  Only MOM and 2 1/2 MEN were pushed deep into late night in the Bay Area due to the game.)
ABC:  It was fall finale night in ShondaLand, and the results, while strong, may not have been as spectacular as the network had hoped.  GREY'S ANATOMY was steady at 2.4, and SCANDAL actually lost 0.1 to 3.1.  HOW TO GET AWAY WITH MURDER gained 0.2 to 3.1.
NBC:  NBC ratings are inflated by a major pre-emption in Kansas City for THURSDAY NIGHT FOOTBALL on KSBH.  The NBC line-up was not "made good" (i.e., carried in late night) in Kansas City so all of that local NFL viewing in KC will be replaced by zero ratings for the NBC shows locally this afternoon in the official nationals.  Also, THE BIGGEST LOSER ratings will come down slightly because of scattered local pre-emptions for President Obama's address, which was not carried by a major English-language broadcast network although many NBC stations on their own carried the speech from 8:00-8:15 pm ET.  For now, BIGGEST LOSER is up 0.1 to 1.3, BAD JUDGE and A TO Z are each up 0.3, to 1.2/0.9, and PARENTHOOD only wishes it could hold onto its current 1.5, up half a point from last week.
FOX:  BONES is currently steady at 1.3, although some local stations also aired the President's speech during the hour, which may affect its final numbers.  GRACEPOINT held at 0.8.
CW:  THE VAMPIRE DIARIES gained 0.1 to 0.8, and REIGN remained at 0.4.
All the networks except FOX (which airs reruns) has fresh episodes of their regular series tonight.
COMPARISONS TO SIMILAR NIGHTS: Preliminary adult 18-49 ratings versus the same night last year and same night last week.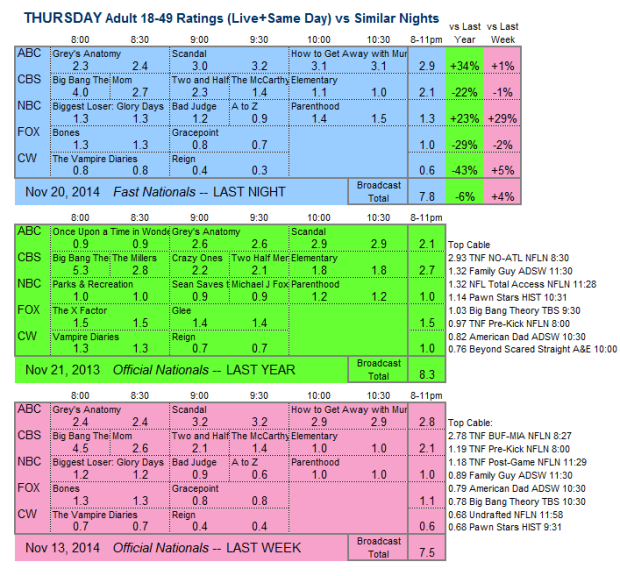 CABLE RATINGS: Come back this afternoon for detailed demographic ratings for top cable programs from this night.
About the Author
Mitch Metcalf
MITCH METCALF has been tracking every US film release of over 500 screens (over 2300 movies and counting) since the storied weekend of May 20, 1994, when Maverick and Beverly Hills Cop 3 inspired countless aficionados to devote their lives to the art of cinema. Prior to that, he studied Politics and Economics at Princeton in order to prepare for his dream of working in television. He has been Head of West Coast Research at ABC, then moved to NBC in 2000 and became Head of Scheduling for 11 years.