Because of Nielsen's holiday schedule, we may not have Thursday cable 18-49 numbers for several days.  However, based on household ratings, ESPN got exactly the punch from the new COLLEGE FOOTBALL PLAYOFFS that it had hoped for with its multi-billion dollar license deal.  Preliminary numbers give yesterday's ROSE BOWL a 15.5 household rating, up more than 4 points from last year's 11.2, and the SUGAR BOWL, at 15.3, was up an incredible 8.1 points from last year's 7.2.  Those numbers are higher than any NFL MONDAY NIGHT FOOTBALL game ESPN has carried all season, and in fact higher than any primetime NFL game since the season opener.  Of course, all of this is just preparation for the real bonanza–the CHAMPIONSHIP GAME on January 12 between Oregon and surprise winner Ohio State.
DEMOGRAPHIC DETAIL: For each broadcast program (or hour segment), the chart below displays preliminary key advertiser demographics (adult 18-34, 18-49 and 25-54 ratings), audience skews (women 18-49, men 18-49 and adults 50+ shares) and total viewership (thousands of people over the age of 2).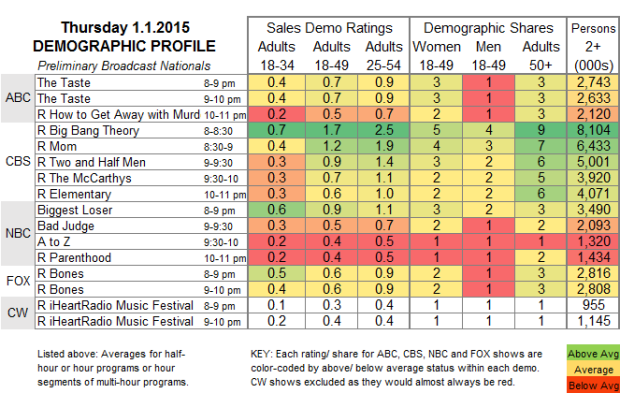 NBC:  Things were far more dull on the broadcast networks.  NBC was one of the networks airing new programming last night, and the results were painful:  0.9 for THE BIGGEST LOSER (tying its series low), and 0.5/0.4 for BAD JUDGE/A TO Z (new lows for both, respectively down 0.6 and 0.4 from their last episodes).  The night was rounded out with another 0.4 for a PARENTHOOD rerun.
ABC:  THE TASTE's 0.8 was down 0.1 for a new series low, followed by 0.5 for a HOW TO GET AWAY WITH MURDER rerun. 
CBS:  The highest rated show of the night was the rerun of THE BIG BANG THEORY at 1.7, followed by 1.2 for a rerun of MOM.  The night's other reruns didn't hit 1.0.
FOX:  BONES reruns at twin 0.6s.
CW:  The second half of the rerun IHEARTRADIO MUSIC FESTIVAL special at 0.3.
Tonight it's CBS airing fresh episodes of its regular line-up, while the other networks are in rerun mode.
COMPARISONS TO SIMILAR NIGHTS: Preliminary adult 18-49 ratings versus the same night last year and same night last week.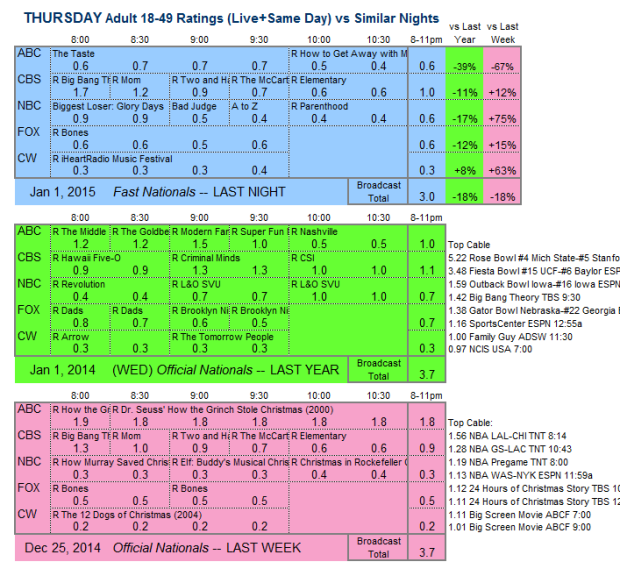 CABLE RATINGS:
Detailed demographic ratings for top cable programs from this day will be available next week due to New Year's holiday delays.  The current release schedule for cable nationals and broadcast finals next week is:
Wednesday Dec 31 data available Mon Jan 5 morning
Thursday Jan 1 & Friday Jan 2 data available Wed Jan 7 morning
Saturday Jan 3 & Sunday Jan 4 data available Wed Jan 7 afternoon
Monday Jan 5 data available Thu Jan 8 morning
Tuesday Jan 6 data available Thu Jan 8 afternoon
Wednesday Jan 7 data available on Fri Jan 9 morning
The schedule returns to normal with the release of Thursday Jan 8 data on Friday Jan 9 in the afternoon.
About the Author
Mitch Metcalf
MITCH METCALF has been tracking every US film release of over 500 screens (over 2300 movies and counting) since the storied weekend of May 20, 1994, when Maverick and Beverly Hills Cop 3 inspired countless aficionados to devote their lives to the art of cinema. Prior to that, he studied Politics and Economics at Princeton in order to prepare for his dream of working in television. He has been Head of West Coast Research at ABC, then moved to NBC in 2000 and became Head of Scheduling for 11 years.