Football is back.
DEMOGRAPHIC DETAIL: For each broadcast program (or hour segment), the chart below displays preliminary key advertiser demographics (adult 18-34, 18-49 and 25-54 ratings), audience skews (women 18-49, men 18-49 and adults 50+ shares) and total viewership (thousands of people over the age of 2).

Ratings analysis and comparisons follow the chart.
NBC:  The NFL's preseason kicked off with the annual HALL OF FAME GAME, and Americans have lost none of their lust for the sport:  its 3.2 rating preliminary rating was up substantially from the 2014 edition, easily giving NBC the nightly win.  The game should go from a 3.2 preliminary 8-11PM rating up to around a 3.7 official rating when the early west coast viewing is properly counted.  Whatever happens, this year's game will be well above the 2.8 official adult 18-49 rating last year.  Earlier in the evening, the two MR ROBINSON repeats will go down from the preliminary 1.1 and 1.2 numbers to around a 0.5 official rating when the west coast viewing of the game's final hour is placed with the 10PM east coast viewing.
CBS:  BIG BROTHER grew by 0.2 to 2.1.
ABC:  BACHELOR IN PARADISE gained 0.1 to 1.2, but SAVE MY LIFE fell 0.2 to 0.6.
FOX:  Reruns, led by 0.7s for THE SIMPSONS and FAMILY GUY.
Cable tonight features the midseason finale of TNT's MAJOR CRIMES and what may well be the final exit for ABCFamily's BECOMING US.
COMPARISONS TO SIMILAR NIGHTS: Preliminary adult 18-49 ratings versus the same night last year and same night last week.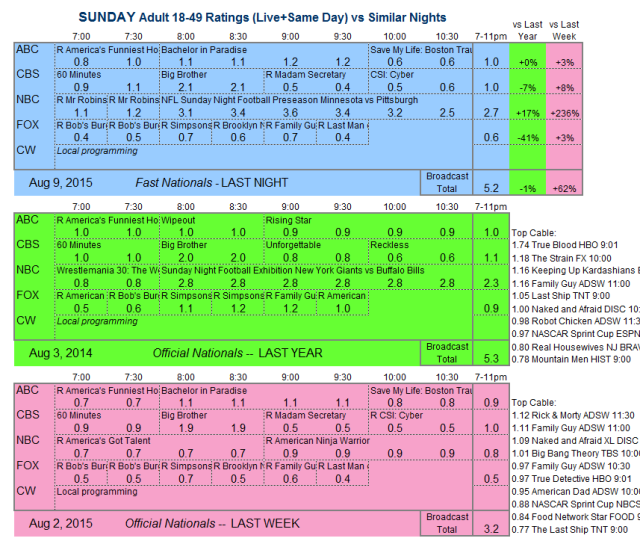 CABLE RATINGS: Come back this afternoon for detailed demographic ratings for top Friday cable programs. Saturday & Sunday cable ratings will be posted Tuesday morning.
###
About the Author
Mitch Metcalf
MITCH METCALF has been tracking every US film release of over 500 screens (over 2300 movies and counting) since the storied weekend of May 20, 1994, when Maverick and Beverly Hills Cop 3 inspired countless aficionados to devote their lives to the art of cinema. Prior to that, he studied Politics and Economics at Princeton in order to prepare for his dream of working in television. He has been Head of West Coast Research at ABC, then moved to NBC in 2000 and became Head of Scheduling for 11 years.