The US WOMENS WORLD CUP team romped on the airwaves as well as the field.
DEMOGRAPHIC DETAIL: For each broadcast program (or hour segment), the chart below displays preliminary key advertiser demographics (adult 18-34, 18-49 and 25-54 ratings), audience skews (women 18-49, men 18-49 and adults 50+ shares) and total viewership (thousands of people over the age of 2).

Ratings analysis and comparisons follow the chart.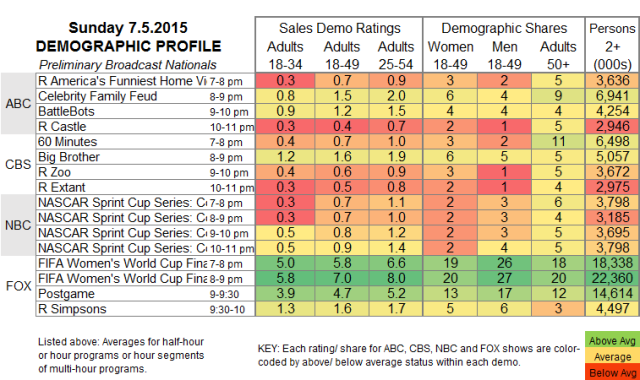 FOX:  The finals of the WOMENS WORLD CUP hit an unprecedented 6.4 preliminary rating last night, up 1.7 from the 2011 finals (which was a Sunday afternoon game that aired on ESPN).  Perhaps even more impressively, the match was less than a point behind the preliminary 7.2 rating for the final game of this year's NBA FINALS, considered one of the major non-football sports events of the TV year. 
NBC:  Sports didn't go so well for NBC, as its NASCAR race was delayed by rain past primetime on the east coast, leaving a 0.8 preliminary rating for the filler that aired instead. 
ABC:  CELEBRITY FAMILY FEUD fell 0.4 to 1.5, and BATTLEBOTS dropped 0.2 to 1.2, bookended by reruns at 0.7 and 0.4.
CBS:  60 MINUTES was down 0.2 to 0.7, and BIG BROTHER lost 0.3 from last Sunday to 1.5.  Reruns of ZOO and EXTANT followed at 0.6/0.5 (in the case of EXTANT, not that much lower than the rating for the first-run airing of the episode).
Tonight's primetime features the finale of THE ISLAND on NBC, and the return of PENN & TELLER: FOOL US on CW.  On cable, ABCFamily brings CHASING LIFE back to its line-up, pushing the flopping BECOMING US to a 10PM slot that the network doesn't usually fill with new programming. 
COMPARISONS TO SIMILAR NIGHTS: Preliminary adult 18-49 ratings versus the same night last year and same night last week.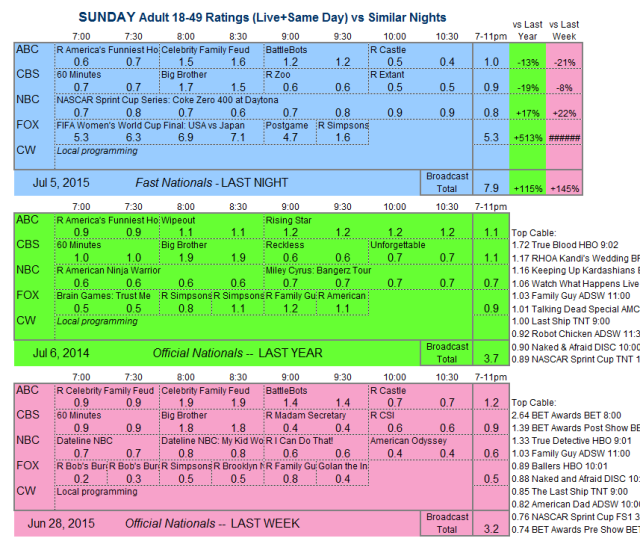 CABLE RATINGS: Saturday & Sunday cable ratings will be posted Wednesday morning (delayed by the Independence Day holiday). Come back this afternoon for detailed demographic ratings for top Thursday cable programs. Friday cable ratings will be posted Tuesday morning.
###
About the Author
Mitch Metcalf
MITCH METCALF has been tracking every US film release of over 500 screens (over 2300 movies and counting) since the storied weekend of May 20, 1994, when Maverick and Beverly Hills Cop 3 inspired countless aficionados to devote their lives to the art of cinema. Prior to that, he studied Politics and Economics at Princeton in order to prepare for his dream of working in television. He has been Head of West Coast Research at ABC, then moved to NBC in 2000 and became Head of Scheduling for 11 years.