Something went right for the TONY AWARDS.
DEMOGRAPHIC DETAIL: For each broadcast program (or hour segment), the chart below displays preliminary key advertiser demographics (adult 18-34, 18-49 and 25-54 ratings), audience skews (women 18-49, men 18-49 and adults 50+ shares) and total viewership (thousands of people over the age of 2).

Ratings analysis and comparisons follow the chart.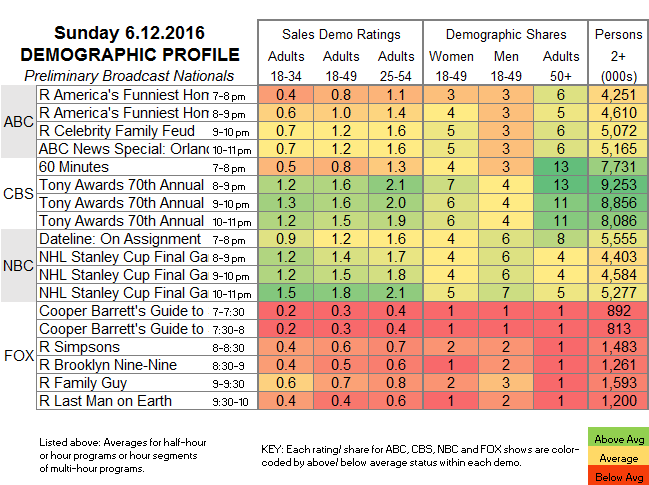 CBS:  Whether it was HAMILTON, host James Corden, a lesser order of sports competition, a reaction to the day's terrible news, or some combination thereof, THE TONY AWARDS took a mighty leap, rising two-thirds from last year's preliminary 0.9 to a 1.5 that was the highest rating the show has had in more than a decade.  The night started with a 0.8 60 MINUTES, making the awards telecast a self-starter.
NBC:  The preliminary 1.6 for the 6th and last game of this year's STANLEY CUP FINALS was up 0.2 from the early number for Thursday's game.  The night started with a 1.2 DATELINE.
ABC:  A line-up of 0.8-1.2 reruns was capped by a special 20/20 on the Orlando story at 1.2.
FOX:  After 0.3 burn-offs of 2 COOPER BARRETT'S GUIDE TO LIFE episodes, reruns were at 0.4-0.7.
Tonight will be dominated by Game 5 of the NBA FINALS, but there are also a pair of network premieres.  CBS will debut perhaps the summer's highest-profile new series, BRAINDEAD, which boasts THE GOOD WIFE's Robert and Michelle King as its creators and a cast headed by Mary Elizabeth Winstead and Tony Shalhoub, while NBC has the reality series SPARTAN: ULTIMATE TEAM CHALLENGE.  On cable, Freeform launches the thriller GUILT.
COMPARISONS TO SIMILAR NIGHTS: Preliminary adult 18-49 ratings versus the same night last year and same night last week.
CABLE RATINGS: Come back this afternoon for detailed demographic ratings for top Friday cable programs. Saturday & Sunday cable ratings will be posted Tuesday morning.
###
About the Author
Mitch Metcalf
MITCH METCALF has been tracking every US film release of over 500 screens (over 2300 movies and counting) since the storied weekend of May 20, 1994, when Maverick and Beverly Hills Cop 3 inspired countless aficionados to devote their lives to the art of cinema. Prior to that, he studied Politics and Economics at Princeton in order to prepare for his dream of working in television. He has been Head of West Coast Research at ABC, then moved to NBC in 2000 and became Head of Scheduling for 11 years.