Not a tuneful evening.
DEMOGRAPHIC DETAIL: For each broadcast program (or hour segment), the chart below displays preliminary key advertiser demographics (adult 18-34, 18-49 and 25-54 ratings), audience skews (women 18-49, men 18-49 and adults 50+ shares) and total viewership (thousands of people over the age of 2).

Ratings analysis and comparisons follow the chart.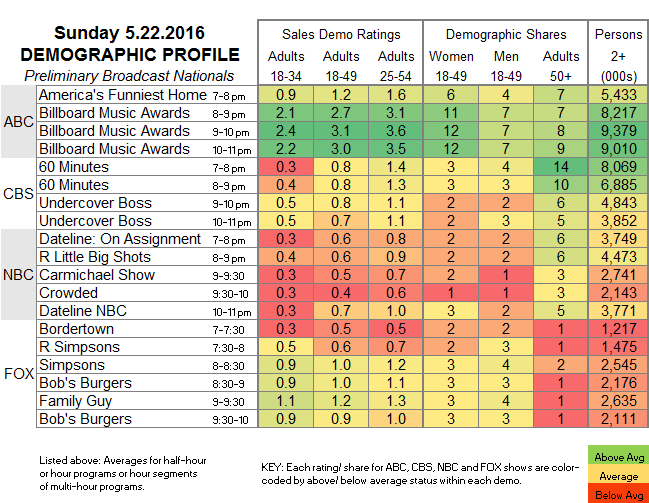 ABC:  This is the first time the BILLBOARD MUSIC AWARDS were aired live nationwide, which means that the ratings are subject to a higher level of adjustment.  Still, the preliminary 2.9 is down a big 0.9 from last year's number, and it's unlikely to come anywhere close to making up that gap.  The night started with the season finale of AMERICA'S FUNNIEST HOME VIDEOS at 1.2.
FOX:  After 0.5 for the series finale of BORDERTOWN, a SIMPSONS rerun was at 0.6.  The season finale of THE SIMPSONS was at 1.0, which was down 0.2 from both last week and last year's finale. The FAMILY GUY season finale, at 1.2, was down 0.1 both from last week and 2015.  There were two episodes of BOB'S BURGERS, 1.0 at 8:30PM (steady with last week) and 0.9 for the season finale at 9:30PM (down 0.2 from last year).
NBC:  After 0.6 for the 7PM DATELINE, down 0.1 from last week, and 0.6 for a LITTLE BIG SHOTS rerun, THE CARMICHAEL SHOW crashed by 0.3 to a series low 0.5, and the series finale of CROWDED plunged 0.3 to 0.4.  The night ended with 0.7 for another DATELINE, down 0.2.
CBS:  2 hours of 60 MINUTES started the night at 0.8/1.0, compared to 1.0 for both hours last week.  A pair of UNDERCOVER BOSS episodes followed at 0.8/0.7, down from last week's 0.9.
Tonight's line-up includes finales for GOTHAM, BLINDSPOT and THE ODD COUPLE, as well as the season premiere of THE BACHELORETTE.
COMPARISONS TO SIMILAR NIGHTS: Preliminary adult 18-49 ratings versus the same night last year and same night last week.
CABLE RATINGS: Come back this afternoon for detailed demographic ratings for top Friday cable programs. Saturday & Sunday cable ratings will be posted Tuesday morning.
###
About the Author
Mitch Metcalf
MITCH METCALF has been tracking every US film release of over 500 screens (over 2300 movies and counting) since the storied weekend of May 20, 1994, when Maverick and Beverly Hills Cop 3 inspired countless aficionados to devote their lives to the art of cinema. Prior to that, he studied Politics and Economics at Princeton in order to prepare for his dream of working in television. He has been Head of West Coast Research at ABC, then moved to NBC in 2000 and became Head of Scheduling for 11 years.