A solid night for the Bible.
DEMOGRAPHIC DETAIL: For each broadcast program (or hour segment), the chart below displays preliminary key advertiser demographics (adult 18-34, 18-49 and 25-54 ratings), audience skews (women 18-49, men 18-49 and adults 50+ shares) and total viewership (thousands of people over the age of 2).

Ratings analysis and comparisons follow the chart.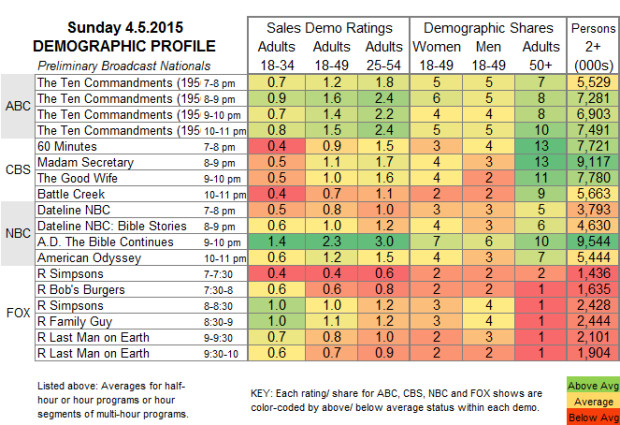 NBC:  The Easter Sunday premiere of AD:  THE BIBLE CONTINUES drew a good 2.3 (which remained stable throughout the hour), and if it holds that number next week, it will be one of the night's highest rated shows on network TV.  However, the rating was a full point below the premiere of THE BIBLE on History Channel last March, a network which has far less visibility than NBC.  Even with older-skewing total viewers, AD was at 9.5M, compared to THE BIBLE's 13.1M  The rest of the night didn't go as well.  A regular 7PM DATELINE was at 0.8, and a special "BIBLE STORIES" DATELINE was at 1.0.  Even worse, despite the strong lead-in, AMERICAN ODYSSEY could only manage 1.2–which was down to 1.0 by 10:30PM–giving the show little hope.
ABC:  Despite the New Testament competition, THE TEN COMMANDMENTS did just fine at 1.4.  That was up 0.4 from last year's telecast (on a less-watched Saturday), and not at all bad for a 59-year old movie that ran for 4 hours and has aired scores of times on network TV.
CBS:  60 MINUTES didn't have an NCAA Tournament lead-in this week, and only reached 0.9.  MADAM SECRETARY was also hurt, down 0.3 to 1.1.  THE GOOD WIFE was steady at its series low 1.0, and BATTLE CREEK slipped 0.1 to 0.7.
FOX:  A night of reruns, topped by 1.1 for FAMILY GUY.
Tonight's network TV will be dominated by the NCAA CHAMPIONSHIP GAME on CBS (although its number may not be quite as high as it would have been had Kentucky not been beaten on Saturday).  Nevertheless, all the other networks are airing fresh programming, aside from a GOTHAM rerun on FOX.  The cable highlight is AMC's season finale of BETTER CALL SAUL.
COMPARISONS TO SIMILAR NIGHTS: Preliminary adult 18-49 ratings versus the same night last year and same night last week.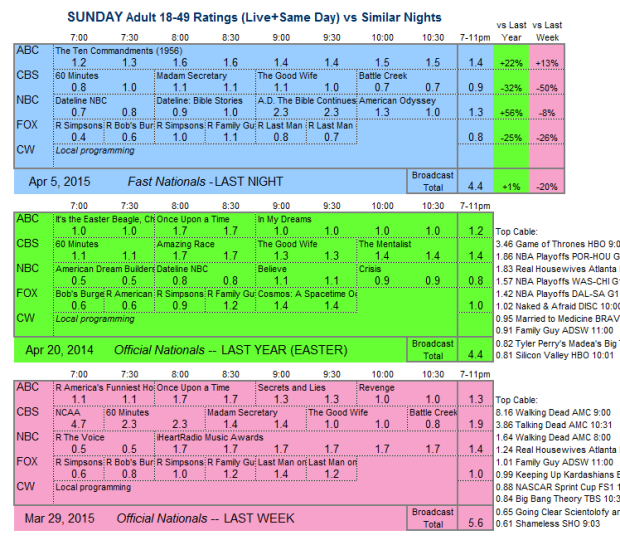 CABLE RATINGS: Come back this afternoon for detailed demographic ratings for top Friday cable programs. Saturday & Sunday cable ratings will be posted Tuesday morning.
About the Author
Mitch Metcalf
MITCH METCALF has been tracking every US film release of over 500 screens (over 2300 movies and counting) since the storied weekend of May 20, 1994, when Maverick and Beverly Hills Cop 3 inspired countless aficionados to devote their lives to the art of cinema. Prior to that, he studied Politics and Economics at Princeton in order to prepare for his dream of working in television. He has been Head of West Coast Research at ABC, then moved to NBC in 2000 and became Head of Scheduling for 11 years.