AD held up fairly well without an Easter Sunday boost.
DEMOGRAPHIC DETAIL: For each broadcast program (or hour segment), the chart below displays preliminary key advertiser demographics (adult 18-34, 18-49 and 25-54 ratings), audience skews (women 18-49, men 18-49 and adults 50+ shares) and total viewership (thousands of people over the age of 2).
Ratings analysis and comparisons follow the chart.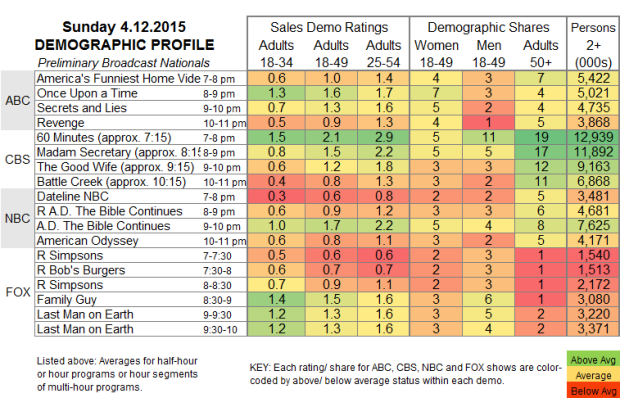 NBC:  AD: THE BIBLE CONTINUES was due to drop post-Easter, and it was down 0.6 from last week to 1.7, but that's still a decent number these days (and actually went up a tenth in the 2d half-hour), so the network will likely be content if it can stay at that level.  AMERICAN ODYSSEY, though, had no room to drop and yet did, by 0.4 to a likely death sentence at 0.8.  The night started with an hour of DATELINE (down 0.2 to 0.6), and a rerun of last week's AD at 0.9.
ABC:  After AMERICA'S FUNNIEST HOME VIDEOS fell 0.4 to 1.0, ONCE UPON A TIME dropped 0.1 to 1.6, SECRETS AND LIES held at 1.3, and REVENGE lost 0.1 to 0.9.
FOX:  An odd night of scheduling had the first 90 minutes of the night in reruns (topped by the 8PM THE SIMPSONS at 0.9), then an out-of-time-period FAMILY GUY (down 0.2 from its last regularly scheduled episode to 1.5), and then an hour of new back-to-back THE LAST MAN ON EARTH episodes, both at 1.3, which is where its recent 1.2-1.4 range has been as the network has aired 1 and 2 episode nights through its run. 
CBS:  In much of the country, THE MASTERS TOURNAMENT spilled over into primetime by 15 minutes, so the preliminary numbers are due for adjustment.  At the moment, 60 MINUTES is at 2.1, MADAM SECRETARY is at 1.5, THE GOOD WIFE is at 1.2, and BATTLE CREEK is at 0.8.
All the networks are new tonight, and that includes the return of GOTHAM from several weeks of hiatus.  On cable, AMC has a 2-hour season premiere for TURN: WASHINGTON'S SPIES.
COMPARISONS TO SIMILAR NIGHTS: Preliminary adult 18-49 ratings versus the same night last year and same night last week.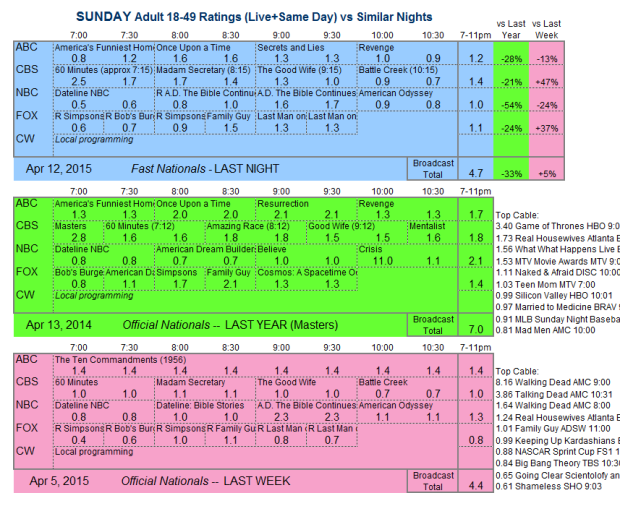 CABLE RATINGS: Come back this afternoon for detailed demographic ratings for top Friday cable programs. Saturday & Sunday cable ratings will be posted Tuesday morning.
###
About the Author
Mitch Metcalf
MITCH METCALF has been tracking every US film release of over 500 screens (over 2300 movies and counting) since the storied weekend of May 20, 1994, when Maverick and Beverly Hills Cop 3 inspired countless aficionados to devote their lives to the art of cinema. Prior to that, he studied Politics and Economics at Princeton in order to prepare for his dream of working in television. He has been Head of West Coast Research at ABC, then moved to NBC in 2000 and became Head of Scheduling for 11 years.