A generally foul Easter Sunday for all the networks.
DEMOGRAPHIC DETAIL: For each broadcast program (or hour segment), the chart below displays preliminary key advertiser demographics (adult 18-34, 18-49 and 25-54 ratings), audience skews (women 18-49, men 18-49 and adults 50+ shares) and total viewership (thousands of people over the age of 2).

Ratings analysis and comparisons follow the chart.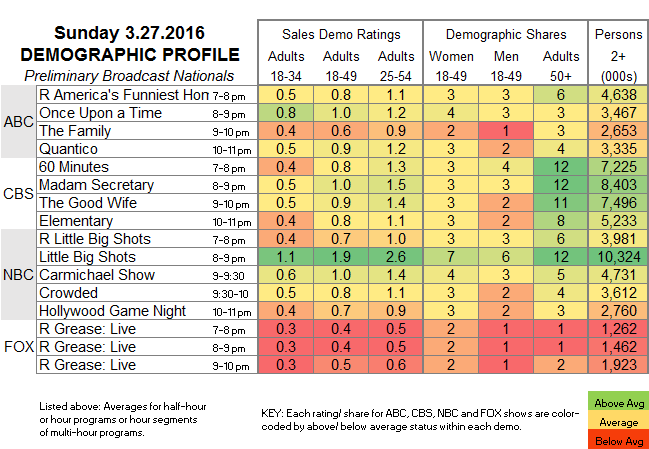 ABC:  Things only got worse from last week's lows.  After 0.8 for an AMERICA'S FUNNIEST HOME VIDEOS rerun, ONCE UPON A TIME, THE FAMILY and QUANTICO all dropped 0.1, respectively to 1.0/0.6/0.9, series lows across the board.  With ONCE and QUANTICO already renewed for next season, Sundays are looking very problematic for ABC.
NBC:  Although LITTLE BIG SHOTS was easily the biggest show on broadcast TV last night, it took a very big 0.7 hit down to 1.9.  (The night started with a 0.7 BIG SHOTS rerun.)  That pushed THE CARMICHAEL SHOW down 0.3 to 1.0 and CROWDED down 0.2 to 0.8, while HOLLYWOOD GAME NIGHT held last week's 0.7.
CBS:  Without the NCAA Tournament as lead-in, 60 MINUTES plunged by half to 0.8.  MADAM SECRETARY and THE GOOD WIFE were each down 0.1, to 1.0/0.9.  ELEMENTARY, which didn't start until 10:30PM in most of the country last week, remained at 0.8.
FOX:  A rerun of GREASE LIVE was no longer the one that viewers wanted, dismal at 0.4.
When the season started, the producers of SUPERGIRL painstakingly explained why the character wouldn't interact with the DC Comics world they had created for CW.  But mediocre ratings top comic book logic every time, and tonight THE FLASH will join forces with Kara.  Cable features finales of THE FOSTERS and RECOVERY ROAD on Freeform.
COMPARISONS TO SIMILAR NIGHTS: Preliminary adult 18-49 ratings versus the same night last year and same night last week.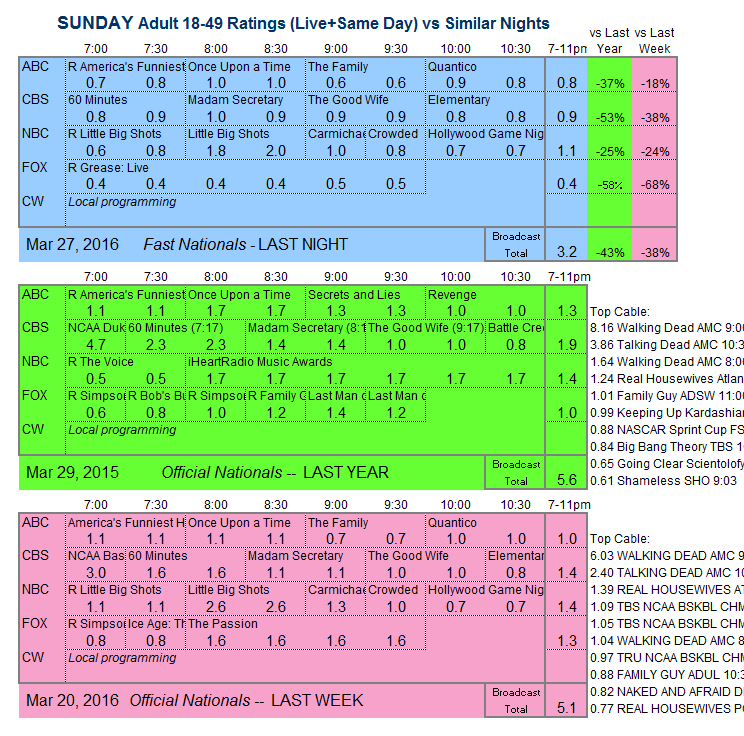 CABLE RATINGS: Come back this afternoon for detailed demographic ratings for top Friday cable programs. Saturday & Sunday cable ratings will be posted Tuesday morning.
###
About the Author
Mitch Salem
MITCH SALEM has worked on the business side of the entertainment industry for 20 years, as a senior business affairs executive and attorney for such companies as NBC, ABC, USA, Syfy, Bravo, and BermanBraun Productions, and before that, at the NY law firm of Weil, Gotshal & Manges. During all that, he has more or less constantly been going to the movies and watching TV, and writing about both since the 1980s. His film reviews also currently appear on screened.com and the-burg.com. In addition, he is co-writer of an episode of the television series "Felicity."