MONDAY AFTERNOON UPDATE:  FOX has issued post-SUPER BOWL ratings for 24: LEGACY, which had a 6.1 18-49 rating and 17.6M total P2+ viewers.  In any other context, of course, those would be massive numbers.  But compared to other post-Super Bowl programming, they're rather mild.  Last year's LATE SHOW WITH STEPHEN COLBERT, which started only 6 minutes earlier than 24: LEGACY despite this year's overtime, had a 7.7 18-49 rating and 20.55M total viewers, and in 2015, THE BLACKLIST (10:38PM EST) was at 8.4/25.72M.  The LEGACY number is comparable to the BROOKLYN NINE-NINE that followed a NEW GIRL in 2014 at 10:54PM, with 14.8M viewers and a 6.9 demo rating.  (NEW GIRL's demo rating was 11.4.)  It's the lowest post-Super Bowl demo performance in at least a decade. We'll find out tomorrow morning how that translates into the ratings for the show's regular timeslot tonight.
Because the SUPER BOWL went into overtime, 24: LEGACY was pushed out of primetime, and we won't have its ratings until tomorrow (unless FOX releases its own preliminary numbers sooner).  Early household indications suggest that the ratings will be a bit below recent post-Super Bowl levels, although that's in part because of the late start.
As for the SUPER BOWL itself, see Mitch Metcalf's special SKEDBALL post for more detail.  Preliminary 18-49 ratings have the game at 33.8.  Last year's early rating was 34.1, which adjusted up to 37.7, so this year's number may be a few tenths lower.  However, don't shed any tears for FOX, which hit a bonanza with the extra game-time ads it was able to air during overtime.
None of the other networks attempted to compete with FOX, and no rerun scored higher than 0.5 for the night.
Tonight 24: LEGACY moves to its regular Monday 8PM slot, followed by the premiere of lead-out APB.  In addition, CBS airs its revamped 9PM hour, with the new SUPERIOR DONUTS preceding 2 BROKE GIRLS.
DEMOGRAPHIC DETAIL: For each broadcast program (or hour segment), the chart below displays preliminary key advertiser demographics (adult 18-34, 18-49 and 25-54 ratings), audience skews (women 18-49, men 18-49 and adults 50+ shares) and total viewership (thousands of people over the age of 2).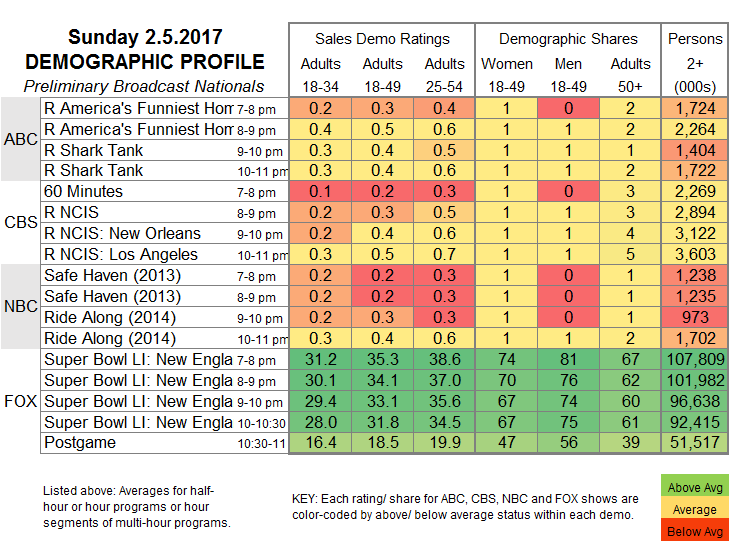 COMPARISONS TO SIMILAR NIGHTS: Preliminary adult 18-49 ratings versus the same night last year and same night last week.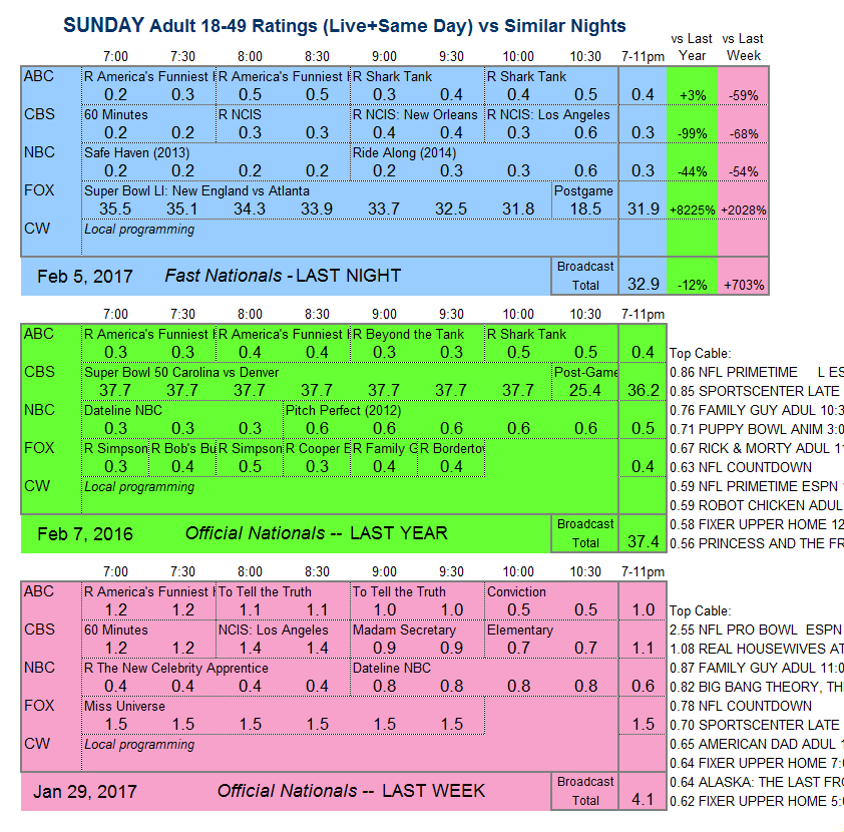 CABLE RATINGS: Come back this afternoon for detailed demographic ratings for top Friday cable programs. Saturday & Sunday cable ratings will be posted Tuesday morning.
###
About the Author
Mitch Salem
MITCH SALEM has worked on the business side of the entertainment industry for 20 years, as a senior business affairs executive and attorney for such companies as NBC, ABC, USA, Syfy, Bravo, and BermanBraun Productions, and before that, at the NY law firm of Weil, Gotshal & Manges. During all that, he has more or less constantly been going to the movies and watching TV, and writing about both since the 1980s. His film reviews also currently appear on screened.com and the-burg.com. In addition, he is co-writer of an episode of the television series "Felicity."