Unless it was for football, TV viewers were firmly in holiday non-watching mode.
DEMOGRAPHIC DETAIL: For each broadcast program (or hour segment), the chart below displays preliminary key advertiser demographics (adult 18-34, 18-49 and 25-54 ratings), audience skews (women 18-49, men 18-49 and adults 50+ shares) and total viewership (thousands of people over the age of 2).

Ratings analysis and comparisons follow the chart.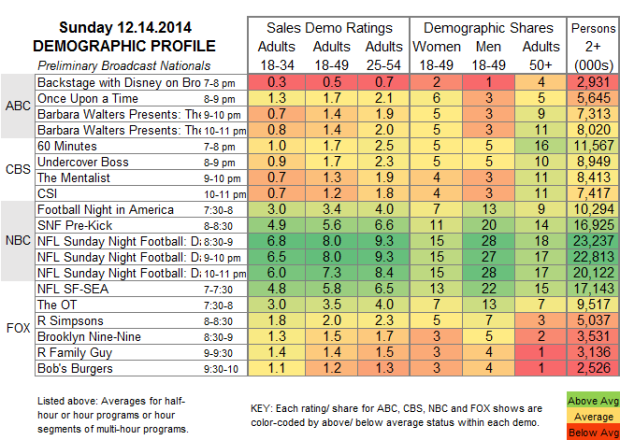 ABC:  The FROZEN story arc of ONCE UPON A TIME ended ignominiously, as the show fell 0.3 to a series low 1.7.  It wasn't helped by the terrible 0.5 lead-in it got from the BACKSTAGE WITH DISNEY special that preceded it.  This year's BARBARA WALTERS 10 MOST FASCINATING PEOPLE special dropped an awful 0.8 from last year to 1.4.
FOX:  Although the network had the late national game, it aired rerun episodes of THE SIMPSONS (2.0) and FAMILY GUY (1.4), so the numbers weren't as strong as they might have been.  Fresh episodes of BROOKLYN NINE-NINE and BOB'S BURGERS were down, respectively by 0.6 to 1.5, and by 0.4 to 1.2.
CBS:  There was a football overrun in much of the country, so the network's numbers may change.  60 MINUTES is currently up 0.1 to 1.7, UNDERCOVER BOSS is at 1.7, THE MENTALIST is up 0.2 to 1.3, and CSI is steady at 1.2.
NBC:  The preliminary rating for SUNDAY NIGHT FOOTBALL is 7.7 (Dallas vs Philadelphia, a pair of marquee teams), up in a big way from last week's preliminary 6.1.
Tonight CW is taking an odd approach to the Season 4 launch of HART OF DIXIE, airing the "season premiere" tonight before the midseason finale of JANE THE VIRGIN, then pulling the show for almost 4 weeks before running the other 9 episodes of the short season on Fridays beginning January 9.  FOX airs the AMERICAN COUNTRY COUNTDOWN AWARDS.  The other networks are new aside from a rerun CASTLE on ABC.  On cable, Syfy premieres its 3-night miniseries/backdoor pilot ASCENSION.
COMPARISONS TO SIMILAR NIGHTS: Preliminary adult 18-49 ratings versus the same night last year and same night last week.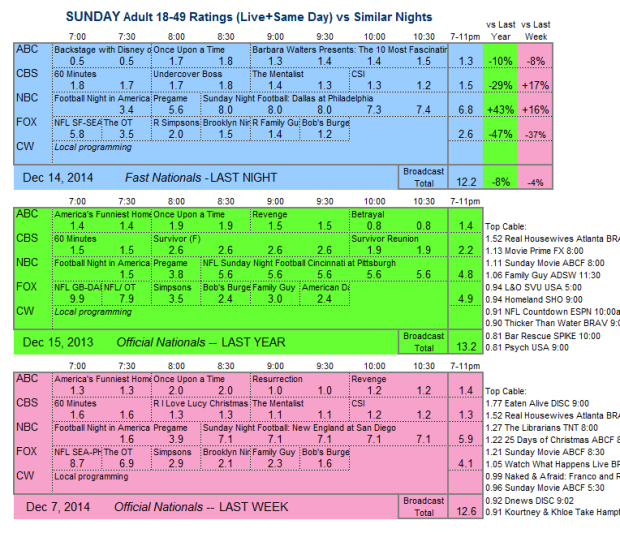 CABLE RATINGS: Come back this afternoon for detailed demographic ratings for top Friday cable programs. Saturday & Sunday cable ratings will be posted Tuesday morning.
About the Author
Mitch Metcalf
MITCH METCALF has been tracking every US film release of over 500 screens (over 2300 movies and counting) since the storied weekend of May 20, 1994, when Maverick and Beverly Hills Cop 3 inspired countless aficionados to devote their lives to the art of cinema. Prior to that, he studied Politics and Economics at Princeton in order to prepare for his dream of working in television. He has been Head of West Coast Research at ABC, then moved to NBC in 2000 and became Head of Scheduling for 11 years.