Viewers know which NFL games they really care about.
DEMOGRAPHIC DETAIL: For each broadcast program (or hour segment), the chart below displays preliminary key advertiser demographics (adult 18-34, 18-49 and 25-54 ratings), audience skews (women 18-49, men 18-49 and adults 50+ shares) and total viewership (thousands of people over the age of 2).

Ratings analysis and comparisons follow the chart.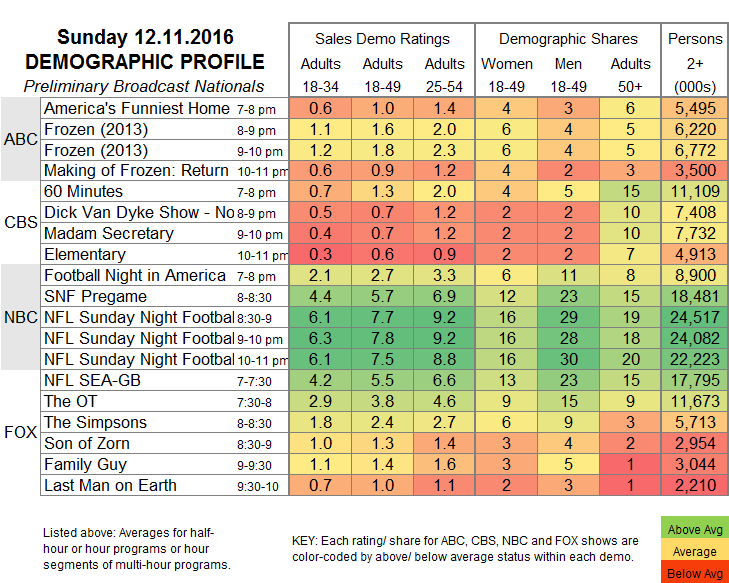 NBC:  The preliminary 7.7 for the Cowboys vs. Giants SUNDAY NIGHT FOOTBALL game was up a whopping 2.6 from last week's early number, more than a 50% increase.
ABC:  Even though FROZEN has been run to death on cable, not to mention the millions who own it on homevideo, it still gave ABC a 1.7 rating, better than the night's regular line-up.  Many of the viewers didn't hang around (or stay awake) for the 10PM MAKING OF FROZEN special, which slumped to 0.9.  The night started with AMERICA'S FUNNIEST HOME VIDEOS, steady at 1.0.
CBS:  60 MINUTES was down 0.1 to 1.3.  There wasn't much interest in an hour of colorized DICK VAN DYKE SHOW reruns at 0.7.  The 9-11PM slots were reruns last week, and MADAM SECRETARY was down 0.3 from 2 weeks ago to 0.7, while ELEMENTARY slipped 0.1 to 0.6.
FOX:  For the 2d week in a row, FOX had the late afternoon national NFL game.  THE SIMPSONS held at 2.4, SON OF ZORN was steady at 1.3, FAMILY GUY fell 0.2 to 1.4, and THE LAST MAN ON EARTH was down 0.1 to 1.0.
ABC, FOX and CW are in holiday mode tonight, with a mix of reruns and seasonal programming.
COMPARISONS TO SIMILAR NIGHTS: Preliminary adult 18-49 ratings versus the same night last year and same night last week.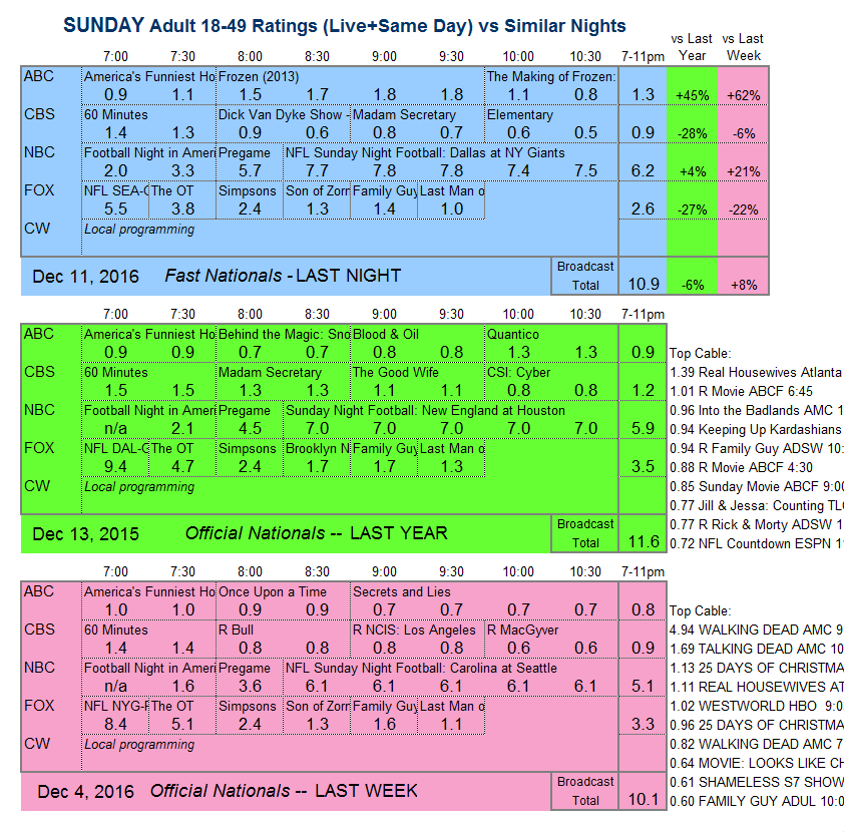 CABLE RATINGS: Come back this afternoon for detailed demographic ratings for top Friday cable programs. Saturday & Sunday cable ratings will be posted Tuesday morning.
###
About the Author
Mitch Metcalf
MITCH METCALF has been tracking every US film release of over 500 screens (over 2300 movies and counting) since the storied weekend of May 20, 1994, when Maverick and Beverly Hills Cop 3 inspired countless aficionados to devote their lives to the art of cinema. Prior to that, he studied Politics and Economics at Princeton in order to prepare for his dream of working in television. He has been Head of West Coast Research at ABC, then moved to NBC in 2000 and became Head of Scheduling for 11 years.