Viewers were hopelessly devoted to GREASE LIVE.
DEMOGRAPHIC DETAIL: For each broadcast program (or hour segment), the chart below displays preliminary key advertiser demographics (adult 18-34, 18-49 and 25-54 ratings), audience skews (women 18-49, men 18-49 and adults 50+ shares) and total viewership (thousands of people over the age of 2).

Ratings analysis and comparisons follow the chart.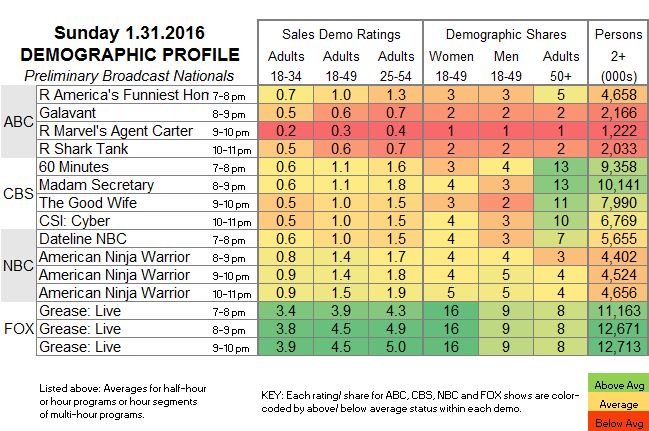 FOX:  In 18-49s, GREASE LIVE was sensational for FOX, with a preliminary 4.3 rating that handily beat last December's 3.4 for THE WIZ LIVE on NBC, and came close to the 4.6 earned by THE SOUND OF MUSIC LIVE.  (In total viewers, things were a bit different, with about 12.5M sets of eyeballs compared to 18.5M for the older-skewing SOUND OF MUSIC.)  With results like this, there's no doubt the Broadway craze on network TV will continue.
ABC:  After a 1.0 AMERICA'S FUNNIEST HOME VIDEOS rerun, the finale half-hours of GALAVANT were at 0.6/0.5, just slightly better than last week's 0.5/0.5 and far from tuneful.  More reruns followed at 0.3/0.6.
CBS:  In recent weeks, the network's shows have either aired with huge NFL playoff lead-ins or against huge NFL competition.  Going back to January 10 for a realistic comparison, 60 MINUTES was up 0.3 to 1.1, MADAM SECRETARY was up 0.1 to 1.1, THE GOOD WIFE was down 0.1 to 1.0, and CSI: CYBER held at 1.0. 
NBC:  The night started with a 1.0 DATELINE, and then a 3-hour AMERICAN NINJA WARRIOR special earned 1.5, the closest thing FOX had to competition.
All the networks are new tonight except CBS, which airs reruns after a new SUPERGIRL.
COMPARISONS TO SIMILAR NIGHTS: Preliminary adult 18-49 ratings versus the same night last year and same night last week.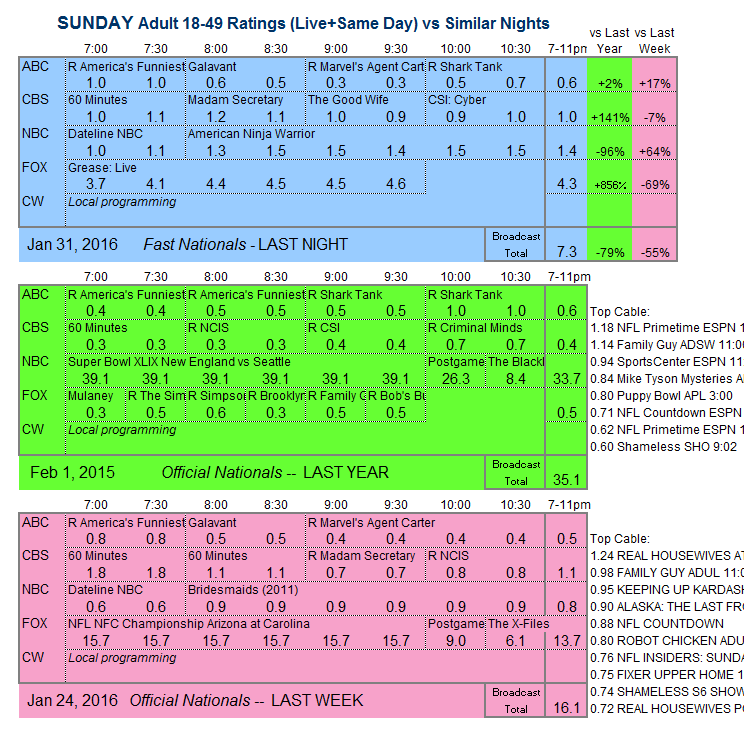 CABLE RATINGS: Come back this afternoon for detailed demographic ratings for top Friday cable programs. Saturday & Sunday cable ratings will be posted Tuesday morning.
###
About the Author
Mitch Metcalf
MITCH METCALF has been tracking every US film release of over 500 screens (over 2300 movies and counting) since the storied weekend of May 20, 1994, when Maverick and Beverly Hills Cop 3 inspired countless aficionados to devote their lives to the art of cinema. Prior to that, he studied Politics and Economics at Princeton in order to prepare for his dream of working in television. He has been Head of West Coast Research at ABC, then moved to NBC in 2000 and became Head of Scheduling for 11 years.