The WINTER OLYMPICS stayed low to the end.
DEMOGRAPHIC DETAIL: For each broadcast program (or hour segment), the chart below displays preliminary key advertiser demographics (adult 18-34, 18-49 and 25-54 ratings), audience skews (women 18-49, men 18-49 and adults 50+ shares) and total viewership (thousands of people over the age of 2).

Ratings analysis and comparisons follow the chart.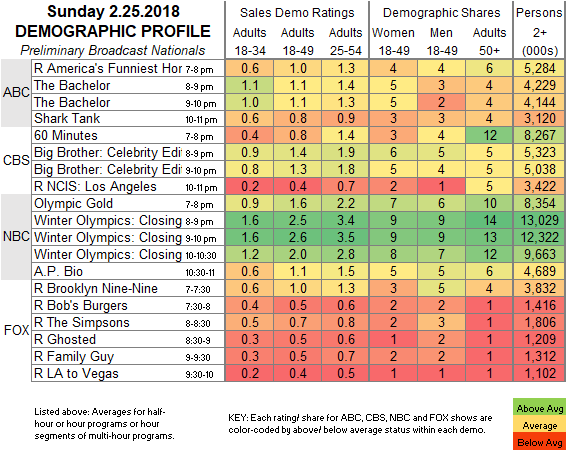 NBC:  The CLOSING CEREMONY of the WINTER OLYMPICS had a preliminary 2.4.  Comparisons to Closing Ceremonies in the past:  2014 Sochi 3.2, 2010 Vancouver 5.5, 2006 Turin 3.8, 2002 Salt Lake City 13.1.  The finale was followed by a "sneak' of another episode of the sitcom AP BIO, which showed little promise at 1.1.  (NBC has already showed its lack of confidence by moving AP BIO from its originally scheduled post-WILL & GRACE slot to the one after SUPERSTORE on Thursday.)  The night began with 1.6 for an OLYMPIC GOLD special.

CBS:  The finale of BIG BROTHER: CELEBRITY EDITION rose 0.2 from last Sunday to 1.4.  60 MINUTES began the night up 0.1 to 0.8, and a rerun of NCIS: LA at 0.4 ended the evening.
ABC:  THE BACHELOR: WOMEN TELL ALL special was at 1.1, down 0.6 from the regular episode last Monday.  SHARK TANK gained 0.1 to 0.8.  The night kicked off with an AMERICA'S FUNNIEST HOME VIDEOS rerun at 1.0.
FOX:  Reruns at 0.4-1.0, but the 1.0 is for a 7PM BROOKLYN NINE-NINE rerun that may come down in final numbers.
Now that the Olympics are over, a virtual avalanche of new and returning scripted shows are arriving tonight.  They include LIVING BIBLICALLY on CBS, THE VOICE and GOOD GIRLS on NBC, IZOMBIE on CW, MCMAFIA on AMC, FINAL SPACE on TBS, SHOOT THE MESSENGER on WGN, and UNREAL on Lifetime.
COMPARISONS TO SIMILAR NIGHTS: Preliminary adult 18-49 ratings versus the same night last year and same night last week.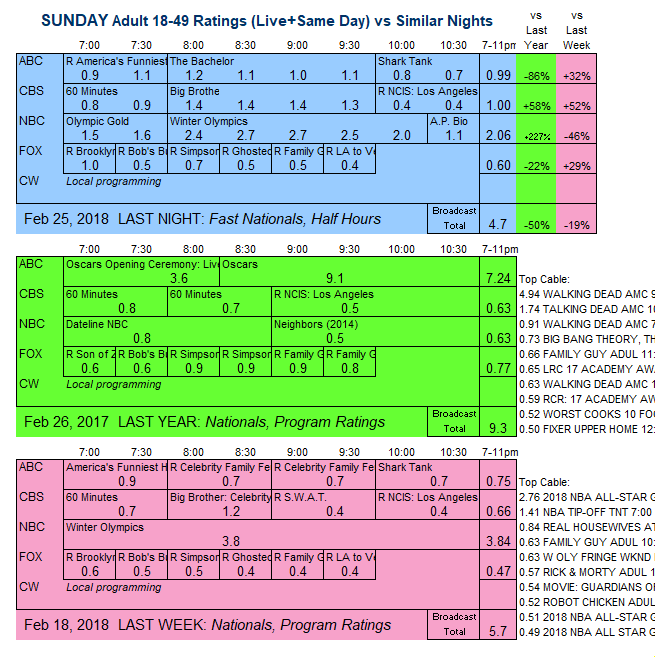 CABLE RATINGS: Come back this afternoon for detailed demographic ratings for top Friday cable programs. Saturday & Sunday cable ratings will be posted Tuesday morning.
PREVIOUS SUNDAY NETWORK SCORECARDS (FAST NATIONALS)
PREVIOUS SUNDAY CABLE & BROADCAST NATIONALS
###
About the Author
Mitch Metcalf
MITCH METCALF has been tracking every US film release of over 500 screens (over 2300 movies and counting) since the storied weekend of May 20, 1994, when Maverick and Beverly Hills Cop 3 inspired countless aficionados to devote their lives to the art of cinema. Prior to that, he studied Politics and Economics at Princeton in order to prepare for his dream of working in television. He has been Head of West Coast Research at ABC, then moved to NBC in 2000 and became Head of Scheduling for 11 years.