A CHRISTMAS STORY wasn't merry at all.
DEMOGRAPHIC DETAIL: For each broadcast program (or hour segment), the chart below displays preliminary key advertiser demographics (adult 18-34, 18-49 and 25-54 ratings), audience skews (women 18-49, men 18-49 and adults 50+ shares) and total viewership (thousands of people over the age of 2).

Ratings analysis and comparisons follow the chart.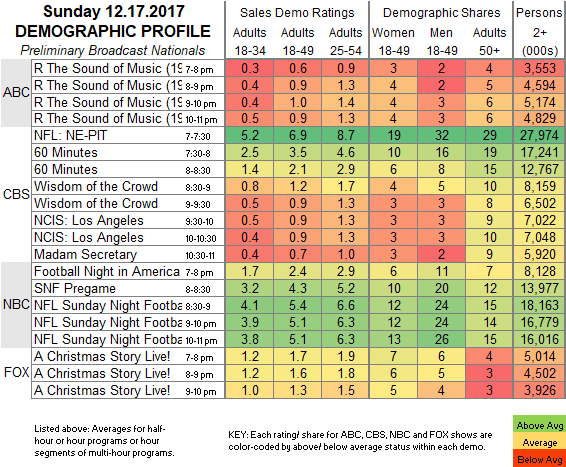 FOX:  To put it bluntly, live TV musicals cost a fortune to mount, and networks don't do them for the 1.5 rating of A CHRISTMAS STORY.  That wasn't just far below the network's GREASE (4.3), it was even lower than NBC's HAIRSPRAY (2.3).  Most embarrassingly, while it pulled out a win in 18-49s, its total viewer audience of 4.48M was below the 4.54M for the millionth run of THE SOUND OF MUSIC on ABC.
ABC:  THE SOUND OF MUSIC, while stronger in the older-skewing total viewer metric, fell 0.3 from last year's airing in 18-49s to 0.8.  In 2016, though, it didn't face competition from another high-profile musical.
CBS:  It's been 3 weeks since CBS had the late afternoon national NFL game.  Compared to the preliminaries for that night, 60 MINUTES is up 1.3 to 2.8, WISDOM OF THE CROWD is up 0.2 to 1.1, NCIS: LA is up 0.1 to 0.9, and MADAM SECRETARY is at 0.7.
NBC;  The preliminary 5.2 for SUNDAY NIGHT FOOTBALL is up 0.3 from last week's game.
NBC begins the two-night cycle finale of THE VOICE tonight, and follows it with a "preview" of ELLEN'S GAME OF GAMES, while ABC has THE YEAR IN MEMORIAM special.  On cable, HBO premieres the 3-night miniseries GUNPOWDER.
COMPARISONS TO SIMILAR NIGHTS: Preliminary adult 18-49 ratings versus the same night last year and same night last week.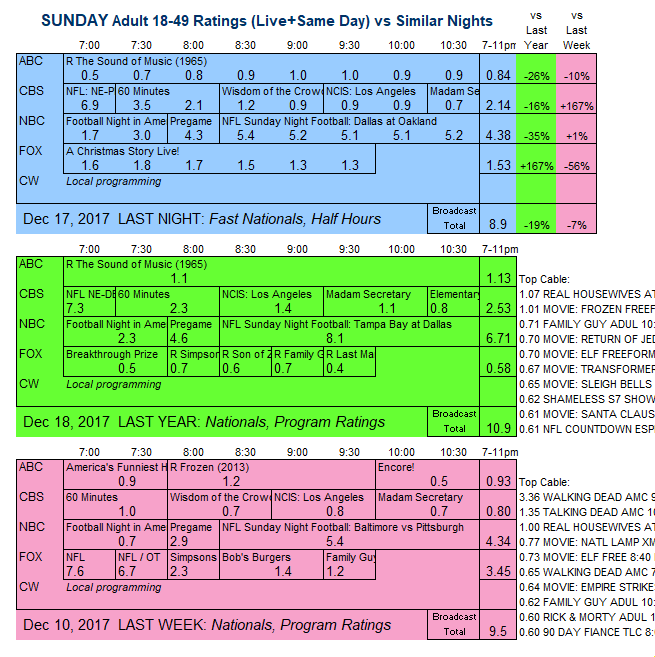 CABLE RATINGS: Come back this afternoon for detailed demographic ratings for top Friday cable programs. Saturday & Sunday cable ratings will be posted Tuesday morning.
PREVIOUS SUNDAY NETWORK SCORECARDS (FAST NATIONALS)
PREVIOUS SUNDAY CABLE & BROADCAST NATIONALS
###
About the Author
Mitch Metcalf
MITCH METCALF has been tracking every US film release of over 500 screens (over 2300 movies and counting) since the storied weekend of May 20, 1994, when Maverick and Beverly Hills Cop 3 inspired countless aficionados to devote their lives to the art of cinema. Prior to that, he studied Politics and Economics at Princeton in order to prepare for his dream of working in television. He has been Head of West Coast Research at ABC, then moved to NBC in 2000 and became Head of Scheduling for 11 years.