FOX's COLLEGE FOOTBALL game, featuring Stanford vs. Notre Dame (1.8) topped ABC's with Oklahoma vs. Oklahoma State (1.4) in preliminary ratings.  CBS preceded 48 HOURS (0.8) with a trio of holiday reruns:  FROSTY THE SNOWMAN at 1.4, FROSTY RETURNS at 1.2, and THE STORY OF SANTA CLAUS at 0.9.  On NBC, a 2-hour DATELINE and a SNL rerun were both at 0.8.
With November sweeps over, FOX is in rerun mode tonight.  Cable features the fall finale of THE WALKING DEAD.
DEMOGRAPHIC DETAIL: For each broadcast program (or hour segment), the chart below displays preliminary key advertiser demographics (adult 18-34, 18-49 and 25-54 ratings), audience skews (women 18-49, men 18-49 and adults 50+ shares) and total viewership (thousands of people over the age of 2).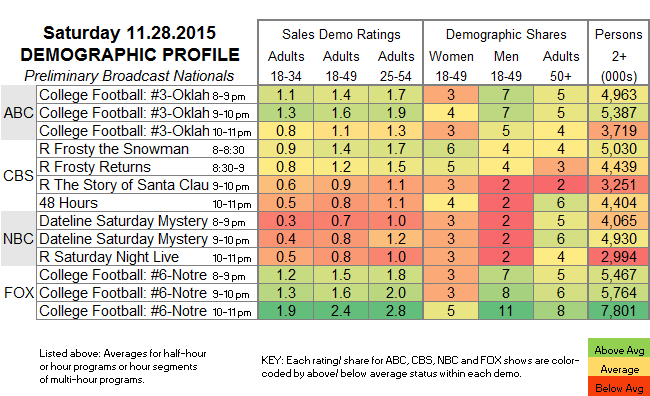 While you are waiting for the cable numbers to resume, check out the new Audience Maps for all the fall broadcast shows.
###
About the Author
Mitch Metcalf
MITCH METCALF has been tracking every US film release of over 500 screens (over 2300 movies and counting) since the storied weekend of May 20, 1994, when Maverick and Beverly Hills Cop 3 inspired countless aficionados to devote their lives to the art of cinema. Prior to that, he studied Politics and Economics at Princeton in order to prepare for his dream of working in television. He has been Head of West Coast Research at ABC, then moved to NBC in 2000 and became Head of Scheduling for 11 years.