Fast national ratings indicate NBC is on track for an 8.3 rating with Adults 18-49 in prime time Saturday night, well below the same night in Beijing but on par with Athens and Sydney.  The 8.3 rating assumes NBC excluded the 8:00 half hour by delaying the national commercials until 8:30 (as it usually does on Olympic Saturday nights).   If the 5.6 rating from 8:00-8:30 is included in the nightly rating, Saturday's rating would drop to a 7.9 rating.  
8:30-9:00 last night averaged a 6.6 rating (up from a 6.0 Friday night), but each half hour from 9-11 pm Saturday was slightly lower than Friday's.
9:00-9:30: 7.5 Saturday vs 7.7 Friday.
9:30-10:00: 8.5 Saturday vs 8.8 Friday.
10:00-10:30: 9.2 Saturday vs 9.8 Friday.
10:30-11:00: 9.8 Saturday vs 10.1 Friday.
The London average through nine nights is currently a preliminary 10.6 rating, now four tenths of a rating point ahead of Beijing and still well ahead of 2000 and 2004.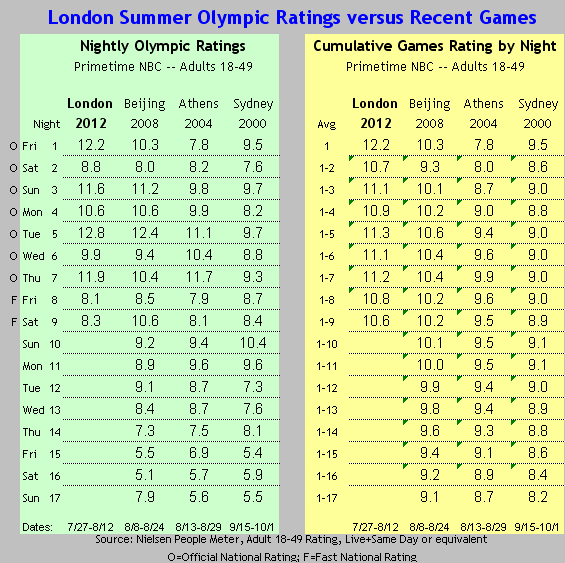 About the Author
Mitch Metcalf
MITCH METCALF has been tracking every US film release of over 500 screens (over 2300 movies and counting) since the storied weekend of May 20, 1994, when Maverick and Beverly Hills Cop 3 inspired countless aficionados to devote their lives to the art of cinema. Prior to that, he studied Politics and Economics at Princeton in order to prepare for his dream of working in television. He has been Head of West Coast Research at ABC, then moved to NBC in 2000 and became Head of Scheduling for 11 years.