A foreboding start for summer programming.
DEMOGRAPHIC DETAIL: For each broadcast program (or hour segment), the chart below displays preliminary key advertiser demographics (adult 18-34, 18-49 and 25-54 ratings), audience skews (women 18-49, men 18-49 and adults 50+ shares) and total viewership (thousands of people over the age of 2).

Ratings analysis and comparisons follow the chart.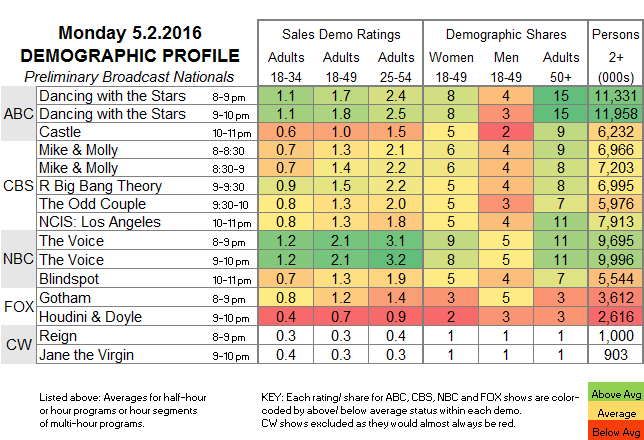 FOX:  HOUDINI & DOYLE is primarily a summer series, even though the regular season has more than 3 weeks remaining, so expectations were low.  But at 0.7, the show certainly didn't overperform, down half a point from its lead-in GOTHAM, which was steady with its last new episode at 1.2.
CBS:  Back-to-back episodes of MIKE & MOLLY were at 1.3/1.4, compared to last week's 1.3 for a single episode.  In the 9PM hour, a BIG BANG THEORY rerun at 1.5 led in to the Monday arrival of THE ODD COUPLE, which at 1.3 was down 0.4 from last Thursday's episode (which had the benefit of a new BIG BANG as lead-in), and down 0.2 from the most recent episode that followed a BIG BANG rerun.  The season finale of NCIS: NEW ORLEANS rose 0.1 to 1.3.
NBC:  THE VOICE was up 0.1 to 2.1, and BLINDSPOT was down 0.1 to 1.3.
ABC:  DANCING WITH THE STARS held last week's 1.8, but CASTLE lost 0.1 to 1.0.
CW:  REIGN remained at 0.3, while JANE THE VIRGIN dipped 0.1 to 0.3.
CBS canceled PERSON OF INTEREST before what turned out to be its last batch of episodes even had a chance to air, and after this week, it will be burning the remaining hours off at a rate of twice per week.  The orphaned show begins its run tonight.
COMPARISONS TO SIMILAR NIGHTS: Preliminary adult 18-49 ratings versus the same night last year and same night last week.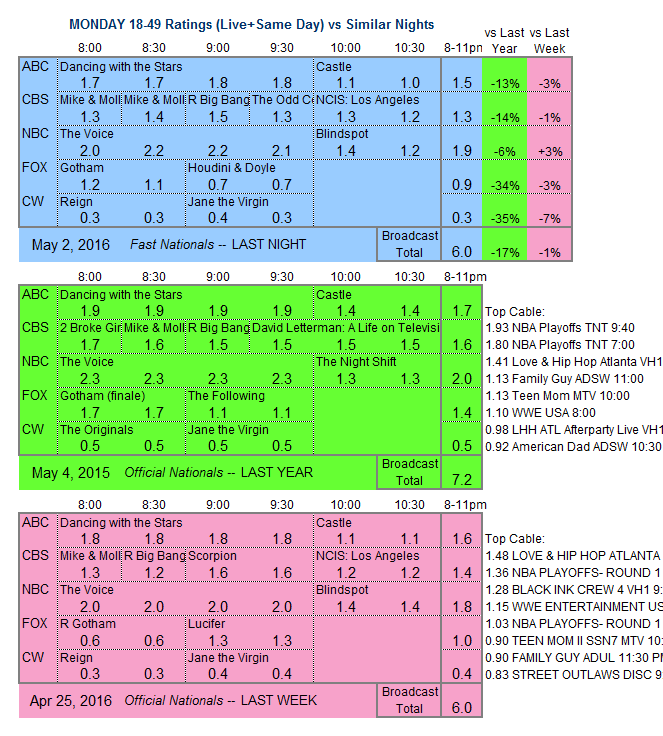 CABLE RATINGS: Come back this afternoon for detailed demographic ratings for top cable programs from this day.
###
About the Author
Mitch Salem
MITCH SALEM has worked on the business side of the entertainment industry for 20 years, as a senior business affairs executive and attorney for such companies as NBC, ABC, USA, Syfy, Bravo, and BermanBraun Productions, and before that, at the NY law firm of Weil, Gotshal & Manges. During all that, he has more or less constantly been going to the movies and watching TV, and writing about both since the 1980s. His film reviews also currently appear on screened.com and the-burg.com. In addition, he is co-writer of an episode of the television series "Felicity."