MIKE & MOLLY had a subdued season premiere.
DEMOGRAPHIC DETAIL: For each broadcast program (or hour segment), the chart below displays preliminary key advertiser demographics (adult 18-34, 18-49 and 25-54 ratings), audience skews (women 18-49, men 18-49 and adults 50+ shares) and total viewership (thousands of people over the age of 2).

Ratings analysis and comparisons follow the chart.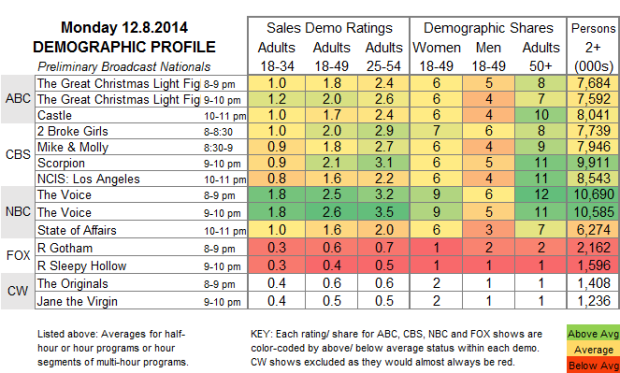 NBC:  Despite stronger competition from CBS, STATE OF AFFAIRS held last week's 1.6 (at least in preliminary numbers).  That's a far cry from where THE BLACKLIST has been in the timeslot, but it's enough to keep the network's finger off the rescheduling trigger.  Earlier, THE VOICE dropped 0.3 to 2.5, down a full point from where the show was last year at this time.
CBS:  After 2 BROKE GIRLS gained half a point to 2.1, MIKE & MOLLY had its belated series premiere at 1.8, which was down 0.1 from last season's finale and 0.8 from the premiere, an uncncouraging start.  SCORPION gained 0.2 to 2.1, and NCIS: LA was up 0.1 to 1.6. 
CW:  The midseason finale of THE ORIGINALS was steady at 0.6, and JANE THE VIRGIN was up 0.1 to 0.5.
ABC:  The network was preempted in home markets for the simulcast of MONDAY  NIGHT FOOTBALL, which means its current numbers will probably come down this afternoon.  At the moment, the season premiere of THE GREAT CHRISTMAS LIGHT FIGHT is at 1.9, and CASTLE is at 1.7.
FOX:  Reruns at 0.6/0.4.
Tonight's major event will take place on cable, as SONS OF ANARCHY airs its series finale on FX.  On the broadcast networks, ABC and CBS will have dueling venerable holiday specials at 8PM, with SANTA CLAUS IS COMING TO TOWN on ABC and RUDOLPH THE RED-NOSED REINDEER on CBS.  ABC follows it with midseason finales of AGENTS OF SHIELD and FOREVER, while CBS has the latest edition of the VICTORIA'S SECRET FASHION SHOW.  NBC has an infomercial for Angelina Jolie's movie UNBROKEN at 10PM (it's released by the network's parent company Universal).  CW airs midseason finales for THE FLASH and SUPERNATURAL.
COMPARISONS TO SIMILAR NIGHTS: Preliminary adult 18-49 ratings versus the same night last year and same night last week.
CABLE RATINGS: Come back this afternoon for detailed demographic ratings for top cable programs from this night.
About the Author
Mitch Metcalf
MITCH METCALF has been tracking every US film release of over 500 screens (over 2300 movies and counting) since the storied weekend of May 20, 1994, when Maverick and Beverly Hills Cop 3 inspired countless aficionados to devote their lives to the art of cinema. Prior to that, he studied Politics and Economics at Princeton in order to prepare for his dream of working in television. He has been Head of West Coast Research at ABC, then moved to NBC in 2000 and became Head of Scheduling for 11 years.