SUPERGIRL wasn't quite as fast as a speeding bullet this time around.
DEMOGRAPHIC DETAIL: For each broadcast program (or hour segment), the chart below displays preliminary key advertiser demographics (adult 18-34, 18-49 and 25-54 ratings), audience skews (women 18-49, men 18-49 and adults 50+ shares) and total viewership (thousands of people over the age of 2).

Ratings analysis and comparisons follow the chart.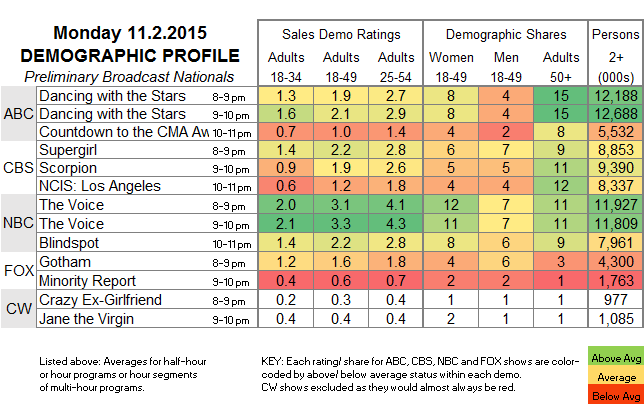 CBS:  SUPERGIRL was due for a course correction after last week's grand entrance, and it got one:  down 0.9 to 2.2, tying it (with BLINDSPOT) for the highest-rated non-VOICE show of the night.  2.2 is still a strong number these days, of course, and even if it settles by a few more tenths over the next few weeks, it would be a solid success–but the show no longer looks like a breakout hit.  Afterward, SCORPION was steady at 1.9, and NCIS: LA returned after a week off at 1.2.
FOX:  GOTHAM hasn't been hurt at all by its super-company in the 8PM slot, and was up 0.1 to 1.6.  MINORITY REPORT continued playing out its string, holding at 0.6.
NBC:  THE VOICE gained 0.1 to 3.2, and BLINDSPOT was also up 0.1 to 2.2.
ABC:   NOTE–numbers may be inflated significantly by local broadcast coverage of ESPN MONDAY NIGHT FOOTBALL on both WSOC in Charlotte and WRTV in Indianapolis.  For the moment, DANCING WITH THE STARS is up 0.2 to 2.0, and the COUNTDOWN TO THE CMAS special is at 1.0.

CW:  Both CRAZY EX-GIRLFRIEND and JANE THE VIRGIN are currently up 0.1, respectively to 0.3 and 0.4.
It used to be the case that when the World Series ended in less than 7 games, FOX would air reruns on the nights where the remaining games would have been scheduled, because of a concern that there wasn't enough time to properly promote new programming on those nights.  In our new faster-paced media world, though, the network has rushed new episodes of GRANDFATHERED, THE GRINDER and SCREAM QUEENS onto tonight's schedule.
COMPARISONS TO SIMILAR NIGHTS: Preliminary adult 18-49 ratings versus the same night last year and same night last week.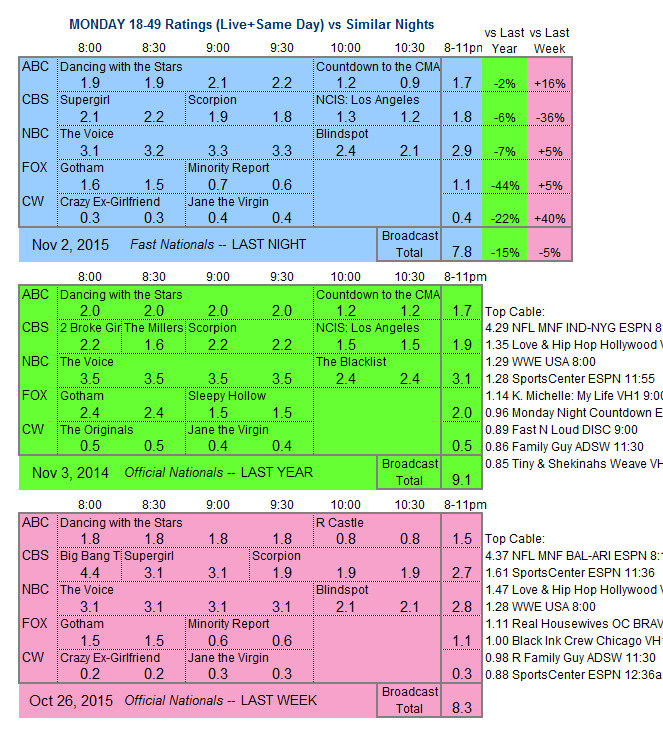 CABLE RATINGS: Come back this afternoon for detailed demographic ratings for top cable programs from this day.
###
About the Author
Mitch Metcalf
MITCH METCALF has been tracking every US film release of over 500 screens (over 2300 movies and counting) since the storied weekend of May 20, 1994, when Maverick and Beverly Hills Cop 3 inspired countless aficionados to devote their lives to the art of cinema. Prior to that, he studied Politics and Economics at Princeton in order to prepare for his dream of working in television. He has been Head of West Coast Research at ABC, then moved to NBC in 2000 and became Head of Scheduling for 11 years.