STATE OF AFFAIRS passed its first test last night, if not with flying colors.
DEMOGRAPHIC DETAIL: For each broadcast program (or hour segment), the chart below displays preliminary key advertiser demographics (adult 18-34, 18-49 and 25-54 ratings), audience skews (women 18-49, men 18-49 and adults 50+ shares) and total viewership (thousands of people over the age of 2).

Ratings analysis and comparisons follow the chart.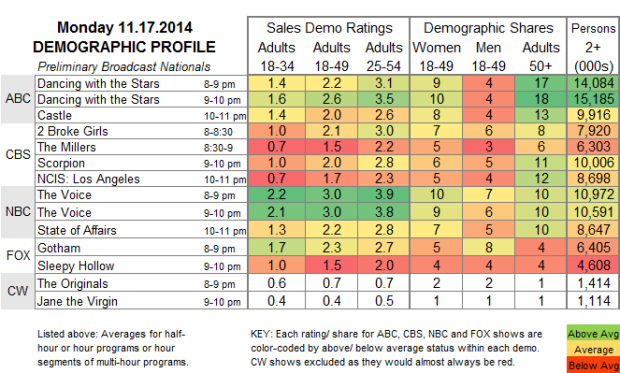 NBC:  STATE OF AFFAIRS won its timeslot with a 2.2 rating, and it held through the hour fairly well, declining from 2.3 in the 1st half hour to 2.1 in the 2d.  Any fears that viewers would shun Katherine Heigl as a series star were unfounded.  But there were danger signs as well:  AFFAIRS was down 0.3 from last week's THE BLACKLIST, and was notably weaker with male viewers–and heavily hyped shows tend to fall after their premieres.  Still, the network marketing department delivered eyes to the show, as of course did lead-in THE VOICE, although that show was down 0.2 from last week to 3.0.
CBS:  SCORPION continued to be hurt by its THE MILLERS lead-in (although not for much longer), remaining at last week's 2.0.  2 BROKE GIRLS was up 0.2 to 2.1, but MILLERS held at 1.5.  NCIS: LA, not having to face THE BLACKLIST, gained 0.2 to 1.7.
FOX:  GOTHAM was up 0.1 to 2.3, but SLEEPY HOLLOW lived up to its title, remaining at its series low 1.5.
ABC:  Network affiliates in both Nashville and Pittsburgh aired the simulcast of ESPN'S MONDAY NIGHT FOOTBALL, so these numbers are likely to tumble this afternoon.  At the moment, DANCING WITH THE STARS is up 0.4 to 2.4, and CASTLE is up half a point to 2.0.
CW:  THE ORIGINALS stayed at 0.7, and JANE THE VIRGIN lost 0.1 to 0.4.
ABC has slotted a rerun SHARK TANK in place of the now-defunct SELFIE, but otherwise the networks are all-new tonight.
COMPARISONS TO SIMILAR NIGHTS: Preliminary adult 18-49 ratings versus the same night last year and same night last week.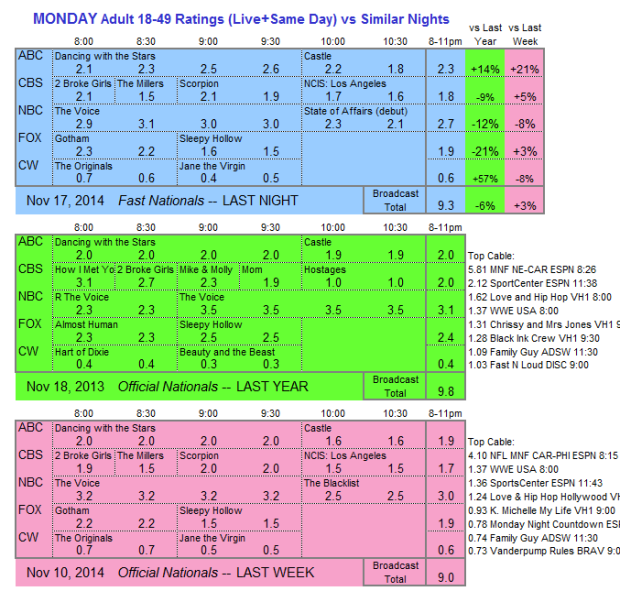 CABLE RATINGS: Come back this afternoon for detailed demographic ratings for top cable programs from this night.
About the Author
Mitch Metcalf
MITCH METCALF has been tracking every US film release of over 500 screens (over 2300 movies and counting) since the storied weekend of May 20, 1994, when Maverick and Beverly Hills Cop 3 inspired countless aficionados to devote their lives to the art of cinema. Prior to that, he studied Politics and Economics at Princeton in order to prepare for his dream of working in television. He has been Head of West Coast Research at ABC, then moved to NBC in 2000 and became Head of Scheduling for 11 years.