More lackluster season finales.
DEMOGRAPHIC DETAIL: For each broadcast program (or hour segment), the chart below displays preliminary key advertiser demographics (adult 18-34, 18-49 and 25-54 ratings), audience skews (women 18-49, men 18-49 and adults 50+ shares) and total viewership (thousands of people over the age of 2).

Ratings analysis and comparisons follow the chart.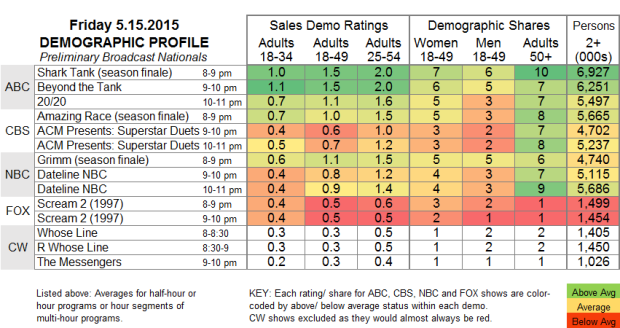 ABC:  The SHARK TANK season finale was at 1.5, down 0.1 from last week and down 0.2 from last year's finale.  BEYOND THE TANK gained 0.1 to 1.5, and 20/20 lost 0.1 to 1.1.
CBS:  THE AMAZING RACE saw its season finale fall 0.1 from last week to 1.0, which was down a whopping 0.8 from the 2014 season finale when the show still aired on Sundays.  The ACM PRESENTS: SUPERSTAR DUETS country music special was at a paltry 0.7.
NBC:  The GRIMM season finale gained 0.1 from last week to 1.1, but it was still down 0.2 from last season's finale.  A 2-hour DATELINE followed at 0.9, down 0.2 from last week.
CW:  WHOSE LINE IS ANYWAY dropped 0.2 to 0.3, and held that number for a rerun that followed.  THE MESSENGERS rose 0.1 to 0.3.  (A baseball simulcast in NY may change these numbers.)
FOX:  A run of the movie SCREAM 2 was at 0.5.
Tonight brings the usual Saturday reruns, although ABC has a COUNTDOWN TO THE BILLBOARD MUSIC AWARDS special.  The season finale of SATURDAY NIGHT LIVE is hosted by Louis C.K., with Rihanna as musical guest.  On Sunday, apart from the real BILLBOARD MUSIC AWARDS, FOX has season finales of its line-up, CBS airs a colorized I LOVE LUCY special, and E! has the season finale of THE ROYALS–but the hour that will be part of TV history is the series finale of AMC's MAD MEN.
CABLE RATINGS: Come back Monday for detailed demographic ratings for top cable programs from this day.
###
About the Author
Mitch Metcalf
MITCH METCALF has been tracking every US film release of over 500 screens (over 2300 movies and counting) since the storied weekend of May 20, 1994, when Maverick and Beverly Hills Cop 3 inspired countless aficionados to devote their lives to the art of cinema. Prior to that, he studied Politics and Economics at Princeton in order to prepare for his dream of working in television. He has been Head of West Coast Research at ABC, then moved to NBC in 2000 and became Head of Scheduling for 11 years.