Very little for any network to feel good about.
DEMOGRAPHIC DETAIL: For each broadcast program (or hour segment), the chart below displays preliminary key advertiser demographics (adult 18-34, 18-49 and 25-54 ratings), audience skews (women 18-49, men 18-49 and adults 50+ shares) and total viewership (thousands of people over the age of 2).

Ratings analysis follows the chart.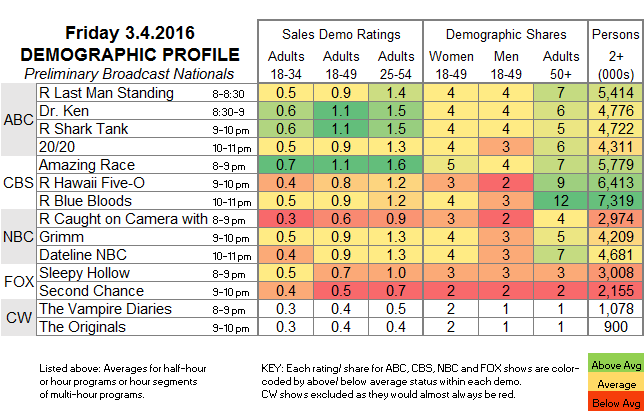 ABC:  DR KEN showed a bit of strength when the bubble show needs it, rising 0.1 from last week to 1.1 despite having a rerun LAST MAN STANDING (down 0.2 from last week's new episode) as lead-in.  SHARK TANK was a 1.1 rerun, and 20/20 was up 0.2 to 0.9.
CBS:  Only THE AMAZING RACE was new, steady at 1.1.  The reruns that followed were at 0.8/0.9.
NBC:  CAUGHT ON CAMERA slipped 0.1 to 0.6.  GRIMM's 0.9 was consistent with its last airing.  DATELINE was down 0.3 from last week's 2-hour episode to 0.9.
FOX:  SLEEPY HOLLOW fell a tenth it couldn't afford to 0.7, and SECOND CHANCE remained at 0.5.
CW:  THE VAMPIRE DIARIES and THE ORIGINALS had twin 0.4s, each down 0.1 from last week's crossover episodes.
Only an NBA game on ABC will stir anything tonight.  SATURDAY NIGHT LIVE is hosted by Jonah Hill, with musical guest The Future.  Sunday, however, will be far busier, as ABC brings back ONCE UPON A TIME and QUANTICO with THE FAMILY between them, and FOX reshuffles, moving BORDERTOWN to the Siberia of 7PM and returning THE LAST MAN ON EARTH to the air.  Above all of them, however, looms the final episode of DOWNTON ABBEY, the end of an era in more ways than one.
CABLE RATINGS: Come back Monday for detailed demographic ratings for top cable programs from this day.
###
About the Author
Mitch Metcalf
MITCH METCALF has been tracking every US film release of over 500 screens (over 2300 movies and counting) since the storied weekend of May 20, 1994, when Maverick and Beverly Hills Cop 3 inspired countless aficionados to devote their lives to the art of cinema. Prior to that, he studied Politics and Economics at Princeton in order to prepare for his dream of working in television. He has been Head of West Coast Research at ABC, then moved to NBC in 2000 and became Head of Scheduling for 11 years.