ABC is probably glad to turn the page on WHEN WE RISE.
DEMOGRAPHIC DETAIL: For each broadcast program (or hour segment), the chart below displays preliminary key advertiser demographics (adult 18-34, 18-49 and 25-54 ratings), audience skews (women 18-49, men 18-49 and adults 50+ shares) and total viewership (thousands of people over the age of 2).

Ratings analysis follows the chart.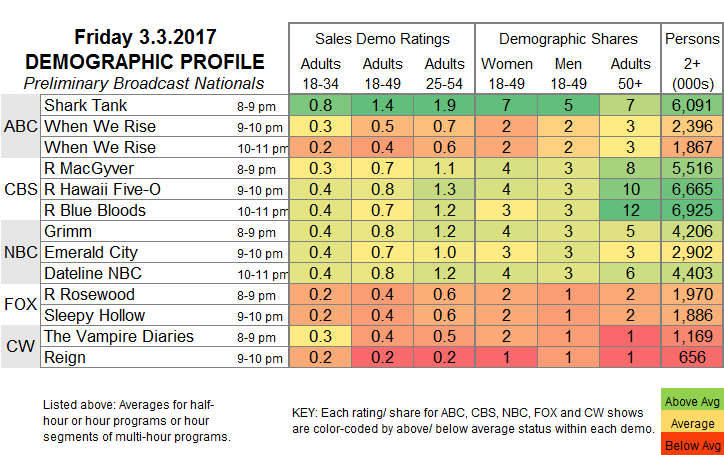 ABC:  After an out-of-timeslot SHARK TANK held last week's 9PM 1.4, WHEN WE RISE managed a 0.1 increase over Thursday's disaster to 0.5, an ambitious and even admirable effort that couldn't have fallen flatter.
NBC:  GRIMM stayed at 0.8, and the season (at least) finale of EMERALD CITY was up 0.1 to 0.7.  The night ended with DATELINE steady at 0.8.
CW:  The penultimate episode of THE VAMPIRE DIARIES remained at 0.4, and REIGN was also steady at 0.2.
FOX:  SLEEPY HOLLOW, with a 0.4 ROSEWOOD rerun as lead-in, dropped 0.1 to 0.4 as it stumbled to the exit.
CBS:  A night of 0.7-0.8 reruns.
Tonight has little in primetime beyond an NBA game on ABC and boxing on CBS.  SATURDAY NIGHT LIVE features host Octavia Spencer and musical guest Father John Misty.  Sunday night, though, is an entirely different story.  With the NFL and awards season over, the night is exploding with new arrivals (TIME AFTER TIME on ABC, MAKING HISTORY on FOX, FEUD on FX, THE ARRANGEMENT on E!, as well as the timeslot premiere of NBC's CHICAGO JUSTICE) and returnees (ABC's ONCE UPON A TIME, NBC's SHADES OF BLUE and LITTLE BIG SHOTS, FOX's THE LAST MAN ON EARTH).  Even PBS is eventful with the finales of MERCY STREET and VICTORIA. 
CABLE RATINGS: Come back Monday for detailed demographic ratings for top cable programs from this day.
###
About the Author
Mitch Metcalf
MITCH METCALF has been tracking every US film release of over 500 screens (over 2300 movies and counting) since the storied weekend of May 20, 1994, when Maverick and Beverly Hills Cop 3 inspired countless aficionados to devote their lives to the art of cinema. Prior to that, he studied Politics and Economics at Princeton in order to prepare for his dream of working in television. He has been Head of West Coast Research at ABC, then moved to NBC in 2000 and became Head of Scheduling for 11 years.