The addition of NCAA basketball didn't change much anywhere else.
DEMOGRAPHIC DETAIL: For each broadcast program (or hour segment), the chart below displays preliminary key advertiser demographics (adult 18-34, 18-49 and 25-54 ratings), audience skews (women 18-49, men 18-49 and adults 50+ shares) and total viewership (thousands of people over the age of 2).

Ratings analysis follows the chart.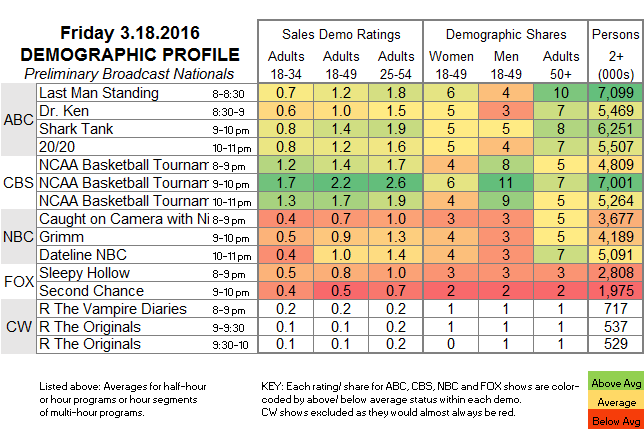 CBS:  The NCAA TOURNAMENT ratings were released in hourly segments of 1.4/2.2/1.7 for an average around 1.8, handily up from Thursday's results.
ABC:  The entire line-up was up 0.1 from last week:  LAST MAN STANDING to 1.2, DR KEN  to 1.0, SHARK TANK to 1.4, and 20/20 to 1.2. 
NBC:  CAUGHT ON CAMERA and GRIMM remained at last week's 0.7/0.9, and DATELINE gained 0.1 to 1.0.
FOX:  SLEEPY HOLLOW and SECOND CHANCE were steady at 0.8/0.5.
CW:  Very quiet reruns of THE ORIGINALS at 0.1/0.1.
Tonight's primetime features an unusual basketball vs. basketball match up, as the NCAA TOURNAMENT continues on CBS, while ABC has an extremely high-profile Golden State vs. San Antonio NBA game.  Tomorrow, FOX puts a new spin on the live network musical genre, presenting THE PASSION, a Christian project with existing rock and pop songs.  In a more heathenish context, NBC's CROWDED begins in its regular Sunday timeslot, and FOX's ELEMENTARY moves to Sundays.
CABLE RATINGS: Come back Monday for detailed demographic ratings for top cable programs from this day.
###
About the Author
Mitch Metcalf
MITCH METCALF has been tracking every US film release of over 500 screens (over 2300 movies and counting) since the storied weekend of May 20, 1994, when Maverick and Beverly Hills Cop 3 inspired countless aficionados to devote their lives to the art of cinema. Prior to that, he studied Politics and Economics at Princeton in order to prepare for his dream of working in television. He has been Head of West Coast Research at ABC, then moved to NBC in 2000 and became Head of Scheduling for 11 years.