We're still deep in the holiday rerun mini-season, but there were a few glimmers of original programming on Friday night.
DEMOGRAPHIC DETAIL: For each broadcast program (or hour segment), the chart below displays preliminary key advertiser demographics (adult 18-34, 18-49 and 25-54 ratings), audience skews (women 18-49, men 18-49 and adults 50+ shares) and total viewership (thousands of people over the age of 2).

CBS:  The behind-the-scenes sitcom special NOW THAT'S FUNNY! garnered little interest at 0.7, although it outrated the 0.6/0.6 reruns that followed it.
NBC:  The last episode of CAUGHT ON CAMERA was up 0.1 to 1.0, but DATELINE fell 0.2 to 1.1.
ABC:  20/20 gained 0.1 to 1.2, after reruns topped by SHARK TANK at 1.0.
FOX:  An all-rerun night led by ICE AGE:  A MAMMOTH CHRISTMAS at 0.7, but it's worth noting that the network's attempt to prepare the 9PM timeslot for the arrival of GLEE didn't go very well, with a rerun episode at 0.3.
CW:  Reruns topped by 0.4 for a WHOSE LINE IS IT ANYWAY episode.
The only fresh programming on tonight's primetime schedule is NBC's WWE TRIBUTE TO THE TROOPS.  On Sunday, the CBS line-up is all new, as NBC bids a fond farewell to SUNDAY NIGHT FOOTBALL for the season.  (However, the network gets a gigantic final bang for its buck as this season's carrier of the SUPER BOWL)  On cable, HBO airs the season finale of cult comedy THE COMEBACK.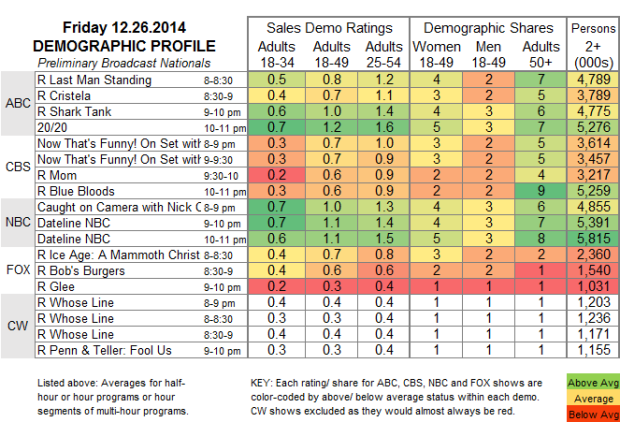 CABLE RATINGS: Detailed demographic ratings for top cable programs resume Monday.
About the Author
Mitch Metcalf
MITCH METCALF has been tracking every US film release of over 500 screens (over 2300 movies and counting) since the storied weekend of May 20, 1994, when Maverick and Beverly Hills Cop 3 inspired countless aficionados to devote their lives to the art of cinema. Prior to that, he studied Politics and Economics at Princeton in order to prepare for his dream of working in television. He has been Head of West Coast Research at ABC, then moved to NBC in 2000 and became Head of Scheduling for 11 years.