The night's new arrivals didn't stir viewers the way a veteran did.
DEMOGRAPHIC DETAIL: For each broadcast program (or hour segment), the chart below displays preliminary key advertiser demographics (adult 18-34, 18-49 and 25-54 ratings), audience skews (women 18-49, men 18-49 and adults 50+ shares) and total viewership (thousands of people over the age of 2).

Ratings analysis follows the chart.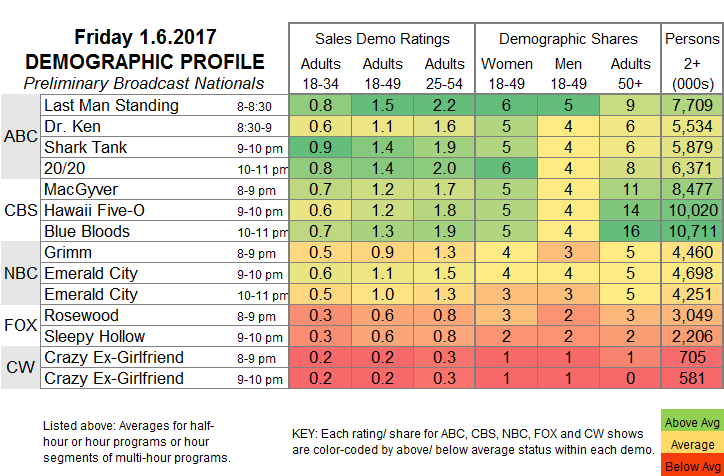 ABC:  It was a remarkable night for the returning line-up, led by LAST MAN STANDING, which returned from holiday hiatus at 1.5, up 0.3 from its previous season high.  That pushed DR KEN up 0.2 from its last airing to 1.1, and didn't hurt SHARK TANK, which jumped 0.4 from its last airing to 1.4, and 20/20, also up 0.4 to 1.4.
NBC:  GRIMM began its final season with a slim 0.9, and while EMERALD CITY built on that with 1.1 in its opening hour, by 10PM it was down to 1.0.
FOX:  ROSEWOOD and the rebooted SLEEPY HOLLOW looked ready for the old dramas home with a pair of 0.6s, both down 0.1 from their last airings. 
CBS:  MACGYVER returned from its holiday break with a 0.2 bump to 1.2, while HAWAII 5-0 was up 0.1 to 1.2, and BLUE BLOODS was also up 0.1 to 1.3.
CW:  A pair of CRAZY EX-GIRLFRIEND episodes yielded matching 0.2s. 
Primetime tonight will be dominated by NBC's telecast of an NFL WILD CARD GAME, against which CBS's RANSOM will try to have some impact in its regular timeslot debut.
CABLE RATINGS: Come back Monday for detailed demographic ratings for top cable programs from this day.
###
About the Author
Mitch Metcalf
MITCH METCALF has been tracking every US film release of over 500 screens (over 2300 movies and counting) since the storied weekend of May 20, 1994, when Maverick and Beverly Hills Cop 3 inspired countless aficionados to devote their lives to the art of cinema. Prior to that, he studied Politics and Economics at Princeton in order to prepare for his dream of working in television. He has been Head of West Coast Research at ABC, then moved to NBC in 2000 and became Head of Scheduling for 11 years.