Updated ratings for the NCAA Men's Basketball Tournament through the third Saturday of March Madness (the Semfinals). Two games have been added to the CBS averages. CBS is now averaging over 7.7 million viewers 2+ for the tournament to date this year, up a big +28% from last year and the best performance in recent years, as the Final Four returns to broadcast television this year after a few years on TBS.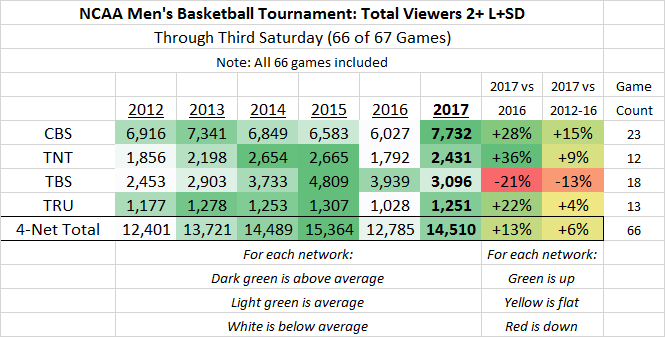 In the sports sales demographic of men 18-49, the 2017 tournament to date is +9% above last year but -6% below the 2012-2016 average.

Game detail below for the third Saturday of March Madness in 2015-2017 (the Final Four Semifinals).  In 2015 and 2016, each semifinal game was broadcast on three Turner networks (the main broadcast on TBS and the same game with team announcers on TNT and TruTV). The combined audience for the three broadcasts is in bold. After 2016's very low Final Four numbers on TBS, the early game on CBS Saturday almost returned to 2015's comparable game, while the late game Saturday (Oregon vs North Carolina) remains a few million viewers shy of 2015 (Wisconsin vs Kentucky) but well ahead of 2016's game (North Carolina vs Syracuse).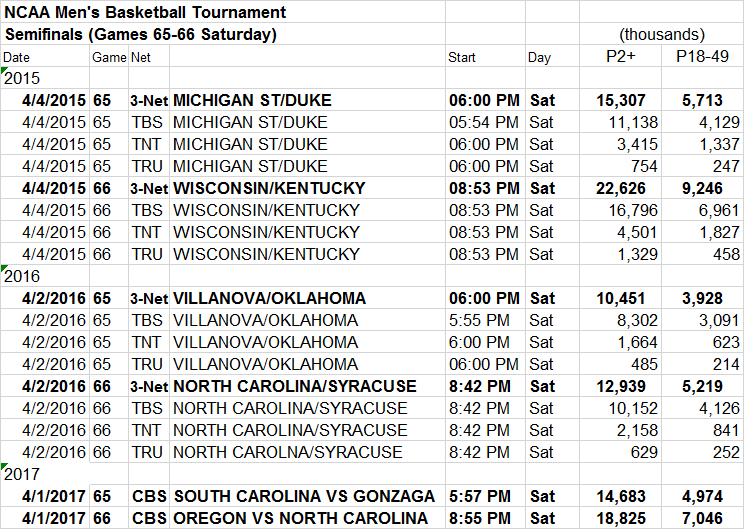 ###
About the Author
Mitch Metcalf
MITCH METCALF has been tracking every US film release of over 500 screens (over 2300 movies and counting) since the storied weekend of May 20, 1994, when Maverick and Beverly Hills Cop 3 inspired countless aficionados to devote their lives to the art of cinema. Prior to that, he studied Politics and Economics at Princeton in order to prepare for his dream of working in television. He has been Head of West Coast Research at ABC, then moved to NBC in 2000 and became Head of Scheduling for 11 years.