Through the first Thursday of the NCAA Men's Basketball Tournament (better known as March Madness), CBS is down -15% in total viewers (persons 2+) to 3.8 million on average for its two evening games (compared to the average of the prior three years), TNT is down -25% to 1.5 million viewers for its four games Thursday afternoon and evening, and TRUtv is down -10% to 1.1 million for its eight games so far (including the "play-in" games Tuesday and Wednesday.  But TBS managed a +27% jump from recent years to just under 2 million viewers for its four games (see game detail at the bottom).  On balance, across all four partner networks, March Madness at this early stage is down -10% in total viewers.
But the real pain comes with younger viewers: men 18-49 are down -19% and men 18-34 are down a disturbing -29% from prior years across all four networks.  The men 18-34 are exactly the demo most likely to get their basketball fix on their phone or tablet or computer.  Those non-television devices are not currently included in the Nielsen numbers, but that is supposed to change later in the year, certainly by the 2017 March Madness.  If live sports, especially premium events like the NCAA Tournament, starts showing -30% declines, the television house of cards will really start to collapse.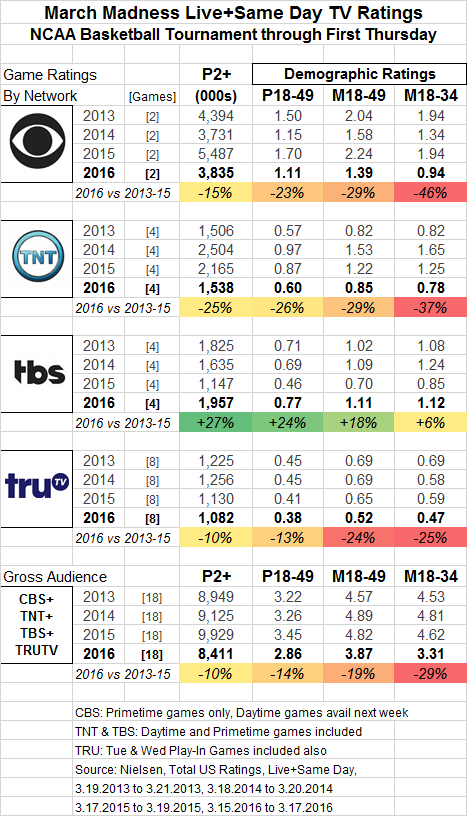 Here is a look at the top five games for each of the past few years.  Ratings for the CBS daytime games, including the stunning Yale upset over Baylor, will not be available until next Thursday.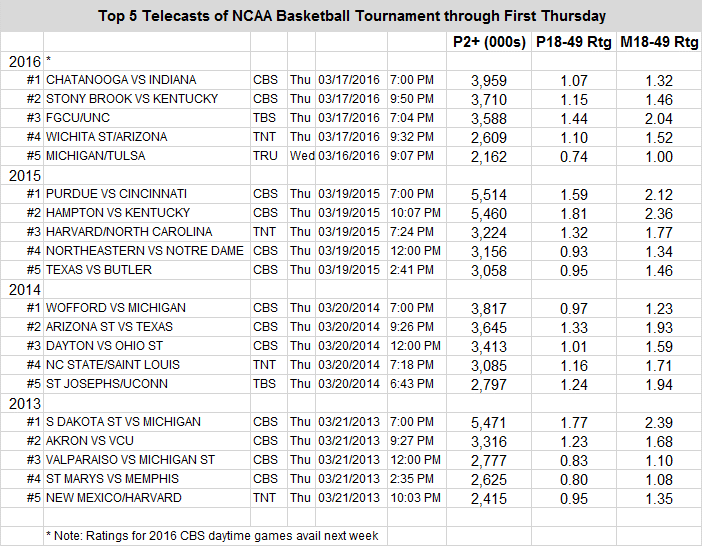 ###
About the Author
Mitch Metcalf
MITCH METCALF has been tracking every US film release of over 500 screens (over 2300 movies and counting) since the storied weekend of May 20, 1994, when Maverick and Beverly Hills Cop 3 inspired countless aficionados to devote their lives to the art of cinema. Prior to that, he studied Politics and Economics at Princeton in order to prepare for his dream of working in television. He has been Head of West Coast Research at ABC, then moved to NBC in 2000 and became Head of Scheduling for 11 years.