Through Friday (the second and final day of the Round of 64), the NCAA Men's Basketball Tournament turned positive for CBS versus the past three years (up +10% in total viewers 2+ and up +7% with persons 18-49), joining TBS with upward arrows (and green shading) in the chart below.  However, TNT and TRUtv remain below recent years.  Taking all four network partners together, March Madness is now down only a few percentage points from recent years with total viewers 2+, a gap that can easily be erased with a few more days of ratings.  But the young male demographics remain down, with men 18-34 down a significant -16% from recent years through Friday.
Tomorrow morning we will get the Second Round ratings from Saturday and Sunday for the most up-to-date look at the tournament so far.  Keep in mind the afternoon ratings for CBS (from Thursday-Sunday) will not be available until Thursday of this week.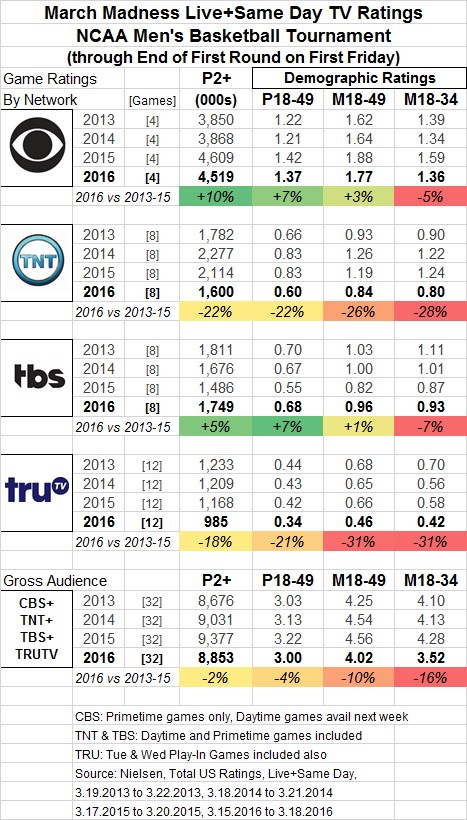 Two very strong games Friday night really put CBS back on track at the early stage of the tournament.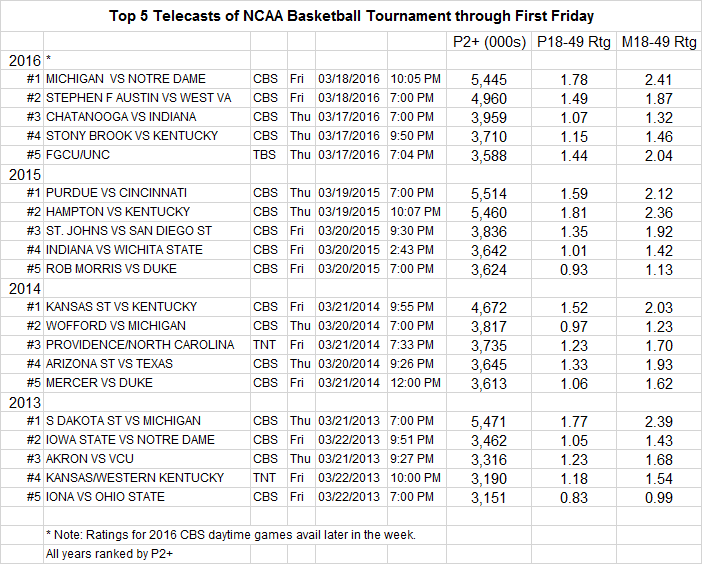 ##
About the Author
Mitch Metcalf
MITCH METCALF has been tracking every US film release of over 500 screens (over 2300 movies and counting) since the storied weekend of May 20, 1994, when Maverick and Beverly Hills Cop 3 inspired countless aficionados to devote their lives to the art of cinema. Prior to that, he studied Politics and Economics at Princeton in order to prepare for his dream of working in television. He has been Head of West Coast Research at ABC, then moved to NBC in 2000 and became Head of Scheduling for 11 years.