NOTE: This post will be updated with the official national ratings for the 2015 All-Star Game, when available later today.
The All-Star Game on FOX on July 14, 2015 is currently averaging a 2.8 adult 18-49 rating from 8:00-11:00 pm ET in the fast nationals and should go up to around a 3.0 adult 18-49 rating in the official nationals based on last year's pattern (a 3.0 fast national 18-49 rating and a 3.19 official national rating in 2014) ended up with a 3.07 adult 18-49 rating in the official nationals, a small -4% below last year (identical to the declines with persons 2+ and men 18-49).
After averaging 13.4 million persons 2+ and a 4.27 adult 18-49 rating in the four years 2007-2010, the All-Star Game fell down to 11.1 million persons 2+ and a 3.19 adult 18-49 rating in the next four years between 2011-2014, almost exactly the numbers for the 2014 game.  Over that period, the median age for the ASG has marched up from just under 50 to close to 55, a significant rise.
Perhaps the 2015 game will enjoy a large bump in the official nationals (as the west coast viewing is properly credited to this live telecast) and close in on the recent 2011-2014 averages.  But it is very possible the final numbers for the game will establish a new step down on the descending staircase of national baseball television ratings.  Check back later today for updates. 2015 is on the low end of the numbers we have seen the previous four years, but the 2015 ratings are not low enough to consider them a significant step down.
Here is another way to look at the ratings for the All-Star Game, across the main generational segments.  2015 is about two- to three-tenths of a rating point behind the recent 2011-14 averages for the adult groups, but in line with recent levels for boys and male teens.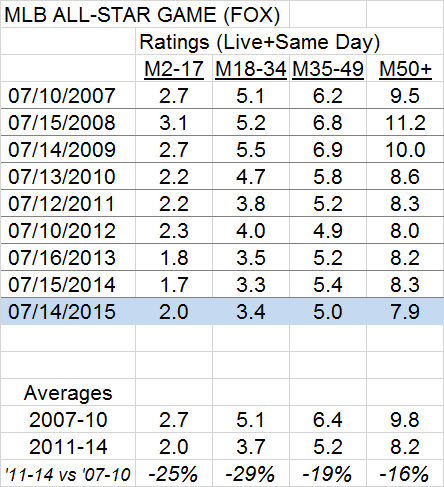 About the Author
Mitch Metcalf
MITCH METCALF has been tracking every US film release of over 500 screens (over 2300 movies and counting) since the storied weekend of May 20, 1994, when Maverick and Beverly Hills Cop 3 inspired countless aficionados to devote their lives to the art of cinema. Prior to that, he studied Politics and Economics at Princeton in order to prepare for his dream of working in television. He has been Head of West Coast Research at ABC, then moved to NBC in 2000 and became Head of Scheduling for 11 years.