NETWORK UPDATE:  The overrun past 10PM didn't affect the SURVIVOR finale's rating in final numbers, but SURVIVOR REUNION fell 0.1. 
Ratings in key demos for the Top 25 original cable telecasts (plus a few other lower-rated but noteworthy programs):
AMERICAN HORROR STORY: FREAK SHOW (FX) slipped just a hundredth from last week to once again lead Wednesday cable at 1.50.  It was a strong night for Comedy Central's outgoing THE COLBERT REPORT and THE DAILY SHOW, at 0.70 and 0.77 respectively (up 0.14 and 0.16).  A special WWE SALUTE TO THE TROOPS gave USA a 0.67, followed by 0.59 for a special CHRISLEY KNOWS BEST.  On VH1, MOB WIVES jumped 0.21 to 0.61.  The final installment of Syfy's ASCENSION rose 0.04 to 0.47., the same rating as both halves of ESPN's NBA BASKETBALL doubleheader.  AMERICAN PICKERS (History) was up 0.02 to 0.52, with DOWN EAST DICKERING up 0.09 to 0.42.  Bravo's TOP CHEF rose 0.02 to 0.37.  On OWN, FOR BETTER OR WORSE gained a tenth to 0.37.  SNOOKI & JWOWW (MTV) lost 0.09 to 0.33.  A HOLLYWOOD DIVAS REUNION special on TV1 was at 0.15.  On TVLand, HOT IN CLEVELAND lost just about all of last week's gains, HOT down 0.09 to 0.12, and EXES down 0.08 to 0.10.  WEB THERAPY (Showtime) was essentially at a zero rating in 18-49s, barely drawing breath at 0.004 and with 62,000 total viewers.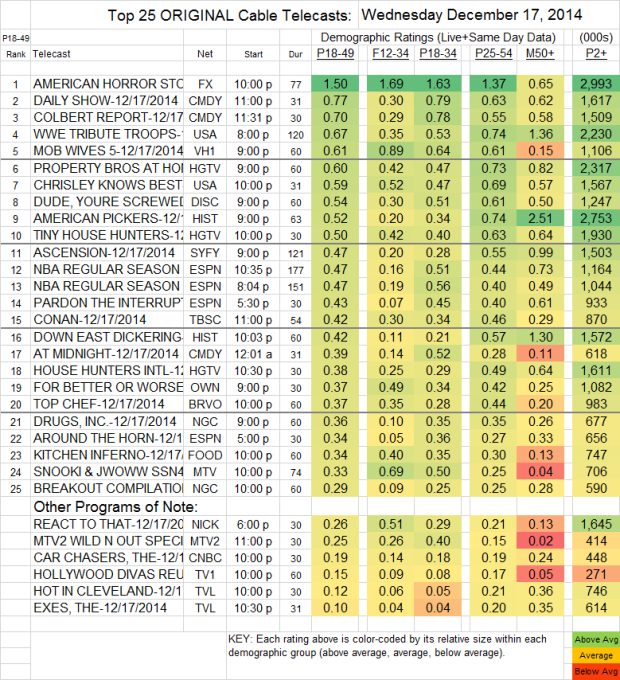 About the Author
Mitch Metcalf
MITCH METCALF has been tracking every US film release of over 500 screens (over 2300 movies and counting) since the storied weekend of May 20, 1994, when Maverick and Beverly Hills Cop 3 inspired countless aficionados to devote their lives to the art of cinema. Prior to that, he studied Politics and Economics at Princeton in order to prepare for his dream of working in television. He has been Head of West Coast Research at ABC, then moved to NBC in 2000 and became Head of Scheduling for 11 years.