NETWORK UPDATE:  STALKER ended up down 0.1 from this morning's numbers.
Ratings in key demos for the Top 25 original cable telecasts (plus a few other lower-rated but noteworthy programs):
AMERICAN HORROR STORY: FREAK SHOW (FX) gained 0.22 to 1.99 and once again topped Wednesday cable.  ESPN's NBA BASKETBALL games took the next 2 slots at 1.17/1.08.  DUCK DYNASTY (A&E) returned at 0.98 (down from 1.8 for its June premiere, 3.4 in January, and 5.0 in August 2013), and was followed on A&E by COUNTRY BUCK$ at 0.51.  On Comedy Central, SOUTH PARK was at 0.94 (up 0.05) and KEY & PEELE was at 0.55 (down 0.11).  AMERICAN PICKERS (History) was down 0.13 to 0.57, with DOWN EAST DICKERING up 0.01 to 0.45.  TOP CHEF (Bravo) gained 0.04 to 0.43.  On MTV, SNOOKI & JWOWW dropped 0.12 to 0.36, and GIRL CODE was also down 0.12 to 0.17.  The season finale episodes of THE LEAGUE (FXX) were both at 0.19, down 0.05 from last week.  FOR BETTER OR WORSE (OWN) eased down 0.01 to 0.27.  HOLLYWOOD DIVAS (BET) stayed at 0.17.  THE GAME (BBCAmerica) continued to barely have a pulse, at 0.03 and with 81K total viewers, but it was in better shape than WEB THERAPY (Showtime), which barely rounded up to 0.01 (0.005, to be exact, which is technically 5x as high as last week), with 25K total viewers (down by 9K).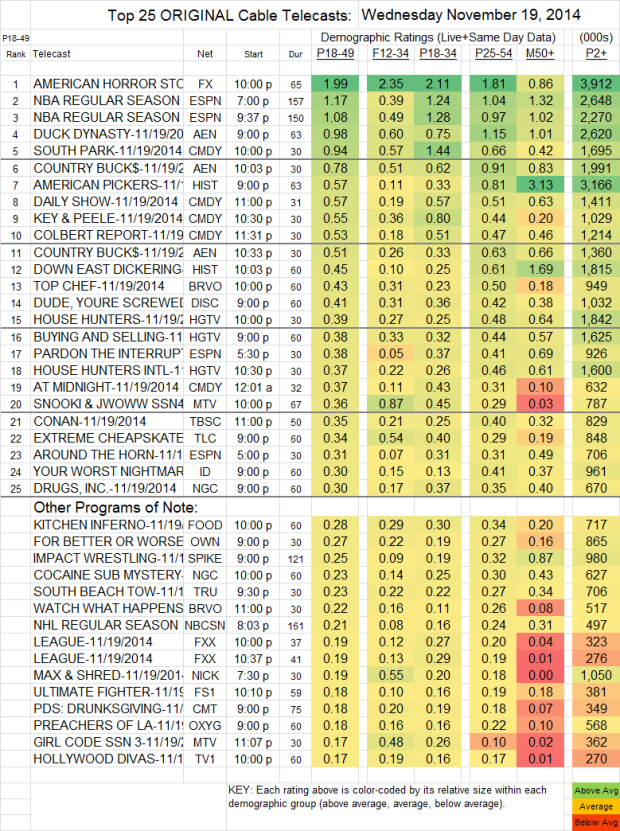 About the Author
Mitch Metcalf
MITCH METCALF has been tracking every US film release of over 500 screens (over 2300 movies and counting) since the storied weekend of May 20, 1994, when Maverick and Beverly Hills Cop 3 inspired countless aficionados to devote their lives to the art of cinema. Prior to that, he studied Politics and Economics at Princeton in order to prepare for his dream of working in television. He has been Head of West Coast Research at ABC, then moved to NBC in 2000 and became Head of Scheduling for 11 years.