NETWORK UPDATE:  NCIS and THE FLASH each gained 0.1 in final ratings, and SUPERNATURAL lost 0.1.
Ratings in key demos for the Top 25 original cable telecasts (plus a few other lower-rated but noteworthy programs):
TLC's 19 KIDS AND COUNTING topped Tuesday cable at 1.22, with a lead-in COUNTDOWN show at 0.63 and lead-out OUR LITTLE FAMILY at 0.69.  BEING MARY JANE (BET) gained 0.03 to 1.06, and the second night of BOOK OF NEGROES was identical to Monday's 0.61.  On OWN, THE HAVES AND HAVE NOTS was at 0.90.  ABCFamily's PRETTY LITTLE LIARS rose 0.05 to 0.89 (with its customary huge rating in F12-34 at 2.44), but SWITCHED AT BIRTH lost 0.14 to 0.48 (1.20 in the target demo).  REAL HOUSEWIVES OF BEVERLY HILLS (Bravo) added 0.05 to 0.82, and GIRLFRIENDS GUIDE TO DIVORCE held at 0.36.  On TNT, RIZZOLI & ISLES returned at 0.76, with PERCEPTION at 0.32.  (That compares with 0.72/0.48 for the February 2014 premieres.)  On Comedy Central, TOSH.0 returned at 0.75, with THE KROLL SHOW up 0.02 to 0.33.  (Both THE DAILY SHOW and THE NIGHTLY SHOW are in reruns this week.)  Lifetime's DANCE MOMS rose 0.06 to 0.66, and CHILD GENIUS shed 0.04 to 0.34.  On Discovery, AMISH MAFIA dropped 0.15 to 0.56, and BIG GIANT SWORDS fell 0.09 to 0.32.  COUGAR TOWN (TBS) rose 0.15 to 0.54.  JUSTIFIED (FX) slipped 0.03 to 0.48.  On MTV, REAL WORLD SKELETONS was down 0.07 to 0.51, and THE CHALLENGE edged down 0.01 to 0.47, with a midnight CHALLENGE special was at 0.21.  The 4AM FISHCENTER on Adult Swim was at 0.38.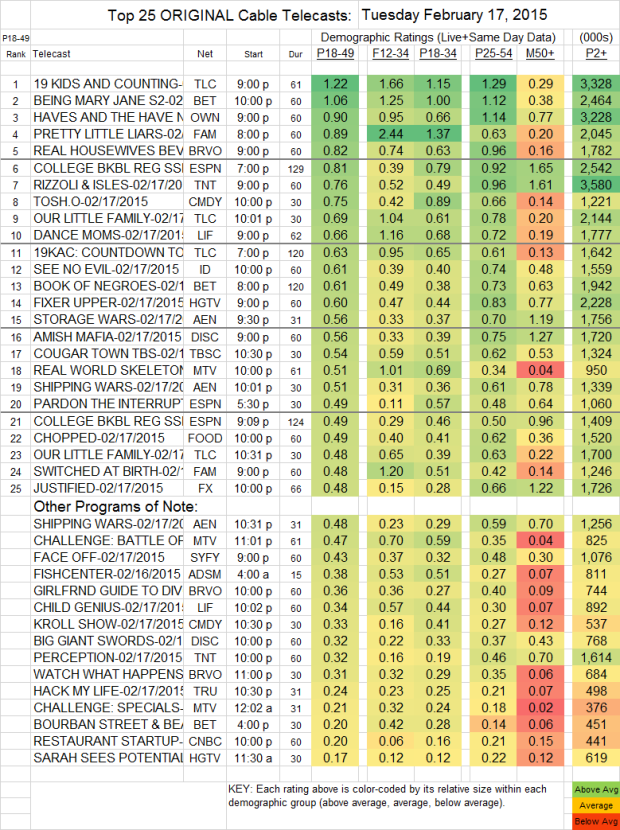 About the Author
Mitch Metcalf
MITCH METCALF has been tracking every US film release of over 500 screens (over 2300 movies and counting) since the storied weekend of May 20, 1994, when Maverick and Beverly Hills Cop 3 inspired countless aficionados to devote their lives to the art of cinema. Prior to that, he studied Politics and Economics at Princeton in order to prepare for his dream of working in television. He has been Head of West Coast Research at ABC, then moved to NBC in 2000 and became Head of Scheduling for 11 years.