NETWORK UPDATE:  Both NCIS: NEW ORLEANS and PERSON OF INTEREST added 0.1 in final numbers, as did the rerun of THE FLASH.
Ratings in key demos for the Top 25 original cable telecasts (plus a few other lower-rated but noteworthy programs):
PRETTY LITTLE LIARS (ABCF) topped Tuesday cable, although it was off 0.02 from last week at 0.93.  Lead-out SWITCHED AT BIRTH lost 0.09 to 0.48.  Bravo's REAL HOUSEWIVES OF BEVERLY HILLS gained a tenth to 0.87, but lead-out GIRLFRIENDS GUIDE TO DIVORCE fell 0.03 to 0.35–not a great sign.  On TBS, GROUND FLOOR was up 0.05 to 0.59, but COUGAR TOWN dropped 0.09 to 0.38 (the latter is in its final season anyway, so it doesn't matter much).  History's CURSE OF OAK ISLAND was steady at 0.86.  THE HAVES AND HAVE NOTS (OWN) was down a big 0.24 from last week to 0.81, and Discovery's MOONSHINERS lost a similar 0.22 to 0.60.  TLC's KATE PLUS 8 arrived at 0.67.  On MTV, THE CHALLENGE was up 0.05 to 0.55, but REAL WORLD SKELETONS dropped 0.14 to 0.34.  REAL HUSBANDS (BET) climbed 0.08 to 0.50.  DANCE MOMS (Lifetime) fell 0.08 to 0.51, and lead-out CHILD GENIUS was down 0.15 to 0.26.  SUAVE SAYS (VH1) was up 0.02 to 0.08.  The final season of THE KROLL SHOW (Comedy) returned at 0.25.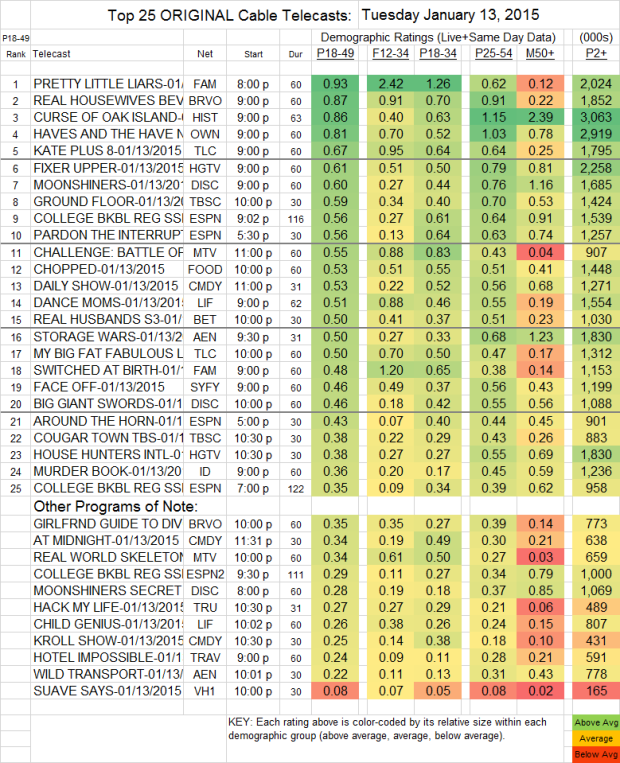 About the Author
Mitch Metcalf
MITCH METCALF has been tracking every US film release of over 500 screens (over 2300 movies and counting) since the storied weekend of May 20, 1994, when Maverick and Beverly Hills Cop 3 inspired countless aficionados to devote their lives to the art of cinema. Prior to that, he studied Politics and Economics at Princeton in order to prepare for his dream of working in television. He has been Head of West Coast Research at ABC, then moved to NBC in 2000 and became Head of Scheduling for 11 years.