NETWORK UPDATE:  All of the night's adjustments were football-related.  SUNDAY NIGHT FOOTBALL adjusted up to 6.1, which was still far below last week's 8.6 rating.  60 MINUTES gained 0.3 in final numbers, lifting it to 2.2.  CBS aired its scheduled new episode of CSI even though the show didn't start airing until 10;50PM in most of the country, and garnered a 1.3 rating.  MULANEY, once FOX's football overrun was removed, collapsed all the way down to 0.4.
Ratings in key demos for the Top 25 original cable telecasts (plus a few other lower-rated but noteworthy programs):
Sunday cable belonged once again to REAL HOUSEWIVES OF ATLANTA (Bravo), down 0.04 from last week to 1.26.  Lead-out WATCH WHAT HAPPENS followed at 0.79, and FASHION QUEENS, airing later in the evening, was down 0.11 to 0.23.  THE LIBRARIANS (TNT) seems to have found its level–and a very encouraging one for TNT–falling just a hundredth to 0.76.  On Showtime, the season finale of HOMELAND lost a bit of ground, down 0.06 to 0.62, and the season finale of THE AFFAIR gained 0.04 to 0.25.  HBO's only original show of the night was THE COMEBACK, which dropped 0.03 to 0.06.  KOURTNEY & KHLOE TAKE THE HAMPTONS (E!) fell 0.17 to 0.62 (lead-out HOUSE OF DVF gained 0.05 to 0.30).  Similarly, Discovery's ALASKA: THE LAST FRONTIER dropped 0.17 to 0.55.  History's AX MEN slipped 0.04 to 0.47, and it was followed by ALASKA: OFF-ROAD at 0.43.  The TOP 10 RESTAURANTS special on Food Network was at 0.41, with 1.13M total viewers.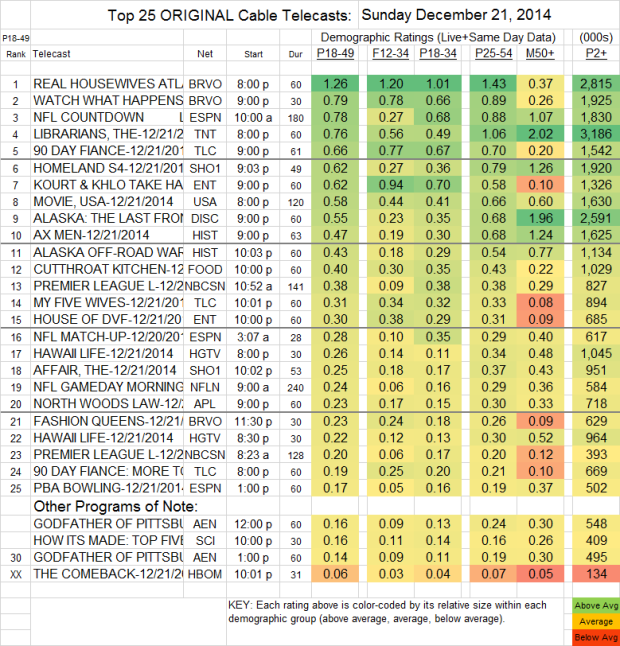 About the Author
Mitch Metcalf
MITCH METCALF has been tracking every US film release of over 500 screens (over 2300 movies and counting) since the storied weekend of May 20, 1994, when Maverick and Beverly Hills Cop 3 inspired countless aficionados to devote their lives to the art of cinema. Prior to that, he studied Politics and Economics at Princeton in order to prepare for his dream of working in television. He has been Head of West Coast Research at ABC, then moved to NBC in 2000 and became Head of Scheduling for 11 years.