Ratings in key demos for the Top 25 original cable telecasts (plus a few other lower-rated but noteworthy programs):
March Madness continued to reign over Saturday cable, as NCAA TOURNAMENT games took all of the Top 4 slots, paced by the late-evening TBS game at 1.42.  (Even an NIT game hit the Top 10, with ESPN's morning game at 0.28.)  The rest of the night was dominated by unscripted programming.  HOUSE HUNTERS RENOVATION (HGTV) was down 0.09 to 0.33, but nevertheless was the highest-rated non-sports original of the day, followed by Animal Planet's PITBULLS & PAROLEES (almost doubling last week's 0.16 to 0.31), and all of THE KITCHEN AT FN (Food), UFC FIGHT NIGHT (Fox Sports 1) and PIONEER WOMAN (Food) at 0.29, which was up 0.02 for the latter.  BLACK SAILS (Starz) rose half a tenth to 0.22.  HBO's SARAH SILVERMAN special was at 0.14.  THE GOOD WITCH (Hallmark) was steady at 0.13, strongest by far with the 50+ demo.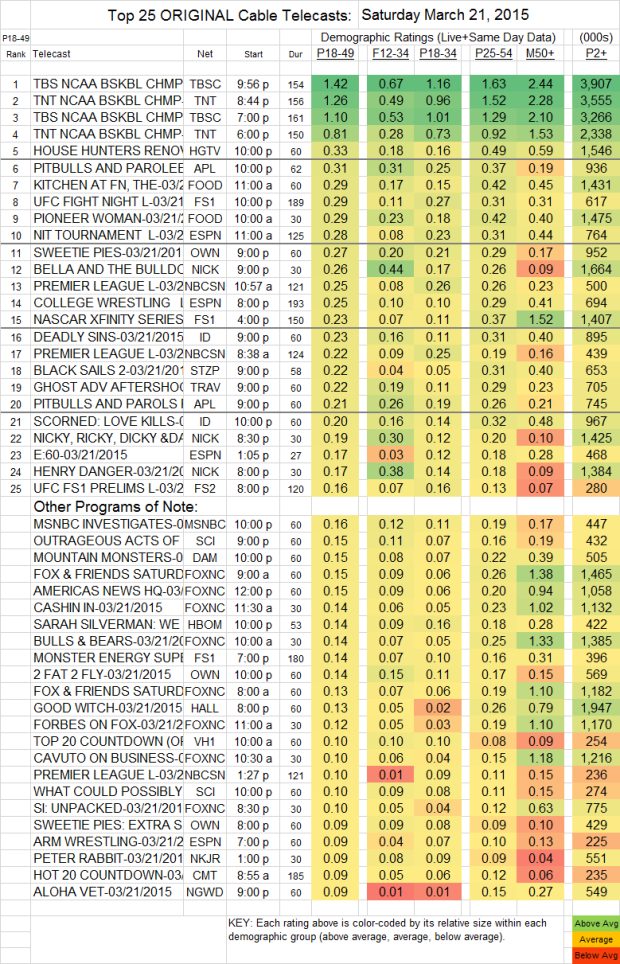 About the Author
Mitch Metcalf
MITCH METCALF has been tracking every US film release of over 500 screens (over 2300 movies and counting) since the storied weekend of May 20, 1994, when Maverick and Beverly Hills Cop 3 inspired countless aficionados to devote their lives to the art of cinema. Prior to that, he studied Politics and Economics at Princeton in order to prepare for his dream of working in television. He has been Head of West Coast Research at ABC, then moved to NBC in 2000 and became Head of Scheduling for 11 years.